Ellen DeGeneres To Be Honored As Second Recipient of Carol Burnett Award At 2020 Golden Globes
Ellen Degeneres will be honored with a prestigious award at the Golden Globes on Sunday.
The longstanding comedian and television host is the second person to receive the Carol Burnett Award, an award introduced last year and named in honor of comedienne Carol Burnett.
The award is given to "an honoree who has made outstanding contributions to the television medium on or off the screen," according to the Golden Globes website. "Future recipients will be chosen based on their body of work and the lasting impact that their television career achievements have had on both the industry and audiences."
DeGeneres' television career expands beyond her role hosting The Ellen DeGeneres Show, which is in its 17th season. She has made numerous appearances on sitcoms, including the original runs of Mad About You, Roseanne and Will & Grace, as well as lending her voice to the animated films Finding Nemo and Finding Dory. DeGeneres' acting credits also include her own sitcom, Ellen, where she made headlines in 1997 by coming out on screen.
DeGeneres has also created several offshoots of her talk show including Ellen's Game of Games and Ellen's Design Challenge. Her career also includes a production company, A Very Good Production, and executive producer credits on Netflix's Green Eggs and Ham and NBC's Little Big Shots, among other projects. In 2018, she also returned to stand up with a Netflix special, Ellen DeGeneres: Relatable, which marked her return to the comedy stage -- a medium that launched her career in the 1980s.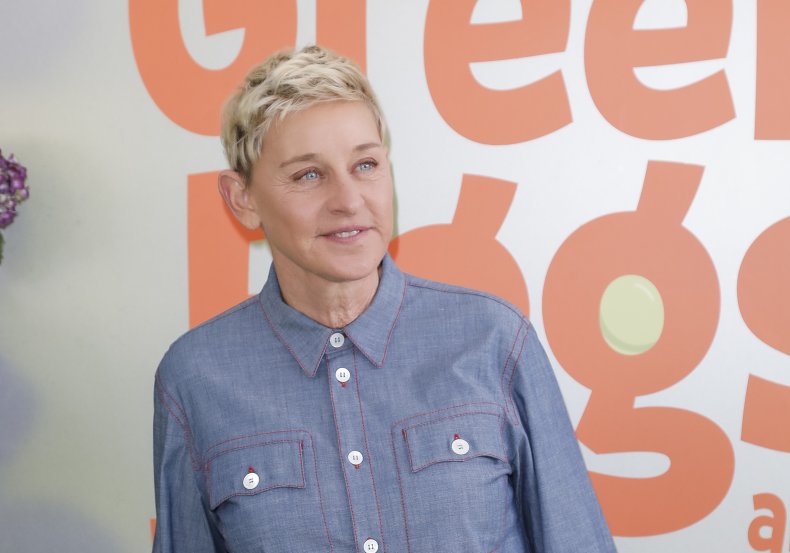 "From her sitcoms, to stand up, to becoming a household staple on daytime television, she is a pioneer who has captivated audiences for nearly 25 years with her undeniable charm and wit," Hollywood Foreign Press Association (HFPA) president Lorenzo Soria said in a statement to The Hollywood Reporter. "In addition to her television success, she's an advocate and philanthropist, lending her voice to those who don't have one, and spreading kindness and joy through the power of her platform."
DeGeneres' philanthropic efforts have been well documented and include a large list of charitable donations and efforts. In 2017, DeGeneres donated $1 million to Hurricane Harvey relief on her talk show and she's involved the show's audience in other charitable actions like donating to the Make-A-Wish Foundation, Feeding America and Los Angeles Firefighters who fought wildfires in 2018.
The selfie DeGeneres took while hosting the 2016 Oscars earned $3 million in charitable donations after Samsung, the company behind the phone that took the photo, donated $1 for each retweet the comedienne's photo received. When asked by Samsung to choose who would receive the money, DeGeneres chose St. Jude's Children's Hospital and The Humane Society, who both were given $1.5 million. Two years later, DeGeneres gave $1 million to members of her show's audience as they were recognized for their own charity work.
DeGeneres and wife Portia De Rossi also have a wildlife conservation fund, The Ellen Fund. The organization also works to raise money for the Dian Fossey Gorilla Fund in order to build a permanent home for the Gorilla Fund.
Burnett and DeGeneres have experienced similar comedic careers and both were awarded the Mark Twain Prize for American Humor. DeGeneres won the prize in 2012 and Burnett in 2013 -- prompting DeGeneres to praise her "friend" on Twitter.
Burnett has also appeared on The Ellen DeGeneres Show, including in the talk show's "Bathroom Series." In the segment, the two comics wear curtain rods draped with curtains in a nod to Burnett's famous sketch where she parodied Scarlett O'Hara fashioning a gown out of curtains in Gone With The Wind. The pair then sing Burnett's sign-off song from her sketch comedy show, The Carol Burnett Show, 'I'm So Glad.'
In her career, DeGeneres has been known to preach the importance of kindness. She ends each episode of The Ellen DeGeneres Show with her sign off "be kind to one another." For her charity work and commitment to kindness, DeGeneres was awarded the Presidential Medal of Freedom by former President Barack Obama in 2016.
DeGeneres has won a handful of other awards including an Emmy for Outstanding Writing In A Comedy Series for Ellen in 1997, a GLADD Media Award for The Ellen DeGeneres Show in 2009 and over two dozen Daytime Emmy Awards.