Who Will Host the Oscars? Ellen DeGeneres Still Wants Kevin Hart to Host Academy Awards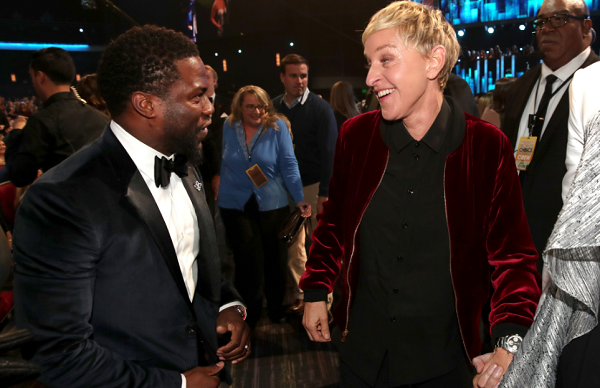 There's at least one person who still wants Kevin Hart to host the 2019 Oscars—Ellen DeGeneres. The talk show host welcomed Hart on her daytime show on Friday, during which Hart opened up on the backlash he recently faced regarding homophobic tweets from 2009 and 2011 that resurfaced in December.
The scandal essentially resulted in Hart stepping down from hosting the 91st Academy Awards.
"There are so many things I want to do I check off as they get done, and Oscars was up there. Oscars was one of the highest of highs, simply because there hasn't been a lot of African Americans that have been able to do it," Hart began. "When it happened, my first thought is, 'I'm going to ignore it. I'm going to ignore it because it's 10 years old. This is stuff I've addressed. I've talked about this. This isn't new. I've addressed it! I've apologized for it. I'm not going to pay it any mind.'"
Hart went on to explain he didn't have a "homophobic bone" in his body and expressed his dismay in the onslaught of headlines slandering the comedian for tweets and jokes he made over 10 years ago, which he had also already apologized for on multiple occasions in the past.
"To be put in a position where I was given an ultimatum—'Kevin, apologize or we're going to have to find another host'— when I was given that ultimatum, this is now becoming like a cloud," Hart said. "What was once the brightest star and brightest light ever just got real dark."
DeGeneres, a friend of Hart's who is openly gay and has hosted the Oscars twice before, shared her defense of Hart and revealed she contacted the Academy to convince them to offer him the hosting gig again. Albeit appreciative of DeGeneres' effort, Hart went on to lament on how the backlash was intended to destroy his career, and suggested going back on his decision not to host the show would put him back in the ring of fire with "trolls" banking on his demise.
DeGeneres disagreed. "But they're going to win if you don't host the Oscars," DeGeneres said.
"You can't let them destroy you, and they can't destroy because you have too much talent," she continued. "No one can do that. And for them to stop you from your dream, from what you wanted to do, from what you have a right to do and from what you should be doing, it's why they haven't found another host."
DeGeneres added: "As I said to you earlier, I think it's perfect that this happened, because there needs to be a conversation about homophobia. Whatever [was] brought up and whoever was trying to hurt you, it brought up you reminding people that you're a bigger person that you've already apologized. You're apologizing again."
"I am sensitive to all of that. And I talked to you about this. And you have already expressed that it's not being educated on the subject, not realizing how dangerous those words are, not realizing how many kids are killed for being gay or beaten up every day. You have grown. You have apologized. You are apologizing again right now. You've done it," she concluded.
The Oscars are set to air on ABC on February 24. The Academy has yet to reveal any other potential hosts aside from Hart. If he does go on to host the awards show, he will be the sixth African American to do so.