Ellen DeGeneres Predicted Paris Hilton's Baby Name in Resurfaced Clip
Ellen DeGeneres accurately predicted the name Paris Hilton gave her firstborn son.
Hilton, 41, announced in January she had welcomed her first child, a baby boy, with husband Carter Reum via surrogate.
She then announced her son's name during a February 22 episode of her podcast, Paris in Love, which led DeGeneres to dig up an old clip of the socialite appearing on her daily talk show and posted it to Twitter.
Hilton made an appearance on The Ellen DeGeneres Show in 2022 when she spoke about her life plans with then fiancé, Reum.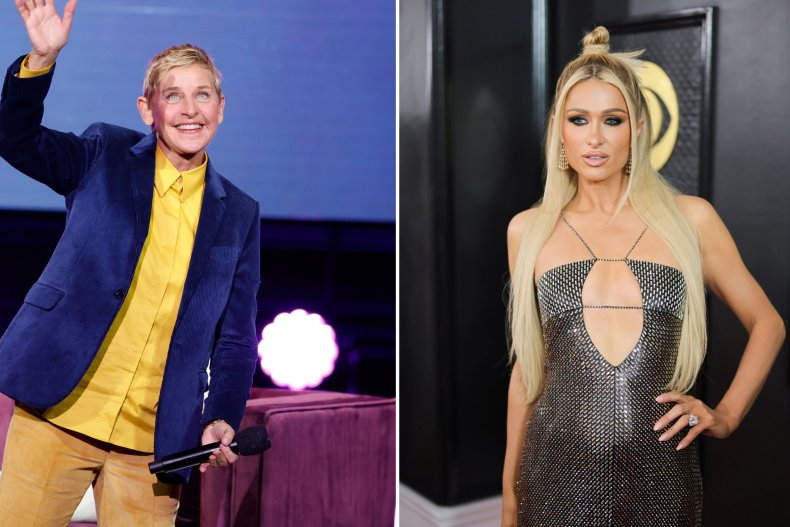 She told DeGeneres she wanted to have between two and three children and planned to name her first daughter, London Marilyn Hilton Reum.
But when pressed on a potential son's name, Hilton said she was not "going to say yet because I'm scared someone will steal the name."
"So it'll be named a country or a city to go along with you?" asked the comedian before trying to get hints about the name, including if she knew anyone else who had that name.
When Hilton said she didn't know anyone with that name, DeGeneres replied, "really you're going to come up with a brand new name?"
The TV host then tried to guess some possibilities including "Argentina" and "Phoenix." The second guess made Hilton laugh nervously before turning around to look at someone she knew.
The clip posted to Twitter by DeGeneres then cut to Hilton's announcement of her baby's name.
"My beautiful baby boy's name is Phoenix Barron Hilton Reum," Hilton read in a voice-over as the text came up on the screen.
Her appearance on DeGeneres' talk show was in January 2022, which meant the comedian had accurately guessed Hilton's baby name a year in advance.
DeGeneres captioned the video: "I named@ParisHilton's baby! What do I win?!?! A hotel?!?!"
Hilton announced the birth of her son in a post on Instagram on January 24 with a photo of her newborn's hand wrapped around her own.
Alongside the photo she wrote: "You are already loved beyond words."
Phoenix is Hilton's first child although her husband is already a dad to a 10-year-old daughter with reality star Laura Bellizzi.
Hilton later shared a statement with People about welcoming her son to the world.
"It's always been my dream to be a mother and I'm so happy that Carter and I found each other," Hilton wrote.
"We are so excited to start our family together and our hearts are exploding with love for our baby boy."