'The Ellen DeGeneres Show' Has Had a Rough 2020—Here's a Timeline of the Controversies
The Ellen DeGeneres Show is reportedly the focus of an internal investigation by its parent company, WarnerMedia.
The news came via Variety on Tuesday, in a report saying that leaders from Telepictures and Warner Bros. Television—which produce the award-winning daytime talk show—sent a memo to the show's staff, notifying them of the endeavor. According to Variety, the memo said that WarnerMedia's employee relations group and a third-party firm are planning to talk to production employees about the atmosphere on set. Word of the investigation comes amid recent allegations of behind-the-scenes hostility and racism.
Even before the report on this apparent investigation, though, it was a troubling year for The Ellen DeGeneres Show. Read on for a complete timeline of the controversies and complaints surrounding Ellen in 2020.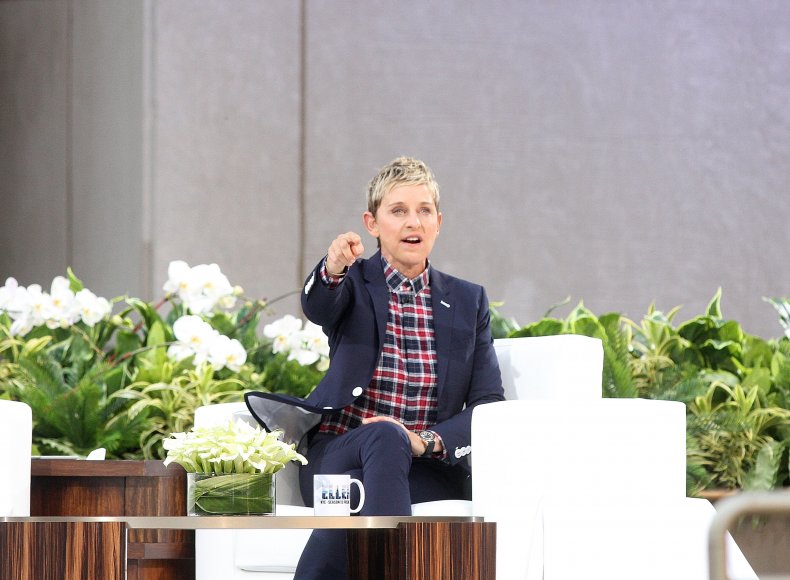 February
DeGeneres has long been considered one of Hollywood's friendliest power players, but her lovable and funny reputation took a bit of a hit at the start of the year after Dutch beauty vlogger Nikkie de Jager—known by her 13.5 million YouTube subscribers as NikkieTutorials—visited the show and accused the talk-show host of being "cold and distant" towards her.
During an appearance on the Dutch show De Wereld Draait Door in the days following her Ellen interview, the transgender beauty maven claimed she was not privy to the welcoming and campy atmosphere that's often portrayed on the syndicated talk show, according to YouTuber Sebastian Williams, who translated de Jager's De Wereld Draait Door interview.
"Maybe I'm being naive, but I expected them to welcome me with confetti: Welcome to The Ellen DeGeneres Show! But instead I got greeted by an angry intern, who was a bit overworked. I expected a Disney show, but I got a 'Teletubbies After Dark.'"
March
DeGeneres was dubbed "one of the meanest people alive" by comedian and podcaster Kevin T. Porter, who launched a Twitter thread on March 20, encouraging people to share their harrowing encounters with DeGeneres.
Thousands of people commented, including people who claimed to have worked at the Warner Bros. lot near the studio where Ellen is taped.
April
Showrunners for the daytime talk show came under fire after crew members complained about receiving no documented communication regarding their work hours or pay at the onset of the coronavirus pandemic, according to a Variety report published in April.
Crew members told the entertainment outlet that they had not worked in nearly a month after production was suspended due to the pandemic. They also said that when they finally did hear back from executives, they were told they could be subject to a pay reduction of as much as 60 percent. Only adding to their frustrations, the show reportedly hired a nonunion tech company to film Ellen remotely from DeGeneres' home in California.
July
BuzzFeed published a scathing report about The Ellen DeGeneres Show on July 16, detailing a work culture allegedly rife with racism, fear-mongering and intimidation. Sourced from the accounts of one current and 10 former Ellen employees, the story noted that most of the staffers interviewed hold executives and senior managers responsible for the alleged toxicity; one source, though, pointed out that the show bears DeGeneres' name.
Some people who spoke to BuzzFeed—and, it should be noted, they were all granted anonymity in the story—claimed they were unlawfully fired from their posts for taking sick leave or bereavement.
One Black woman accused producers of making racist comments and enacting "microaggressions" toward her. Along with a former white colleague's joke about getting her confused with another Black co-worker who had a similar hairstyle, she claimed that a white staff writer for the show once told her, "'I'm sorry, I only know the names of the white people who work here.'"
"Whenever I brought up an issue to my white male boss, he would bring up some random story about some random Black friend that he had and how they managed to get over stuff," she explained to BuzzFeed. "He would use his Black friend as some way to say, 'I understand your struggle.' But it was all performative bulls**t."
The show's executive producers, Ed Glavin, Andy Lassner and Mary Connelly, issued a joint statement regarding the accusations, saying that they were "truly heartbroken and sorry to learn that even one person in our production family has had a negative experience."
"It's not who we are and not who we strive to be, and not the mission Ellen has set for us," the statement continued. "For the record, the day to day responsibility of the Ellen show is completely on us. We take all of this very seriously and we realize, as many in the world are learning, that we need to do better, are committed to do better, and we will do better."
Newsweek has reached out to WarnerMedia and The Ellen DeGeneres Show for further comment, but did not hear back in time for publication. Warner Bros declined to provide additional comment.
The accusations of toxicity in the workplace have since resulted in WarnerMedia's decision to investigate the show.
Then, on July 30, BuzzFeed published a follow-up report, detailing sexual harassment and misconduct allegations against head writer and executive producer for The Ellen Degeneres Show, Kevin Leman.
One former employee alleged that Leman asked to perform oral sex on him in a bathroom at a 2013 company party. Another person claimed they saw Leman touch a production assistant's penis. One ex-staffer alleged that she saw Leman grope a production assistant in 2017. Some former workers alleged that Leman preyed on younger, lower-level employees and accused him of often making sexually inappropriate remarks to colleagues masked in sarcasm.
Leman vehemently denied "any kind of sexual impropriety" in a statement, claiming that he was "horrified that some of my attempts at humor may have caused offense."
"I have always aimed to treat everyone on the staff with kindness, inclusivity and respect. In my whole time on the show, to my knowledge, I've never had a single HR or inter-personal complaint made about me, and I am devastated beyond belief that this kind of malicious and misleading article could be published," Leman said.
DeGeneres addressed the allegations from the earlier BuzzFeed report in a letter to the show's crew that was obtained and then released by The Hollywood Reporter on July 30. In the letter, the host took responsibility for not recognizing the behind-the-scenes toxicity engulfing the set.
"On day one of our show, I told everyone in our first meeting that The Ellen DeGeneres Show would be a place of happiness—no one would ever raise their voice, and everyone would be treated with respect. Obviously, something changed, and I am disappointed to learn that this has not been the case. And for that, I am sorry. Anyone who knows me knows it's the opposite of what I believe and what I hoped for our show," the letter read.
DeGeneres noted that she was working with Warner Bros. to "correct the issues" affecting the show.
"As we've grown exponentially, I've not been able to stay on top of everything and relied on others to do their jobs as they knew I'd want them done. Clearly some didn't. That will now change and I'm committed to ensuring this does not happen again," she wrote.
DeGeneres added: "I'm also learning that people who work with me and for me are speaking on my behalf and misrepresenting who I am and that has to stop. As someone who was judged and nearly lost everything for just being who I am, I truly understand and have deep compassion for those being looked at differently, or treated unfairly, not equal, or—worse—disregarded. To think that anyone of you felt that way is awful to me."
Updated 7/31/2020, a.m. EDT: This article has been updated to include allegations from BuzzFeed's July 30 report on the work atmosphere at The Ellen DeGeneres Show.