Top 10 'Ellen' Moments That Seem Mean in Retrospect
Ellen DeGeneres' talk show comes to an end on Thursday, May 26, almost two years after "toxic workplace" allegations were first made about it.
Even before those claims—which DeGeneres has denied—comedian Kathy Griffin wrote in her book that the daytime host had "a mean streak that all of Hollywood knows about." Comedian Kevin T Porter, meanwhile, got more than 2,000 replies to a tweet asking people to share stories about DeGeneres, describing her as ​​"notoriously one of the meanest people alive."
Although it is impossible to verify all these stories, it certainly casts a new light on segments and interviews aired over the years. Sometimes it was a mean-spirited idea, sometimes a harsh question or comment, but there are certainly moments from The Ellen DeGeneres Show that look pretty bad now. Here are 10 of the ones that are hardest to watch.
'Ellen Reviews Fans' Really Bad Gifts'
A fan spends hours and hours painting a picture of DeGeneres and wife Portia de Rossi, out of nothing but love for the host. How does Ellen repay them? By making fun of the portrait on her show, with its audience of millions—an audience that almost certainly includes the fan who painted it.
The Mariah Carey Moment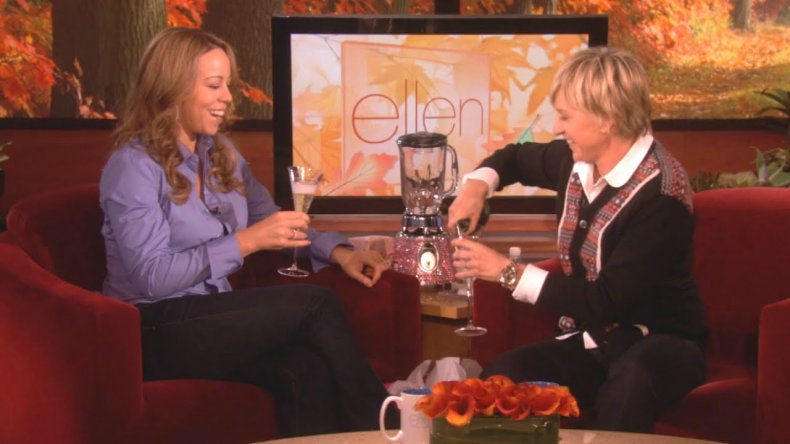 Many celebrity interviewers will go to extreme lengths to get to the truth. DeGeneres is no exception. In 2008, she encouraged Mariah Carey to drink alcohol on her show to prove she was not pregnant. Carey was pregnant in fact, although she had not revealed this publicly and miscarried soon afterwards.
"I was extremely uncomfortable with that moment is all I can say," Carey later told Vulture. "[There's] an empathy that can be applied to those moments that I would have liked to have been implemented."
Taylor Swift Rings a Bell
Asking Taylor Swift about her ex-boyfriends was a pretty standard interview tactic in 2013, but DeGeneres took it a step further. The host put pictures of various men Swift had met on a screen, and asked the singer to ring a bell when the subject of "We Are Never Ever Getting Back Together" appeared.
Swift asked DeGeneres to stop the game and told the host: "​​It makes me feel so bad about myself. Every time I come up here you put like a different dude up there on the screen, and it just makes me really question what I stand for as a human being."
Ellen vs. Celine Dion Son's Hair
You might think it was difficult to anger Celine Dion, but DeGeneres seemed to manage it in 2007. After showing an image of Dion's long-haired son on the screen, DeGeneres asked when the 6-year-old was going to get his hair cut.
Dion replied: "You know, I have to say, it's amazing, right? Some people shave the head of their children and some people say, 'Oh, isn't that terrible?' Well, I don't even cut my son's hair and they say, 'Oh, when is she going to cut her son's hair?' Whatever I will do, I won't please everyone."
Blake Shelton's Clock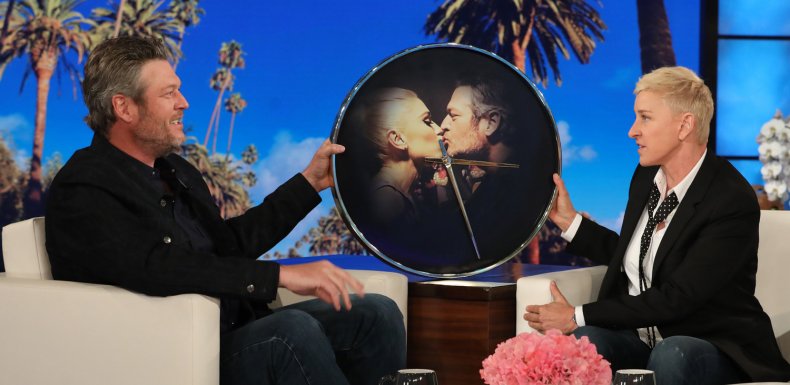 There was a double whammy of meanness when Blake Shelton appeared on the show. In 2019, DeGeneres gave Shelton a clock, to remind him that time was ticking for him to propose to girlfriend Gwen Stefani. The next time he appeared on the show, he revealed that she had not actually given him the clock—which had previously been used by the host for Jennifer Lopez and A-Rod.
Shelton was clearly not pleased with the stunt. He said: ​​"You took it back, because whoever your next guest was, you replaced the picture and did the same crap to them and embarrassed them."
'Ellen Found Your Facebook Photos'
You come to a talk show taping for a fun afternoon watching your favorite host, and she responds with a segment in which she scours your Facebook page to find embarrassing photos. "You put them up there," she argued—which is true, but you probably did not think when you did so that, years later, somebody would unearth them for a mean-spirited TV bit.
Ellen Drunk-Shames Viola Davis
In 2015, Viola Davis became the first African American to win an Emmy for​​ outstanding lead actress in a drama series. Accepting her history-making award, Davis quoted abolitionist Harriet Tubman in a powerful and moving speech.
Ellen's response when she asked Davis about it? "At first, I thought you were drunk."
Ellen Grabs Kylie Jenner's Hair
DeGeneres seems to hate long hair as much as she (allegedly) hates being looked at in the eye. She only cracked jokes about Celine Dion's son, but Kylie Jenner had to keep her composure when DeGeneres grabbed her braid and started swinging it around.
Drew Barrymore Alcohol Jibe
Ellen was usually a light, fun show, but every so often a pretty dark moment made it to air. Like when she put up a picture of Drew Barrymore's six year-old daughter and asked the actress: "So, you started drinking around that age?" Let's just say that is not the type of question you would get on The Drew Barrymore Show.
Every Time Ellen Scared Anyone
We all know what to expect from a talk show appearance. You wear a smart outfit, talk a little about your latest project and share a funny anecdote or two. What you do not expect is for a clown to jump out of a box to scare you, for no other reason than the amusement of a host who has done thousands of celebrity interviews.