Is the Ellen Pao Trial Silicon Valley's "Anita Hill Moment"?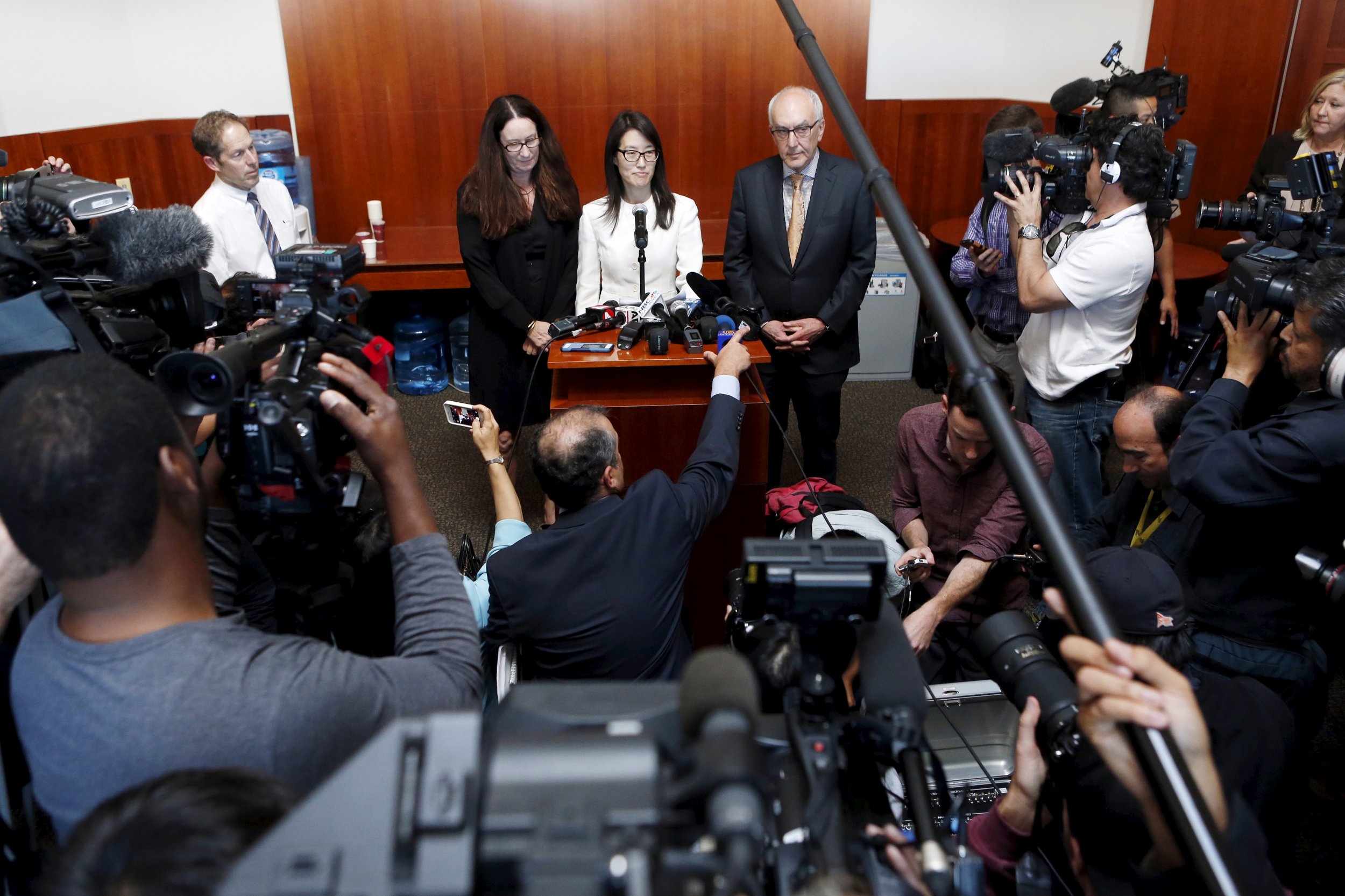 One of the biggest developments in the Ellen Pao story was how it moved over the length of the trial (which ended Friday when a jury denied her sexual discrimination suit against Silicon Valley VC firm Kleiner Perkins Caufield & Byers) from the business pages to the front page and even the evening news.
TRUSTe and Match.com founder Fran Maier, who was a source for an earlier Newsweek article on the Pao case was on PBS NewsHour Friday evening, voicing her disappointment in the verdict while keeping an eye on the larger picture. "For many women it was seen as our opportunity to talk about working in tech companies," she told Newshour's Hari Sreenivasan, while reminding viewers that while the venture capital world—where women are estimated to make up just 4 to 6 percent of the workforce—may be small and rarefied, its influence is huge: Venture capitalists not only drive the growth of tech companies, they sit on the boards of many startups and advise many CEOs.
Since the initial reaction to the verdict on social media, much of it from angry women, there have been "Thanks, Ellen" messages and countless think pieces that include mentions of a similar cases in the tech world: Facebook has been sued by a woman who accuses the company of gender discrimination and harassment; Twitter is facing a suit, saying women were denied promotion through a rather opaque process. In both cases the plaintiffs are Asian-American women—which may not be entirely coincidental.
Bernadette Madlangbayan Baillie, VP of marketing and business development at the just-launched "content-bombing" app Graphiti can relate; as a woman of Filipino descent with years of experience in the tech sector, she says, "For years there was an assumption that we would be quiet mathematicians, that we wouldn't rock the boat and would be very helpful."
Baillie also says she had an advantage over some women, having been raised with four sports-playing brothers. "I remember sitting in the morning at other tech companies with the bagels out and all the guys were talking about the Giants score and I can talk about it, I know how many yards the running back had," she recalls. "I can see where two women in a room full of men are sidelined."
Gender stereotyping, like racial stereotyping, isn't pretty, but the pockets of resistance in the insular world of many startups may prove fierce. A lot of the newly minted companies claim they are too small to have an HR person, let alone a gender discrimination or sexual harassment policy. "Many places are more cowboy," says Baillie, meaning the roll-your-own style of many startups. "You're more worried about whether or not you have a monitor than you are about some woman's feelings."
Morin Jacob, a partner at the San Francisco law firm Liebert Cassidy Whitmore, which specializes in state labor and employment law, says that in the eyes of the law, the size of a firm doesn't matter. "Legally it's the same issue [as it would be for a large company]," she tells me. "The work culture is different at a smaller company, and the resources are different. But being a small business does not justify or alleviate the obligation to not discriminate in the work place."
Jacob works with employers, all of them eager to avoid a lawsuit (let alone any bad press) and for smaller startups she suggests they be proactive on discrimination issues. "I have to believe there is a tremendous amount of planning and hard work that those companies engaged in [to be successful]," she says. "As part of that planning they should absolutely build in a commitment to diversity in the workplace, a commitment that should instruct their recruitment practices, their hiring and their training. That company is going to be far less likely to face these type of lawsuits going down the road."
Not that having policies in place guarantees women will be treated fairly. As Ann Friedman noted in her New York magazinepiece on the aftermath of the verdict: "When it comes to these established coping mechanisms, Ellen Pao did everything right. When one of her co-workers made unwanted sexual advances, she reported the behavior to her supervisor. She asked that her bosses bring in sexual-harassment educators and outsiders to investigate her claims." And in the end, she resorted to the courts.
Jacob is also the chair of her firm's Public Safety Practice Group. "Most of the clients I work with are police departments and fire departments," she says. "Talk about environments where there is a lack of gender diversity in the workplace!" But there has been change over time, thanks in part of past legal actions and the public's perception of what used to be regarded as closed shops. "What we have going on in California police and fire departments is a commitment to recruiting and retaining women and people of color," she says. "And it's happening. It's taken a long time to get there and there is still work to be done" but the face of those forces has changed in past decades.
Some women in tech have already branded the Pao trial their "Anita Hill moment"; the way Hill was treated when she appeared before a U.S. Senate committee rallied women across the country and caused many employers to implement more workplace rules about discrimination, as well as training about sexual harassment. Or perhaps it will be more like GamerGate, a story that didn't mean much to those outside of the gaming world but cast the tech world and its boys'-club culture in a negative light. "Now my daughters are very interested in tech themselves," says Baillie. "They grew up with me in digital, they're looking at gaming [as a business they'd like to be part of] and I want them to be in a world where that is not an issue for them."
Correction: This article originally stated that Hari Sreenivasan was a reporter for PBS affiliate KQED. He is in fact a correspondent for the PBS News Hour.