Ellen Pompeo Faces Backlash for 'Disrespecting' Denzel Washington
Ellen Pompeo is today facing backlash after sharing a story about her heated argument with Denzel Washington when he directed an episode of Grey's Anatomy.
The Oscar-winning actor directed an episode of the long-running medical drama back in 2016 and the star of the show has opened up about them not working well together on set and revealed that they went "at it" while filming.
The Meredith Grey star spoke about an incident that occurred while filming the Season 12 episode "The Sound of Silence" on her podcast Tell Me With Ellen Pompeo.
Explaining that she often improvised lines that were not in the script, Pompeo recalled deviating from the script during an emotional scene.
She said she improvised the line: "Look at me when you apologize—look at me!'" But that Washington stopped rolling and intervened.
"That wasn't in the dialogue and Denzel went ham on my a**," she said, adding: "He was like, 'I'm the director. Don't you tell him what to do.'"
Pompeo was offended by Washington's notes on her performance and continued: "I was like, 'Listen, motherf*****, this is my show. This is my set. Who are you telling? You barely even know where the bathroom is."
Pompeo said that Washington only "did the show because his wife is a big fan.
"I think he saw it as a good exercise to just come in and direct something quick."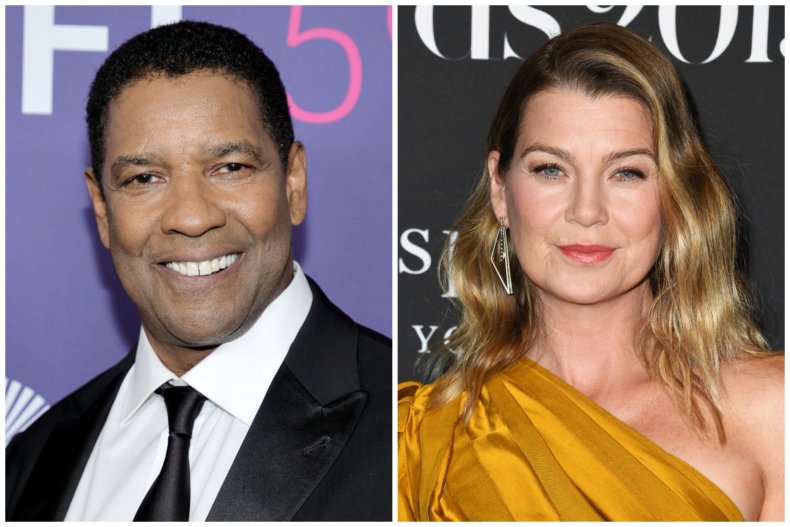 She added: "Denzel's a movie star, right? He doesn't know s*** about directing TV."
Pompeo said the clash was likely due to the fact that they are both actors.
"So, we didn't get through it without a fight, but that's actors for you," she said.
Despite the harsh comments on their time working together, Pompeo went on to say that she has the "utmost respect for [Washington] as an actor and director" and that working with him was "amazing."
Pompeo's comments have not gone down well on Twitter where she is being heavily criticized, with some people labeling her "disrespectful" for the way she spoke about Washington.
"Ellen Pompeo really disrespected Denzel Washington and proudly told the world like we were gonna be on her side..." reads one tweet.
While another added: "Denzel Washington: Ellen can you move slightly to the left..Ellen Pompeo : DO YOU KNOW WHO TF I AM?! This is MY SET! THIS IS MY SHOW."
"the tl eating ellen pompeo up and i can't defend her this time bc she was wrong and why you telling us the story unprovoked like it's tea," said another.
Another person added: "I don't know if Ellen Pompeo revealing that she yelled at Oscar Winning Denzel Washington on the set of Grey's Anatomy is the flex she thought it would be. She seems like a Karen, and if I hear her say one more time she's married to a Black man and has Black kids..."
Newsweek has reached out to Pompeo's representatives for comment.