'Ellen Steps Out': How We Covered Ellen DeGeneres's Coming Out in 1997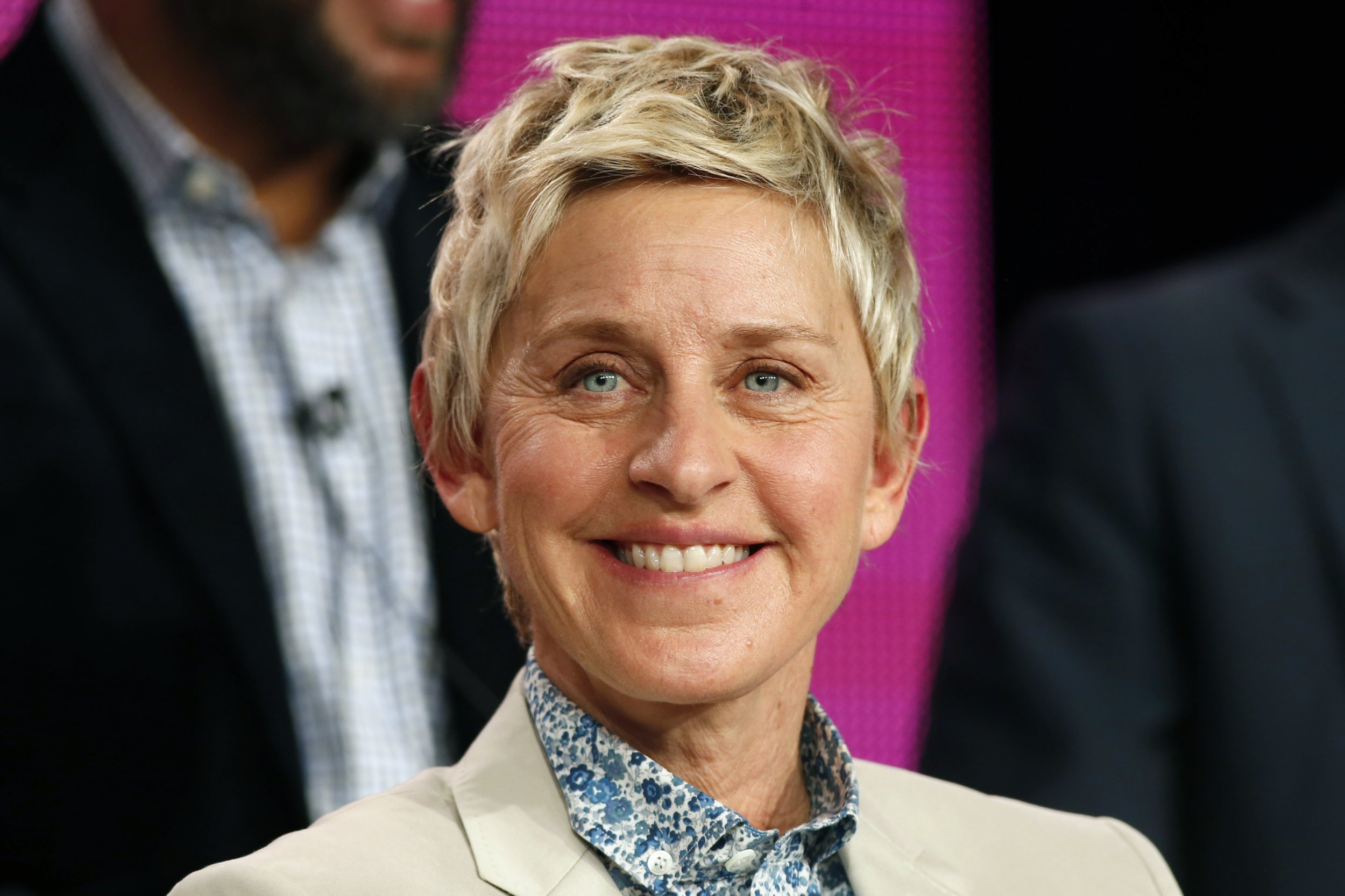 Twenty years ago, Ellen DeGeneres came out as a lesbian. And her fictional counterpart, Ellen Morgan, did, too. On April 30, 1997, DeGeneres' sitcom, Ellen, became one of the first major TV shows with an openly gay main character. Here's the feature Newsweek published in April, 1997.
Fade in to a crowded gate in the Los Angeles airport. Ellen DeGeneres, or Ellen Morgan, as she's known on her ABC sitcom, Ellen, shows up at LAX in hot pursuit of Susan, a lesbian she met and flirted awkwardly with the previous night. Ellen has come to tell Susan something she's never told anyone before. In the script for the show's April 30 episode, her long-awaited confession goes like this:
"Okay. You were right. Susan, I'm... I can't. I can't even say the word. What's wrong with me? There's nothing to be ashamed of. Why am I so afraid to tell people... I'm 35 years old. Why can't I just come out and say... I'm gay. You hear that? I'm gay. And, it sounds pretty darn good. And it sounds pretty darn loud. Oh my God."
The gag is that Ellen has accidentally tripped a microphone that broadcast her announcement over the PA system. People are staring. Susan (played by Laura Dern) offers a hug and says, "I'm so proud of you. I remember how hard it was when I told my first airport full of people."
Finally. The closet door opens and out comes the gayest heterosexual character on television. After a season of coy double entendres, this is hardly a news flash. But there's bigger news in store. It isn't just the sitcom Ellen who's coming out. On April 23, the real-life Ellen will appear on PrimeTime Live and is expected to announce that she, too, is gay.
The timing is no accident. Like the fictional sitcom confession, DeGeneres's own announcement has been carefully orchestrated. Her PR firm has been shopping interviews with DeGeneres, promising she'll talk about being a lesbian. In addition to PrimeTime, the 39-year-old comedian will also do Oprah, a predictable trade-off for Oprah Winfrey's cameo as Ellen's therapist on the coming-out episode. Like her character in the airport, DeGeneres is advertising her sexuality over the PA system of national TV, only not by accident, proving that even the most intimate revelations can be transformed into a media event.
As revelations go, this one isn't a huge surprise. At an awards ceremony last month sponsored by the gay group GLAAD, DeGeneres got a standing ovation, then joked about having to do "research" for her character. "There were so many people to consult," she told her enthusiastic audience. At another gay event in March, she kissed lesbian k. d. lang. Vigorously.
The rumor mill started churning back in September of last year, when word leaked that Ellen was going to "out" her character on the show. Rampant speculation followed about whether she'd out herself, too. The joke going around Hollywood was that the sequel to DeGeneres's best seller, My Point ... and I Do Have One, would be titled My Sexual Orientation ... and I Do have One. When nothing happened, the whole thing started to look like a shameless publicity stunt designed to boost the show's sagging ratings. The truth was less sinister. ABC and Disney, the studio that produces Ellen, were reserving the right to reject the coming-out script if they didn't like how it was handled.
"We really needed to sit down with people [at ABC and Disney] and convince them there was a future for this show," says Dava Savel, one of the series's executive producers. The meetings started last July and August. DeGeneres went to Dean Valentine, president of Disney Television, and Jamie Tarses, the recently installed head of ABC Entertainment. (In her previous job at NBC, Tarses had championed the lesbian wedding on Friends.) The producers loved the idea of an out Ellen. For one thing, Savel admits, they were "running out of ideas." Going into its fourth season, the show was getting stale. Ellen's romantic life was notoriously disastrous. For reasons that now seem obvious, she never clicked with guys. Marriage, or even a relationship, was out of the question. The situation was so desperate that the producers suggested to the network that Ellen get a puppy. "They said, 'Yeah. That's good,'" recalls exec producer Mark Driscoll. "It was an indication of just how lost the show was that they would be excited by Ellen buying a puppy." As an inside joke, the writers titled the Ellen-comes-out show The Puppy Episode.
Disney was in favor but cautious. "I said it was only worth doing if it was a great episode," says Valentine. "I told Ellen, I'm not interested in standing on political soapboxes. First and foremost, it has to be great TV." He rejected the first draft of the script because it didn't "dig deep enough into the character." The focus was on how Ellen's friends reacted to her being gay. The rewritten version deals more with Ellen's own feelings. Oprah's therapist scene was added, and a dream sequence cast with cameos by Demi Moore and Sling Blade Oscar winner Billy Bob Thornton. (Her gay pals Melissa Etheridge and k. d. lang also make supportive appearances.) And true to her character, Ellen doesn't get the girl in the end. "It's not going to be easy," says Savel. "We want people to see the struggle."
For DeGeneres, coming out may be less of a struggle than a relief. Unlike Ellen Morgan, she has never made a secret of her sexual orientation to the people around her. Either she told them or they already knew. (Through her publicist, DeGeneres refused repeated requests by Newsweek for an interview on this subject.) At Charlene's, a lesbian bar in DeGeneres's native New Orleans, a few of the regulars say they met her in the early '80s. They remember Ellen's being in love with a beautiful young woman who was killed in a car crash. Her death may have been the inspiration for DeGeneres's signature "Phone Call to God" routine, in which (distraught over her friend's death) one of the questions she puts to him is why fleas are allowed to live. The routine won her a contest sponsored by Showtime to be named Funniest Person in America. She used it again for her 1986 debut on The Tonight Show. Johnny invited her over to the couch afterward—his ultimate compliment. "All of Ellen's comedy is from her life experience," says the bar's proprietor, Charlene. "It wasn't gay or straight. It related to everybody."
From New Orleans, DeGeneres moved to San Francisco in 1984. Bob Fisher, who managed comedians like Paula Poundstone and Dana Carvey, took her on as a client. he recalls her coming to him, seeming nervous, and saying, "I want you to know something. I'm gay." Fisher replied, "Yeah? And?" He was hardly shocked. "She was very relieved it wasn't an issue," he says. "I already knew Ellen was gay. It was sort of taken for granted. It didn't play a part in her act. She would neither confirm nor deny it to the press." Occasionally she got flack from some male comedians for being gay. "Several guys had crushes on her," Fisher says. She'd date, but sooner or later the men would figure out she wasn't interested. Eventually, he says, they'd clue in to the fact that the woman she lived with was her girlfriend.
Related: The surprising history of the phrase 'Adam and Eve, not Adam and Steve'
So if everybody also knows, or suspected, that Ellen is gay, what's the big deal? There are at least two dozen gay characters in prime time, on shows like Mad About You, NYPD Blue and Cybill. There's a lesbian wedding practically every other week. But until now they've only had supporting roles. Ellen would be the first show built around a lesbian—and starring one. How big a difference will that make? Most of the sponsors haven't flinched. Chrysler pulled an ad off the April 30 episode, saying it didn't want to advertise in such a "polarized" environment. But a company spokeswoman says its ads will be back on ensuing episodes. Viewers in New York, Los Angeles and San Francisco might not be fazed by a same-sex sitcom, but folks are a little more conservative in the part of America Hollywood types call "fly-over country." And Jerry Falwell is already fulminating against "Ellen Degenerate." Donna Miller, a 39-year-old mother of three who works at the Hamilton, Ohio, chamber of commerce, has always been a big fan of Ellen. Now she's not sure. "That was a totally funny show," she says. Her eight-year-old daughter liked to watch because she's also named Ellen. "But I wouldn't let Ellen watch Ellen after she comes out of the closet," Miller says. Her co-worker Jennifer Klus, who's 26 and single, is less ruffled by the prospect of a gay Ellen, but says, "If the show is going to turn into 'let's explore what lesbian relationships really mean,' I wouldn't want to watch that."
ABC's Jamie Tarses promises that won't happen. "This is not a 'date of the week' show," she says. "It never has been. It will be another aspect of her character. This is not going to be a day in the life of Ellen DeGeneres, lesbian." The producers say they're a long way from Ellen's kissing another woman, even though that taboo has been broken on Roseanne and Relativity—both ABC shows. The network is sending out mixed signals, refusing to run a pro-gay ad from the Human Rights Campaign, although 31 ABC affiliates will run the spots locally.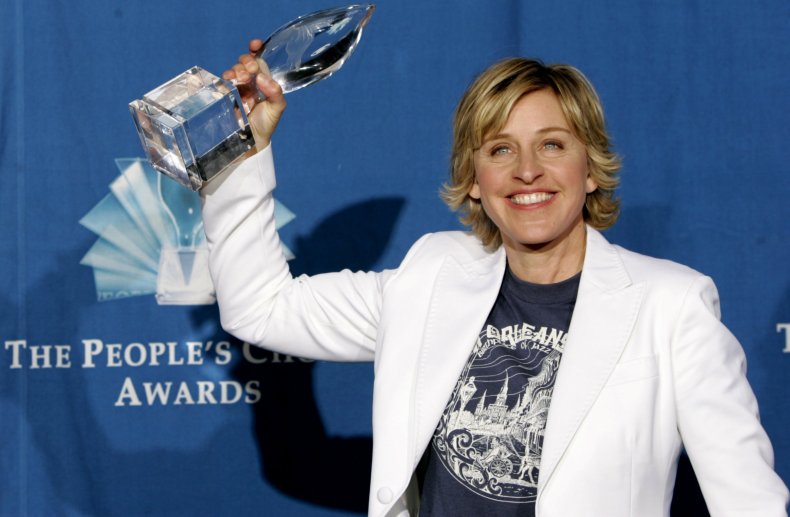 Naturally, the internet has been buzzing with Ellen mania for months. Around the country, gay organizations are plannig "Come Out With Ellen" parties. One ABC staffer already has. Jill Lessard, the show's publicist, asked to appear as an extra in a scene set in a gay coffeehouse, then decided to come out herself as well. "I just got swept up in the moment," she says.
The moment, when it comes, may well seem a little anticlimactic after all the hype. In subsequent episodes, Ellen will come out to her parents, then her boss. Viewers might start wondering, Who's she gonna tell this week? Enough already! "I hope it does what Ellen intends, and that's to send a positive message about lesbians and gays in general to the American public," says Vance DeGeneres, Ellen's brother and a writer on the show. As a career move, coming out personally is risky and courageous. She has more at stake than ABC—which has watched this former top-10 show drop to No. 30 in the last two years—and Disney, which has already sold the reruns into syndication. There isn't exactly a big call for lesbian leading ladies in Hollywood. Vance DeGeneres is worried about "the danger of Ellen being typecast." Not to mention the danger of some nut trying to physically harm her.
The media hoopla aside, there is something refreshingly honest about DeGeneres's decision to emerge from the closet. Her one attempt at a big-screen romantic comedy, Mr. Wrong, bombed. Maybe for the same reason Ellen's hetero love life has always fizzled on the show. Now, at least, she's playing herself, or someone a lot closer to herself than before. "She feels on top of the world," Savel says of DeGeneres. "She's so happy the show was done right. It was everything she wanted it to be. So in that sense, she's free."
This story originally appeared in the April 14, 1997 issue of Newsweek. Mark Miller contributed reporting from Los Angeles and Jolie Solomon from New York.