Ellingtonian Exceptionalism: Lessons From the Duke
His output was unrivaled in the 20th century, from hit songs to stage musicals, ensemble tone poems and film scores, including "In a Sentimental Mood," "Mood Indigo," "Jump for Joy" and more than 1,700 compositions spanning five decades. But to understand Duke Ellington's life—and life for African-Americans in much of the 20th century—it's important to know where he got his start. And how.
He was born in 1899 in Washington, D.C., in one of the most ruthlessly segregated cities in America. "It was the Northern tip of the Deep South, but it also had a large, prosperous Black middle class," Terry Teachout, author of a remarkable book about Ellington's life called Duke, told Newsweek. "That's what defines the neighborhood he grew up in. It was a place where every kind of Black person—well-to-do and poor, striving and desperate—were thrown together."
It was a violent place, Teachout noted, and it was a society with class divisions too, which mirrored those of the white world. There was also discrimination among Blacks when it came to skin color. "Ellington came from light-skinned parents," Teachout explained. "His mother had a senator in her heritage and this put them several rungs up the ladder. Ellington's father was considered pretty far up on the ladder of success because he was the butler of a white doctor."
His mother had lofty goals for her son. "You are special. You are going to do remarkable things," she would tell him. She used the words "Ellingtonian exceptionalism" regularly, Teachout said. "She was dead serious about it."
Like many innovators in American life, Ellington learned by doing, not studying. "As far as anyone teaching me, there was too many rules and regulations, and I just couldn't be shackled into that," Ellington said, according to Teachout's book. "As long as I could sit down and figure it out for myself, that was all right."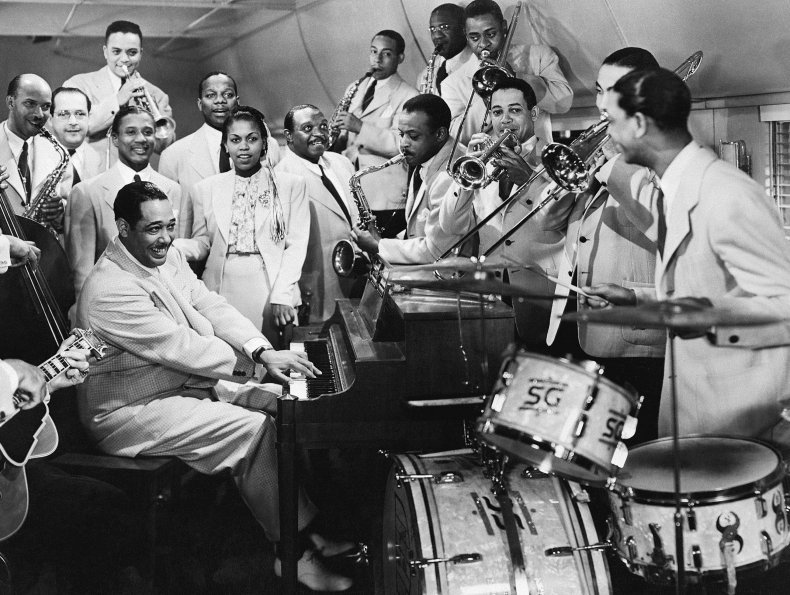 By his late teens, he was making $150 a week leading a prominent local band. But then came the Washington race riots of 1919. "They were violent and shocking. And caused a lot of Black people to realize just how fragile their lives were," Teachout said. "It seems impossible that they wouldn't have had an effect on Ellington."
Ellington was also beginning to hear musicians from outside Washington. "He realized that if you want to be more than just a famous local musician, you were going to have to come to New York," Teachout explained.
That move would change the course of Ellington's life. It was the beginning not only of the Harlem Renaissance but of the Roaring '20s. "It wasn't a cliché," Teachout said. "The country was turned inside out by Prohibition and the resulting lawlessness that stemmed from it, and by the sense of personal freedom that people saw, especially men coming back from the First World War."
Teachout wasn't finished describing the times. "You remember the song 'How Ya Gonna Keep 'Em Down on the Farm (After They've Seen Paree)?' That's what the Roaring '20s meant to people," he said. "They wanted a larger life, one with fewer restrictions, fewer limitations. They wanted excitement. Many wanted the things only a city could provide."
There was also a cultural ferment going in every art form, including the music that gave its name to the times: jazz. "If you weren't stimulated by that, then there was nothing in you to be stimulated," Teachout noted. "Ellington was stimulated to the highest degree by this freedom."
Though Ellington was part of the Black bourgeoisie and believed in the appearance of respectability, he also wanted to lead a wider, freer life. "He was in the right place at the right time doing the right thing," Teachout said.
If one gig—and one place—changed Ellington's life the most, it was the Cotton Club in Harlem, a venue that was itself a product of racial segregation. "There were a number of clubs that didn't admit Blacks in Harlem," Teachout said. "They were entertainers, waiters and staff, but they couldn't come in as customers. They were places where white people from downtown who had money to burn came up to entertain themselves, to discover this new exotic music called jazz."
To add insult to injury, the club was decorated in the style of a plantation. "What a horrible irony," Teachout said.
The gig was a big deal for Ellington because suddenly he was playing every night. "His band had to supply not just songs and original pieces but music for dancing and floor shows," Teachout said. "Ellington had to produce."
Soon, critics and influencers were writing about Ellington's talents. And Ellington then got his biggest break of all, when CBS installed a radio broadcast wire to the Cotton Club. It made him a national figure. And a Black national figure.
"There hadn't been Black bands with that kind of exposure on network radio," Teachout explained. "It was the Great Depression, and the bottom fell out of the record business because people couldn't afford to buy records. But they could afford to listen to the radio because it didn't cost anything. That made Ellington a star."
Perhaps the most profound experience of Ellington's life occurred during his two-week run at the Palladium in London, where the audience's reaction stunned the band. "The applause was so terrifying as it was applause beyond applause," he said.
The trip was a revelation for Ellington, who was viewed as a mere entertainer in America. But in London he was treated like an artist by music critics and aficionados alike. His music, they argued, was equal to the best classical music being produced in America.
"That was a big thing for a Black man to hear at that time," Teachout said. "This was a man who was going from gig to gig in private cars on a train, which sounds fancy. But he did that because you couldn't get a hotel in the South if you were Black. And suddenly he's being treated like a prince, like the genius he was. He's also able to stay in the best hotels. It's the total experience of going into this larger, freer world that overwhelmed him."
Teachout continued, "No matter how gifted you are, you need praise. You need people to tell you what you're doing is worthwhile. If you're a Black man in America in the '30s, you need a lot of that because you're dealing with a lot of evil and foolishness. So when he goes to London and this happens to him, he comes back with his account full of the coin of intelligent, thoughtful praise. He lived off that for a very long time."
Teachout's book especially stands out when he chronicles the impact of racism on Ellington's life. "I think one of the things that he didn't want people to see was the hurt," Teachout said. "He wanted them to feel that he was above such things. Wouldn't you? So he concealed his hurt. He concealed it behind the mask of urbanity."
There would be many ups and downs in Ellington's life, including a stint at the Newport Jazz Festival in 1956 that landed him on the cover of Time magazine and refueled his career. And in 1969 he was awarded the Medal of Freedom by President Richard Nixon.
But for all of his fame, he was an enigma to those who knew him. "Ellington talked not to explain himself but to conceal himself," Teachout said. Even Ellington's own musicians, with whom he traveled for decades, didn't know him well. "He was a riddle without an answer, an unknowable man who hid behind a high wall of ornate utterances and flowery compliments that grew higher as he grew older," Teachout said. "Everyone knows him—yet no one knows him. That was the way he wanted it."
As with most geniuses, his work was his life. "He wanted to be able to do the work every day, to show up for the gig, to write music, and he was willing to subordinate anything to that," Teachout noted. "So when you look at his life, you cannot help but be struck by how unattractive certain aspects of it are. He was an opportunist. He was unscrupulous. But if you worked for him, you were working for a genius whose gifts included being able to make everybody who played with him sound better."
Ellington died in 1974, and 12,000 people attended his funeral. Singer Ella Fitzgerald offered a simple statement: "A genius has passed."
Teachout's book is a heck of a story about one of the most consequential musicians in American history. It's also a study of American life through the first half of the 20th century and the intersection of race, class and culture. And the tragedies and triumphs of a man who was formed by those times and helped shape them as well.