Elliot Page made his Met Gala debut on Monday night in what is the actor's first red carpet appearance since coming out as transgender in December 2020.
For fashion's biggest night, Page, 34, donned a black Balenciaga suit paired with a pair of black sneakers.
The Juno star accessorized with a green rose pinned to his lapel, which many are speculating is intended to be a nod to the green carnation symbol that's associated with Oscar Wilde.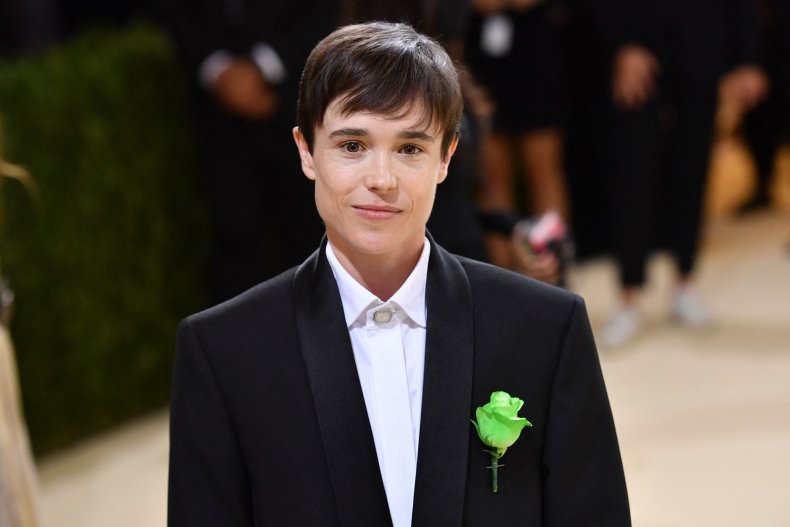 The green carnation became a queer symbol in 1892 and has continued to be a token for queer men ever since.
"The green carnation became a queer symbol in 1892 when Oscar Wilde instructed a handful of his friends to wear them on their lapels to the opening night of his comedy Lady Windermere's Fan," Sarah Prager writes in an essay on certain flowering plants and their queer symbolism, per JStor.
"From then on, wearing a green carnation on your lapel was a secret, subtle hint that you were a man who loved other men."
According to Oscar Wilde Tours, who use the flower as their symbol, with the green carnation, "Wilde was playing with one of his favorite ideas: that nature should imitate art, and not the reverse. In that sense, then, the green carnation was symbolic. A flower of an unnatural color embodied the decadent and the unnatural."
At the time "unnatural" suggested homosexuality.
Before coming out, Page revealed that he "never recognized" himself during red carpet appearances.
"I just never recognized myself," 34-year-old Page said in an interview with Time in December. "For a long time I could not even look at a photo of myself."
Speaking about how gendered clothing made him feel, Page added: "Even though [I was] an actor, just putting on a T-shirt cut for a woman would make me so unwell."
Page's Met Gala debut is being praised as fans celebrate how he can now recognize himself on the red carpet since coming out as transgender.
One fan tweeted: "ELLIOT PAGE SAVED THE MET GALA YAL." While another added, "Elliot Page is the only man I'll ever love to see in a black suit. That's it."
Several people also noted Page's green rose on his lapel as a homage to Wilde's green carnation.
"Not to out myself as a #MetGala fan but Elliot Page wearing a green carnation I cry. Like most people won't get that little detail but ahh," one fan tweeted.
While another added: "Excellent satire on masculinity here sir. The oversized suit? The oversized sneakers? The green carnation for a spot of queer camp..."