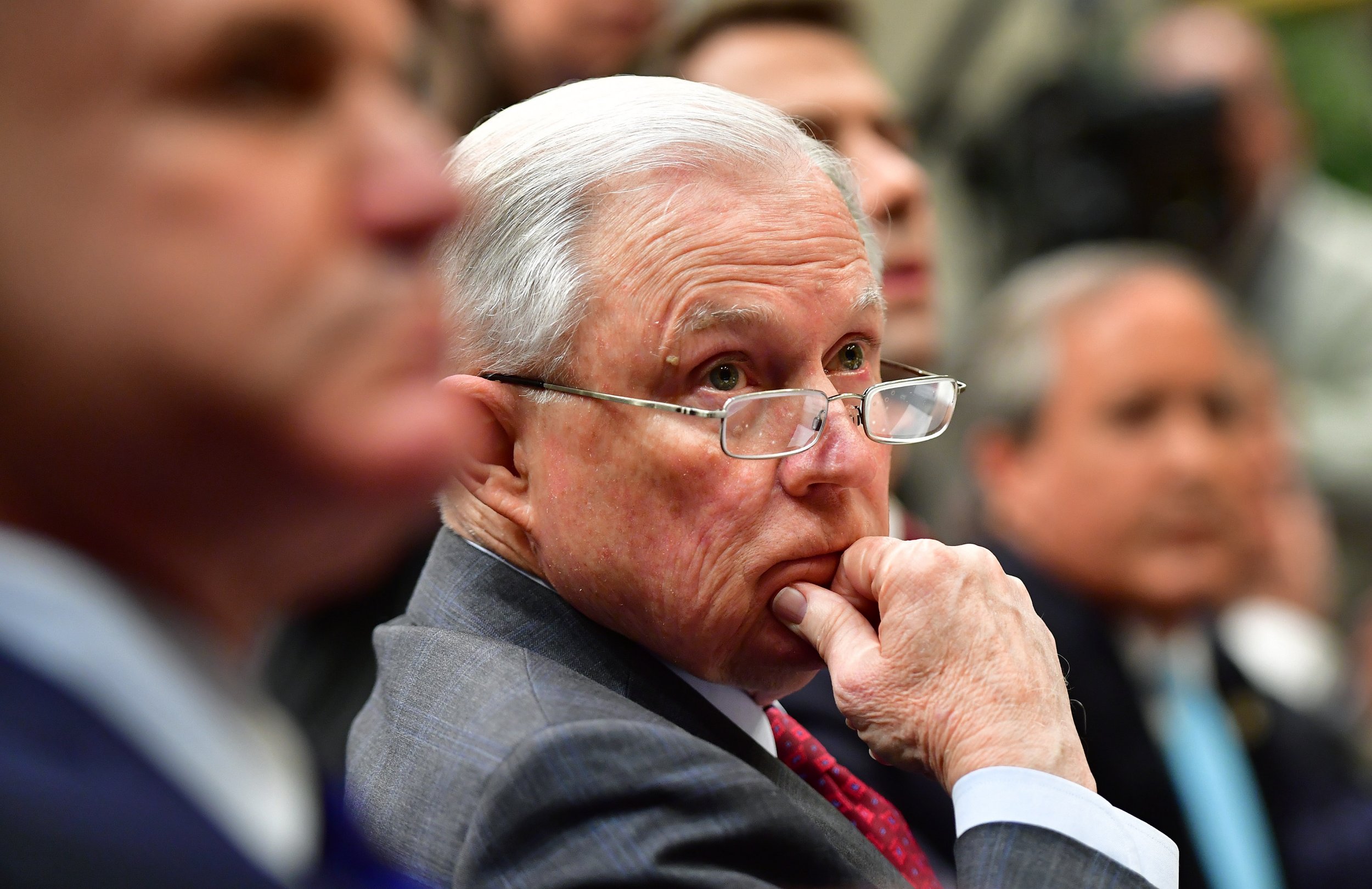 Updated | For help filling United States attorney posts, Attorney General Jeff Sessions reportedly enlisted Elliott Broidy, a Republican donor and Washington power broker who worked with a cooperating witness in Special Counsel Robert Mueller's investigation.
As Donald Trump prepared to ask for the resignations of U.S. attorneys from the outgoing administration, a move that is not unusual, Sessions asked for recommendations for potential replacements from Broidy, a donor and defense contractor, ProPublica reported Monday, citing two unnamed sources.
Emails and documents that ProPublica reviewed showed that in November 2016, Broidy emailed Sessions about one potential candidate, Nathan Hochman. "I have known Nathan J. Hochman for approximately 20 years and I highly recommend him for the position of United States Attorney for the Central District of California," the email said, according to ProPublica.
Hochman, who ProPublica noted represented former Los Angeles Sheriff Lee Baca, who is apparently friends with Broidy, was ultimately not selected.
Related: The Trump administration can't come up with black attorneys
Broidy also recommended Jason Dunn, an attorney in Colorado who was that state's deputy attorney general and assistant solicitor general, and Christopher Clark, his personal lawyer, according to ProPublica. Neither of them got the job.
Hochman declined to comment to Newsweek. Neither Dunn nor Clark was immediately available to comment. Broidy also was not immediately available to comment to Newsweek. But in a statement to ProPublica, he said, "I gladly recommend good people to serve in important positions in our government. They, like anyone, have to go through the normal vetting and background investigation process. I was honored to make recommendations in the past and would do so again for the right candidates."
Previous reports have revealed how Broidy has made hiring recommendations for the Trump administration. Last year, Marie Royce, the wife of Ed Royce, a Republican congressman from California, wrote emails to Broidy expressing interest in the position of assistant secretary of state for educational and cultural affairs, Newsweek previously reported.
In one email, from February 2017, Royce wrote, "Dear Elliott, Thank you for your support for a role in the Administration…. I would like to be considered in the following roles." In January, Trump nominated her for the position, and the Senate later confirmed the nomination.
"Mrs. Royce worked on her own to obtain this nomination and to my understanding, followed every appropriate protocol to apply," Broidy said last month in a statement to Newsweek about Royce. "As a longtime friend, I was happy to serve as a reference, as I'm sure dozens of other people were as well, but given her background and qualifications she didn't need our help."
He also recommended people for ambassadorships and other positions, including the director of the U.S. Patent and Trademark Office, according to ProPublica.
The outlet noted that in 2009, Broidy was convicted in a public corruption and bribery case in New York state, perhaps making him an unusual person to be providing recommendations for hiring federal prosecutors.
Broidy reportedly also has ties to George Nader, a former magazine editor with Middle East connections who is said to be cooperating with Special Counsel Robert Mueller's team.
Lawmakers, legal watchdogs and Justice Department veterans have scrutinized the U.S. attorney hiring process under the Trump administration. While it is not uncommon for an incoming president to request the resignations of U.S. attorneys appointed during a previous administration, Sessions testified before Congress that Trump has been involved in the hiring process, a move that critics have said is highly unusual.
This story has been updated to clarify the relationship between Elliott Broidy, George Nader, and the Mueller investigation.