Elon Musk: High-Speed Tunnel Under L.A. 'Almost Done,' Will Offer Free Rides
Elon Musk said his high-speed "Loop" system being built under Los Angeles is "almost done," teasing that the U.S. public would have access by Christmas.
The billionaire tech entrepreneur made the announcement on his Twitter profile, confirming that the Boring Company's project was expected to have an opening event on the evening of December 10 before offering free demonstrations, previously promised, to the pubMatlic the next day.
The Boring Company was founded by Musk back in 2016 to fix "soul-destroying" city traffic. If it works as promised, it would shake up travel options for pedestrians and cyclists.
The Loop system, in theory, would transport passengers underground at speeds of roughly 150 miles per hour in low-cost taxi-style vehicles. A second system—the Hyperloop—has been described as an "ultra-high-speed" option that could travel at a whopping 600-plus miles per hour.
On Twitter on Sunday, Musk confirmed that the initial "test tunnel" that is being constructed under Hawthorne, California, would have a top speed of 155 miles per hour. When asked by one Twitter user if the date provided was in "real time or Elon time," the CEO replied: "I think real."
Musk confirmed back in May that the U.S. public would get free demonstrations. Ultimately, he said the system would "always give priority to pods for pedestrians and cyclists for less than the cost of a bus ticket." He published a video of the tunnel on his since deleted Instagram page.
It remains unclear how the free demonstrations will be organized.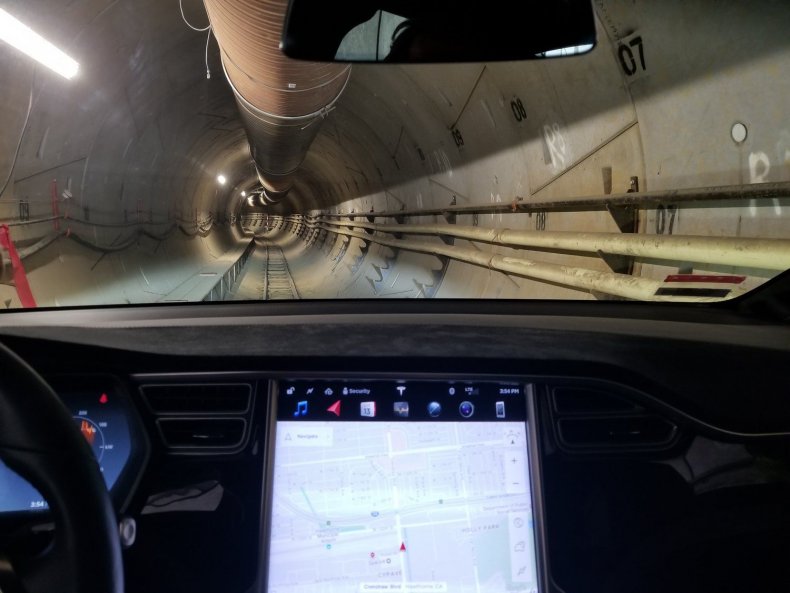 Future Loops
According to the Boring Company website, the route of the L.A.-based tunnel leaves Musk's SpaceX property—a parking lot east of Crenshaw Boulevard and south of 120th Street—before turning west under 120th Street. It then remains under 120th Street for up to 2 miles.
On Twitter last May, Musk teased that work had "already started" on a Loop route running from Washington, D.C., to New York. "Hopefully start LA to SF next year," he added. "That will be true Hyperloop [with] pressurized pods in near vacuum tunnels & faster than jetliner."
A true Hyperloop trip from Washington, D.C., to New York would take less than 30 minutes,the company claimed. Additional Loop projects are taking place on the East Coast and Chicago.
The venture gained a boost in April after raising $112.5 million in funding, Electrek reported. The company, unlike Musk's Tesla, is privately funded and not reliant on external shareholders.