Elon Musk Is Building a Car With Rocket Boosters
Tesla founder Elon Musk has announced plans to install rocket thrusters in the backseat of the company's newest car.
The Tesla Roadster—which is being brought back to life in the coming years—will reportedly sacrifice two seats in the back of the car for SpaceX Thrusters. The private space exploration company was also founded by Musk.
The "SpaceX package" of the new Roadster was teased by Musk in a tweet on Saturday. "SpaceX option package for new Tesla Roadster will include ∼ 10 small rocket thrusters arranged seamlessly around car," Musk tweeted. "These rocket engines dramatically improve acceleration, top speed, braking & cornering. Maybe they will even allow a Tesla to fly…"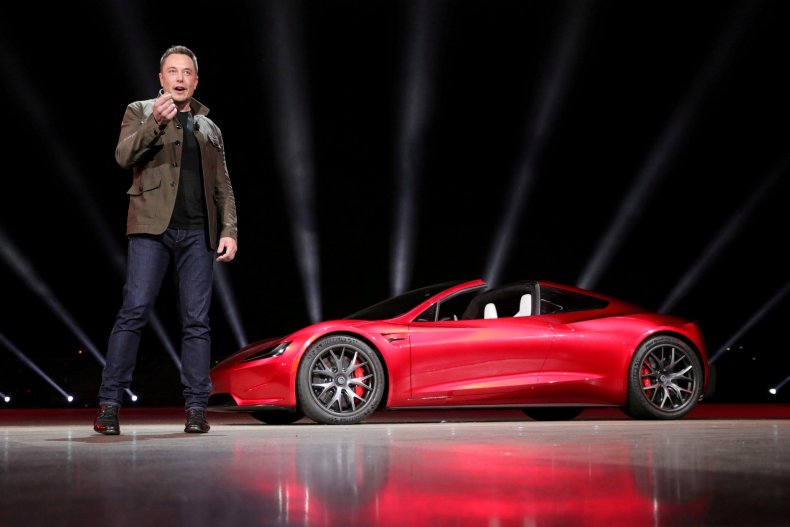 The final line of Musk's tweet had most assuming he was kidding about the rocket thrusters.
As it turns out, he wasn't. Musk added more details about the thrusters in follow-up tweets on Sunday. The technical name for them will be "composite overwrapped pressure vessel" (COPV) and the air inside will be constantly replaced once it is used.
"Note, gas contained would be ultra high pressure air in a SpaceX rocket COPV bottle. The air exiting the thrusters would immediately be replenished whenever vehicle pack power draw allowed operation of the air pump, which is most of the time."
Any concerns of excess power being demanded from the COPV have been quashed by preliminary Roadster specifications. The car will include a 200 kWh battery capable of travelling 620 miles on a single charge. It can accelerate from zero to 60 miles per hour in just 1.9 seconds.
The SpaceX package will sacrifice the back seats for the thrusters. Musk has regularly referred to the spots as "kids seats."
"Trade is just that Roadster becomes a 2 seater instead of a 2+2. COPV in place of the kid seats, which is prob wise for many reasons," Musk tweeted.
The original Tesla Roadster was released in 2008. It was the first electric car with a top speed exceeding 200 kilometres per hour (124 mph). Musk announced the new version of the Roadster at an event in November last year. The Roadster was revealed by speeding out the back of Tesla's electric truck (the centre point of the event).
It will be released in 2020. Pre-orders have begun and require a $50,000 deposit.
Meanwhile, another one of Musk's businesses, the Boring Company, has started shipping its flamethrowers. 20,000 of the products, officially called "Not a Flamethrower" have been sold to help raise money for the Boring Company's underground drilling venture.