Elon Musk Calls Trudeau Government the Real 'Fringe Minority' in Trucker Protest
Elon Musk mocked Canadian Prime Minister Justin Trudeau amid this weekend's trucker protest against the Canadian federal government's vaccine mandate, calling Trudeau's administration the real "fringe minority."
Replying to a video of Saturday's anti-vaccine protest in Ottawa, Musk tweeted: "It would appear that the so-called 'fringe minority' is actually the government."
As the parade of trucks traveled across Canada to the nation's capital last week, Trudeau denounced the Freedom Convoy 2022, calling participants "small fringe minority who are on the way to Ottawa who are holding unacceptable views" at a press conference earlier in the week.
Canadian cross-border truck drivers are protesting the federal mandate that took effect earlier this month that required the workforce to be fully vaccinated.
Truckers had previously been exempt from the vaccine mandate as they were considered essential to the supply chain. The latest requirements are part of the Trudeau administration's response to the highly transmissible Omicron variant.
While trade industry groups say the mandate would take only 10 to 15 percent of commercial truck drivers off the road, the threat of 12,000 to 16,000 fewer drivers would further exacerbate the labor shortage and dire supply chain delays.
Roughly 90 percent of Canada's truckers are now vaccinated—a number that mirrors the country's national vaccination rate.
"Truckers have tough jobs; long hours on the road, days away from their families, real challenges, particularly over the past two years, as they've continued to step up to put food on our shelves and on our tables, to support us with lifesaving medications and supplies," Trudeau said on Monday.
"We have relied on you, and you can rely on us to continue to stand with you and allow you to do your jobs safely," he added. "Almost 90 percent of you are doing exactly that, and we thank you deeply for everything you've done. The behavior on display this weekend does not represent you."
Organizers of the convoy have claimed that 50,000 vehicles joined in on the cross-country protest, but those figures have been debunked by several local outlets and provincial police departments who estimate that the number of vehicles, including both trucks and private cars, falls closer to 2,000 at the most.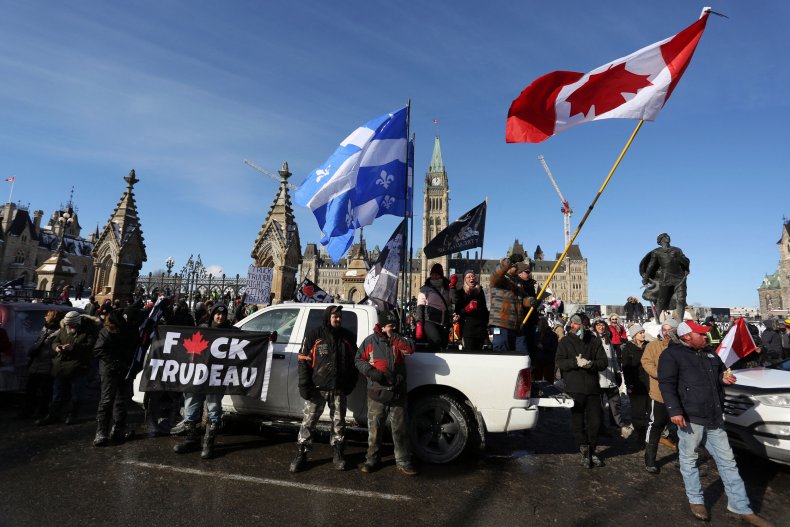 Despite a smaller turnout than protesters have alleged, the convoy has garnered national media attention in Canada and even support from the other side of the border.
Musk, who has been vocally opposed to mandates, has reiterated his support for the truckers.
"Protesting in a Canadian winter shows real commitment!" Musk tweeted on Sunday. "If the government had the mandate of the people, there would be a significant counter-protest. There is not, therefore they do not."
On Thursday, Tesla's CEO also wrote, "Canadian truckers rule" and "Je m'aple [sic] syrup."
The protest has also been criticized by many Canadian politicians after the police launched several investigations into the appearance of swastika flags at Saturday's protest and footage of a woman dancing on the Tomb of the Unknown Soldier.
"Several criminal investigations are underway in relation to the desecration of the National War Memorial/Terry Fox statue, threatening/illegal/intimidating behaviour to police/city workers and other individuals and damage to a city vehicle," Ottawa Police said in a Sunday statement on Twitter.
Trudeau and his family left their home in the nation's capital during the protest over safety concerns.
Update 01/31/22 4:29 p.m. ET: This story was updated with comments from Trudeau.