Elon Musk Can Extend Tesla Highway Under Las Vegas: Here's What It Looks Like
Elon Musk's Boring Co. won approval Wednesday for its plan to build a 29-mile tunnel system under Las Vegas that would shuttle passengers in Tesla vehicles.
Clark County commissioners voted unanimously to grant a special use permit and franchise agreement to the Boring Co. for it to create what the company calls the "Vegas Loop." The route would connect with the company's current 1.7-mile path at the Las Vegas Convention Center campus in an underground system of 51 stations that would include stops at casinos on the Las Vegas Strip, as well as at Allegiant Stadium and McCarran International Airport.
Speaking with the Las Vegas Review-Journal, Boring President Steve Davis touted the low costs the Vegas Loop will offer. He said a 3.6-mile, four-minute trip between the convention center and Allegiant Stadium would cost $6 per vehicle.
"This is not transportation for the wealthy," Davis told the newspaper. "It's very affordable, very accessible and very, very comfortable."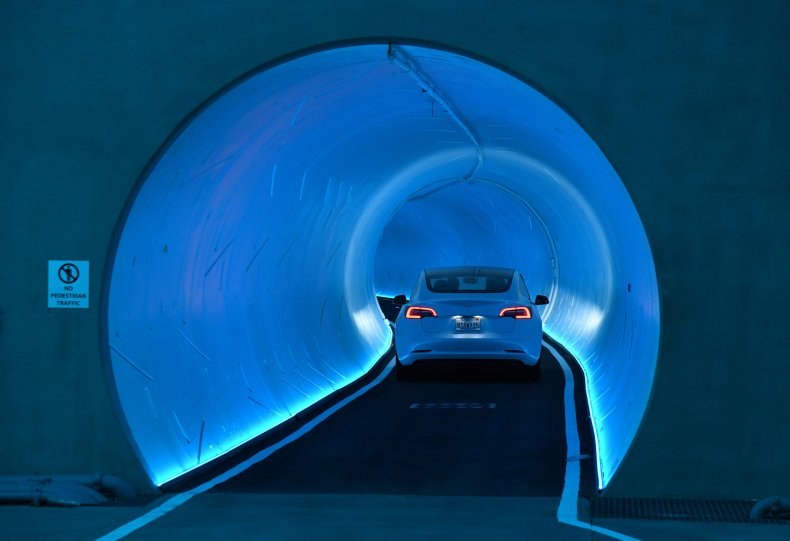 In announcing the ambitious plan's approval, the Clark County commissioners shared the proposed map of Boring Co.'s Vegas Loop on a Twitter account.
The commissioners also emphasized that Boring Co. will pay for the tunnels, with no taxpayer money going toward the project.
The Boring Co. also shared the news in a tweet that was reshaped by Musk. Boring's message read, "Thanks to the Clark County team for the great partnership and to the Commissioners for unanimous approval."
Davis told the Review-Journal the company's plan is to build the loop in phases, with the goal of completing it within three years after work begins. Individual stations will open immediately after construction is finished, Davis said. He added that Boring plans to build between five and 10 stations within the project's first six months and between 15 and 20 stations every year.
Once the network is completed, Boring said it will transport around 57,000 riders per hour.
Newsweek reached out to Boring for further comment but did not hear back before publication.
In 2017, Musk first spoke of the Boring Co.'s plans to build tunnels underneath various major cities. His original vision described autonomous sleds and shuttles, but any mention of the vehicles being driven autonomously in the tunnels has been removed from the company's website.
Although Wednesday's announcement was an important first step for Boring Co.'s Vegas Loop plan, the company still has some other hurdles to clear. Wednesday's special use permit allows the company to apply for land use and building permits for its tunnels, but it still must get a separate franchise agreement approved by the city of Las Vegas before it can start excavating.