Elon Musk Tells YouTube Co-Founder to 'Stop Being a Chad' in Twitter Clash
Tesla boss Elon Musk was quick to respond after being criticized by the co-founder of YouTube this week, hitting back with internet slang.
Chad Hurley, who co-founded the platform before selling it to Google for $1.65 billion in stock in 2006, clashed with Musk after noting he had not been very active on social media, as the 2020 election counts continued.
"The axis of ego is pretty quiet tonight," Hurley wrote, also tagging the Twitter accounts of President Donald Trump and rapper-turned-political candidate Kanye West.
And no stranger to internet slang and meme culture, Musk had hit back within minutes, writing in a tweet "Uh ... Chad wtf," before a swift second post added: "Stop being a chad." Shortly after, Hurley responded with a single cry-laughing emoji.
As noted by Urban Dictionary, the term chad is broadly used online to describe a "major douchebag," often a "stereotypical young urban white male, typically single." The term "what a chad" is often used in a derogatory way to describe obnoxious behavior.
The website explains the term as: "A male typically ranging between the ages of 17-28 who thinks he has swag, but really has no swag. Sometimes a chad will will be wearing any type of Jersey Shore paraphernalia and might be seen with a stupid hair-style."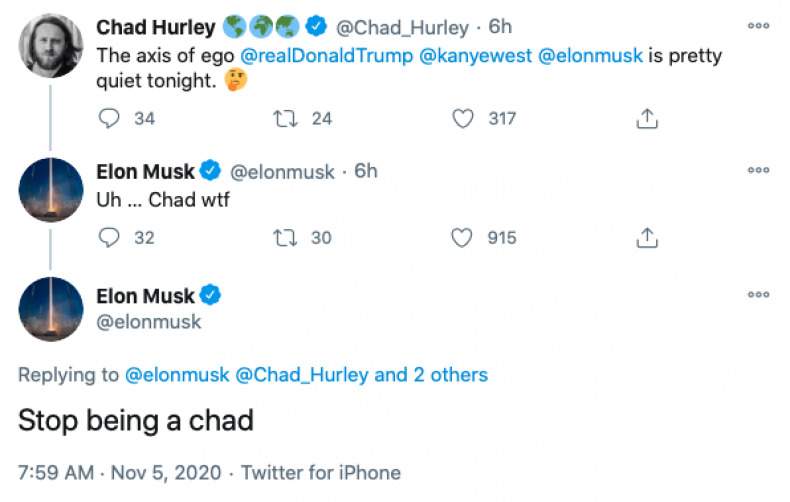 In recent years the term chad has also been co-opted by the Incel community, a male supremacist subculture that objectifies women for what they claim to be a denial of a right to sex, as a derogatory title for attractive men who are sexually successful with women.
2020 Election
Musk had initially supported West's run for president, although later distanced himself as the rapper questioned vaccines and said Planned Parenthoods "have been placed inside cities by white supremacists to do the Devil's work," in an interview with Forbes.
As news of West's controversial comments spread, Musk conceded in a tweet: "We may have more differences of opinion than I anticipated."
The rapper failed in a bid to become U.S. president, gaining a little over 60,000 votes across 12 states, but has seemed to reference another run would happen in 2024.
While not an out-right supporter, Musk and Trump have repeatedly crossed paths, most recently during the launch of SpaceX's Demo-2 test mission with NASA.
In 2018, Musk endorsed Trump's idea to create a "Space Force" agency, telling Recode that the concept was actually "cool." In January this year, Trump praised Musk as "one of our great geniuses" and said he "does good at rockets too, by the way."
In May, Musk was backed by the president as he appealed to California officials to allow his Tesla plant to re-open despite a COVID-19 lockdown. "California should let Tesla & @elonmusk open the plant, NOW. It can be done Fast & Safely!" Trump wrote.
Musk was openly skeptical about closures, at one point tweeting: "Free America Now!" and voicing the opinion that panicking about the virus was "dumb."
Kanye West, meanwhile, was outspoken about his support for Trump before launching into his own campaign for the White House, often seen wearing a red "Make America Great Again" cap. West had previously visited Trump Tower in 2016.
Ultimately, Musk's use of the internet slang was not a total surprise. He is a well-known meme enthusiast, often sharing them with his millions of Twitter followers.
The billionaire sparked a wave of responses in June this year by posting: "Who controls the memes, controls the Universe." Roughly one month later, he asked, "Where are the memes? Send in ... the memes ..." and attracted hundreds of thousands of likes.