Musk Urges COVID-19 Retests Due to 'Ridiculous Number' of False Positives
Elon Musk is urging anyone who has tested positive for COVID-19 to undergo another examination due to a "ridiculous number" of false positives.
The billionaire technologist, who spearheads electric car company Tesla and rocket firm SpaceX, voiced his opinion about the infectious respiratory disease on social media today, asserting that hospitalizations and death rates are currently declining.
Musk tweeted: "There are a ridiculous number of false positive C19 tests, in some cases ~50%. False positives scale linearly with # of tests.
"This is a big part of why C19 positive tests are going up while hospitalizations and mortality are declining. Anyone who tests positive should retest," he added.
Musk spoke out about the novel coronavirus as confirmed cases continue to surge in the U.S., including in Texas, Florida, California, Arizona, South Carolina, Georgia and Mississippi, according to a map tracking the outbreak from The New York Times.
Many states that rushed to re-open their economies have since decided to slow efforts in recent days as COVID-19 infections spiked to record numbers, surpassing 2.6 million nationwide, with daily new cases in several states surging into the thousands.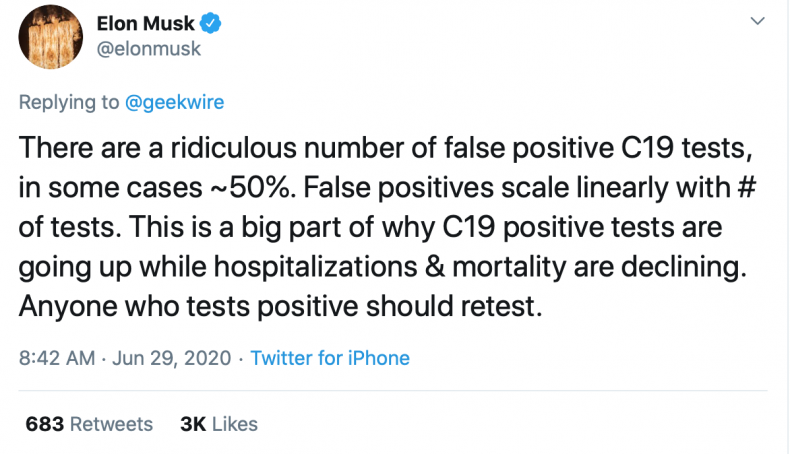 CNBC reported last week, citing data from the Covid Tracking Project, that at least 16 U.S. states were facing rising hospitalizations linked to cases of COVID-19.
On June 24, The Washington Post reported seven states were recording "new highs" for COVID-19 hospitalizations, including Arizona, Arkansas, California and Texas.
The White House has suggested surging case numbers are linked to increased testing capacity, and the president has resumed in-person campaigning rallies.
Last Friday, Florida Governor Ron DeSantis placed restrictions on businesses serving alcohol, a move mirrored by California Gov. Newsom. Texas Governor Greg Abbott, speaking to KIVA, expressed regret about allowing bars to open too early.
Miami Mayor Francis Suarez told the BBC over the weekend that the "sheer numbers [of COVID-19 cases] are so high" they are straining the city's health care system.
The Centers for Disease Control and Prevention (CDC) has said the true number of cases in the U.S. could be 10 times higher than reported figures.
On U.S. hospitalizations, CDC predictions on June 23 suggested "forecasts from two models suggest an increase in the number of daily hospitalizations over the next four weeks, while the other three models forecast stable numbers or slight declines."
Testing for COVID-19, for which there is no known vaccine or cure, can return both false positives and false negatives, each with the potential to skew official data.
The New York Times reported in April, citing the Mayo Clinic, that false negatives, when a person who is positive returns an opposite result, were a major concern.
"Anticipation of a less-visible second wave of infection from individuals with false-negative test results is needed," Mayo Clinic scientists warned in a paper.
On the other side, both the Times and The Atlantic have reported coronavirus antibody tests are indeed particularly vulnerable to recording false positives.
Academic research into statistics on either side appears limited. A pre-print paper about false positives in asymptomatic cases in March was ultimately withdrawn.
Globally, the COVID-19 disease has spread to more than 10 million people, killing over 500,000, according to health data being published by Johns Hopkins University.
According to the Times' data, which analyzes average changes in the U.S. over 14 days, new reported deaths appear to be declining despite the surge in cases.
But experts previously told Reuters mortality rates can often be a misleading indicator of a virus's impact when being tallied during an ongoing pandemic.
"In an unfolding epidemic, it can be misleading to look at the naive estimate of deaths so far divided by cases so far," explained Christl Donnelly, a disease specialist at Oxford University and Imperial College London. "This is due to the delay from the time it takes for individuals to progress from being diagnosed as cases to dying."
Musk has consistently voiced skepticism about COVID-19, previously threatening legal action against Alameda County over its reluctance to reopen his California plant. Tesla said it could "put people back to work in a safe and responsible manner."
He previously criticized the nationwide lockdowns in place to help limit the spread of the disease, tweeting "Free America Now" while praising the reopening of Texas.
Musk also became embroiled in controversy over the delivery of ventilators to hospitals as critics said the devices received could not treat severe COVID-19 cases.
In March, he predicted there could be a significant decline in U.S. COVID-19 cases while referring to claims that infections in China appeared to be flattening. "Based on current trends, probably close to zero new cases in US too by end of April," Musk tweeted.