Elon Musk Slams Jordan Peterson Twitter Suspension: 'Going Way Too Far'
Elon Musk, billionaire and the potential future owner of Twitter, has said the platform has gone "too far" in suspending Jordan Peterson's account.
Outspoken author and psychologist Peterson was suspended from Twitter for violating the platform's rules for a tweet that deadnamed transgender actor Elliot Page. Peterson has since said he'd "rather die" than delete the tweet that would get him reinstated to the platform.
The June 22 tweet that got Peterson temporarily suspended featured a link that is no longer available, but read: "Remember when pride was a sin? And Ellen Page just had her breasts removed by a criminal physician."
Early on Tuesday Musk, who is often outspoken on a number of issues, was dragged into the debate when he was asked for his opinions by a Twitter user.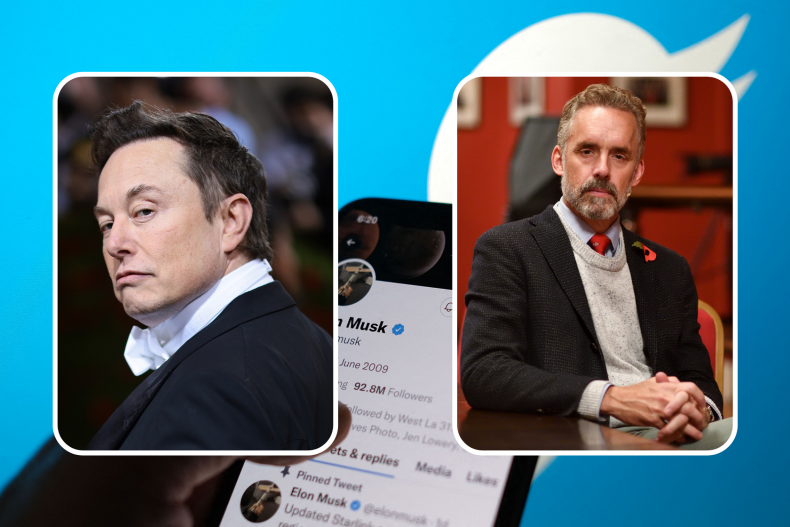 "Yeah, they're going way too far in squashing dissenting opinions," Musk replied after he was asked about Peterson being "banned from the bird app."
This came after Musk had posted a meme on Independence Day which suggests Twitter inserts information warnings contrary to what people are saying. In a mocked-up tweet by Paul Revere, his famous quote "The British are coming," is followed by a Twitter notice that says, "Learn how British taxes are beneficial for society."
Newsweek has contacted Musk and Peterson for comment.
Musk was brought up a couple of times by those close to Peterson after news of his suspension leaked online. Both Peterson's daughter Mikhaila and conservative commentator Dave Rubin called on Musk, as the potential buyer of Twitter, to change the platform's rules when he takes over. Since sharing the original post, Rubin has been suspended from Twitter too.
As with anything Musk tweets, his comment on Twitter and the decision to suspend Peterson stirred up conversation across social media.
"He should buy Twitter and change the rules," was the popular take by Reddit user @terminalmemelocity. The sentiment was echoed by @Matthewmurphy17, "Lol if only Elon would hurry up and buy twitter." Not everyone was as supportive of Musk, as he was labeled as the "elite" by many on both Twitter and Reddit.
Twitter has faced a lot of flak from supporters of Peterson and Rubin for the decision to suspend their accounts.
Conservative political commentator Ben Shapiro began discussing Elliot Page and the topic of trans people and deadnaming after Page's former name Ellen started trending online. A Twitter spokesperson told Buzzfeed that it was a mistake, and they quickly removed "Ellen Page" from trending. "None must mention the unspeakable name," Shapiro wrote in response, "Those who do shall be banished to the outer realms."
Shapiro broke the news that Rubin had suffered the same fate as Peterson, and gave his opinion on the subject of deadnaming.
"'Deadnaming' is when you notice that someone has changed his or her name. Gender ideology violates the laws of biology and logic as well as physics; now we must engage in time travel and pretend that there was a man named Elliot Page who starred in 'Juno' as a pregnant girl," Shapiro said.