Elon Musk Has Sold $5.69B in Tesla Shares This Week, Still Owns 17 Percent of Company
Tesla CEO Elon Musk has sold around 5.1 million shares, totaling about $5.69 billion, this week.
The U.S. Securities and Exchange Commission reported that around 640,000 shares were sold across two recent filings from November 11. These extensive sharings over the past week come after Musk pledged to sell 10 percent of his Tesla holdings. His sales currently amount to just over 3 percent of his stake in the vehicle manufacturer, leaving him with just under 17 percent of the company.
As to where the money from his sales is going, around $1.1 billion will go toward tax obligations for stock options. These options were granted to the CEO in September as part of a 2018 compensation package, which detailed that the stock options would become available once the company hit a certain number of financial targets. With the company now worth more than $1 trillion, the options have now become available.
The filings from the U.S. Securities and Exchange Commission also show that Musk considered buying over 2.1 million shares. If they were bought, these shares would have cost $6.24 each.
The decision to sell his stocks came after Musk published a Twitter poll on the idea. After the poll results were collected, he said that he would sell 10 percent of his Tesla holdings. Shares in the company have fallen throughout the week, falling another 3.5 percent on November 12.
The sale of Tesla stock was not the only major result of Musk's Twitter poll. Newsweek previously reported that new cryptocurrencies were created based on the poll. During the voting, he temporarily changed his Twitter name to Lorde Edge, as well as tweeted a reply to the poll simply saying "abide[n]." Both shortly became the names of cryptocurrencies.
For more reporting from the Associated Press, see below: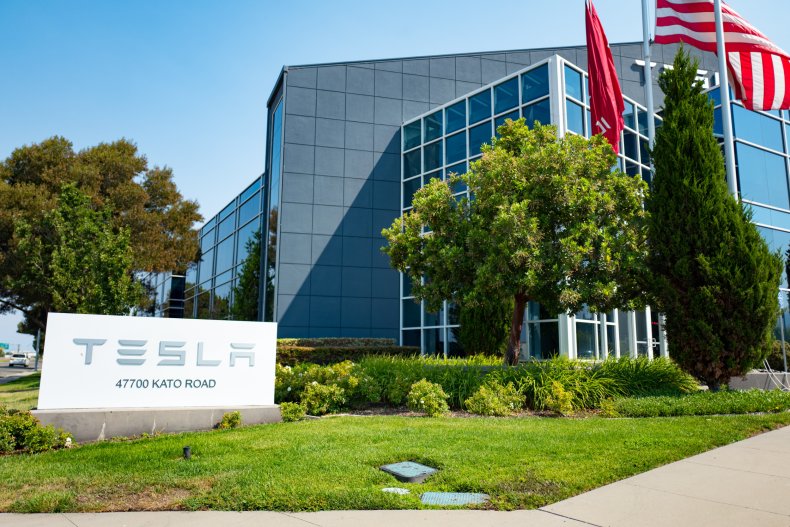 Wedbush Analyst Daniel Ives has calculated that Musk has more than $10 billion in taxes coming due on stock options that vest next summer.
He still owns about 167.5 million shares, according to the SEC filings and data provider FactSet.
The sale tweets prompted heavy selling in the stock Monday and Tuesday.
While the stock has slid 16 percent this week, over the last 12 months it's up 150 percent.
Musk is Tesla's largest shareholder and is the wealthiest person in the world, according to Forbes, with a net worth of around $278.7 billion.
Tesla Inc. is based in Palo Alto, California, although Musk has announced the company will move its headquarters to Texas.