'Mars Needs People': Elon Musk Says Population Collapse Second Biggest Danger to Civilization
Elon Musk has voiced concerns about human population decline, saying it could be the second-biggest danger to civilization after artificial intelligence.
The multi-billionaire technologist said that a predicted drop in global population levels—based on statistics in a study published by The Lancet journal this week—may be a big challenge to his own vision of the future, tweeting that "Mars needs people!"
The study, conducted by researchers at the University of Washington with funding from the Bill and Melinda Gates Foundation, suggested the world's population will surge to 9.7 billion by 2064 before declining to approximately 8.8 billion by 2100.
Musk, who recently fathered his sixth child with musician Claire Elise Boucher, who is also known as "Grimes," responded to a comment joking that he was doing his part to "correct this problem," tweeting back: "Trying to set a good example haha."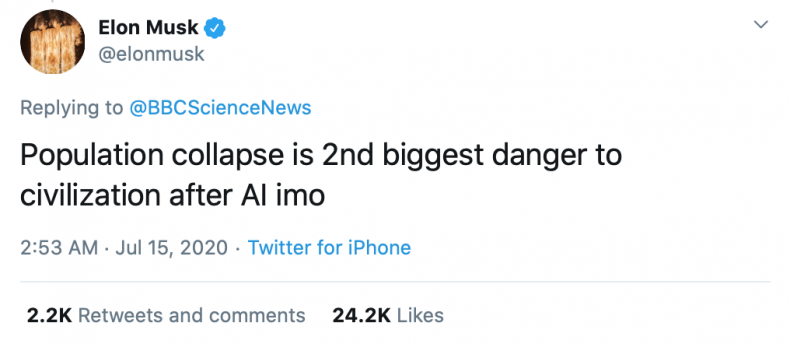 The SpaceX and Tesla boss has made no secret of his desire to send humans to Mars, and the company's "Starship" project to do just that is currently in development.
Musk has been working with federal agency NASA to further his space travel ambitions, playing a central role in the historic launch of two American astronauts, Robert Behnken and Douglas Hurley, to the International Space Station (ISS) on May 30.
But a decline in the human population may hamper Musk's lofty plans.
"This is a serious problem," he wrote. "Ratio of retirees to workers is tracking towards unsustainability in many countries. An upside down demographic pyramid is unstable."
Despite often working in the field, Musk has long warned about the dangers of artificial intelligence if it's allowed to progress without checks and balances in place.
"I am really quite close, I am very close, to the cutting edge in AI and it scares the hell out of me," Musk said during SXSW in 2018, CNBC reported. "It's capable of vastly more than almost anyone knows and the rate of improvement is exponential."
At the same Texas-based media conference, known as South by Southwest, Musk said AI needs oversight as it will eventually be "more dangerous than nukes."
As reported by The Verge, Musk said at a National Governors Association meeting the year prior: "AI is a rare case where we need to be proactive about regulation instead of reactive... I think by the time we are reactive in AI regulation, it's too late."
More recently, in February this year, Musk said on Twitter that any organization making advanced AI should be regulated—including his electric car firm Tesla.
Musk's outspoken nature on tech, which has ruffled the feathers of some researchers studying AI and machine learning, comes despite his own project, known as Neuralink, being pitched as a way to chase "symbiosis" between humans and computers.
The population study released this week, by the university's Institute for Health Metrics and Evaluation (IHME), suggested "trends in female educational attainment and access to contraception will hasten declines in fertility and slow population growth."
As reported, projections in the analysis suggested the U.S. population will peak at 364 million in 2062 before falling to approximately 336 million by the year 2100.
"Continued global population growth through the century is no longer the most likely trajectory for the world's population," said project lead Dr. Christopher Murray.