Elon Musk and Jeff Bezos Face Public Spat Over Satellite Internet Regulations
Elon Musk called out Jeff Bezos on Twitter, saying that "filing legal actions against SpaceX is *actually* his full-time job" as the two face heat following Bezos' request that the Federal Communications Commission (FCC) dismiss SpaceX's latest amendment to its satellite internet project filing.
SpaceX, Musk's aerospace company, asked the FCC in a mid-August amendment to update its application for the company's Starlink satellite internet project. The amendment asked that the filing include information on its Gen2 System that it said will expand Starlink's reach and boost its "user connectivity."
Bezos' request, made by Amazon, asked the commission to dismiss the recent amendment because the company said it violated FCC rules on the grounds that it proposed two different configurations for the satellites in orbit—offering Starlink the choice the choose either—which would allegedly impact Amazon's future operations.
Amazon owns a subsidiary company called Kuiper Systems that's also working to launch a satellite internet network and would serve as a rival to Starlink. So far, the Amazon-owned operation has not produced or launched satellites, having passed the step of creating the antennas needed to connect its network this past December.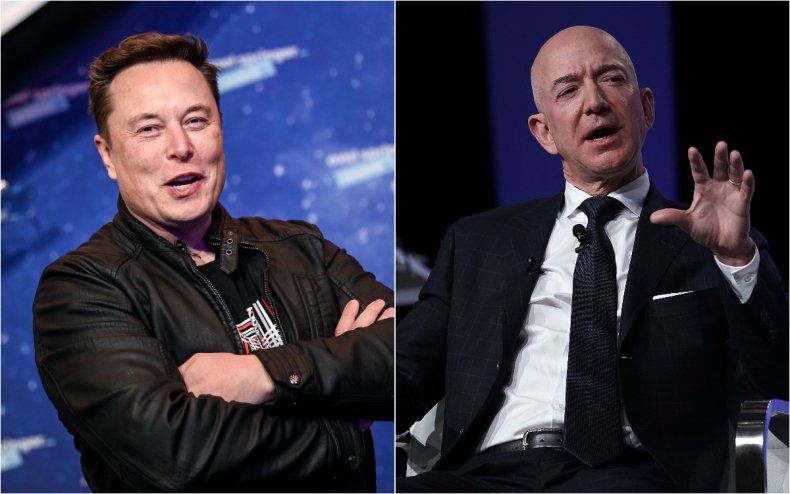 "The Commission should recognize this delay tactic for what it is—a continuation of efforts by the Amazon family of companies to hinder competitors to compensate for Amazon's failure to make progress of its own," David Goldman, SpaceX's director of satellite policy, wrote in a filing responding to Amazon's request.
Goldman went on to insinuate that Bezos' company has spent more of its attention focused on stalling the efforts of Starlink than updating the FCC on its own efforts. "While Amazon has waited 15 months to explain how its system works, it has lodged objections to SpaceX on average about every 16 days this year," Goldman said.
This statement follows the filing of a lawsuit by Bezos' aerospace company Blue Origin over NASA's $2.9 billion contract with SpaceX for future moon landings on the grounds that it believed NASA had "unreasonably evaluated" SpaceX's proposals for its Human Lander System starship.
Amazon's stance was firm in its point that by granting SpaceX the amendment, the company would be maximizing its future options. This, it said, would violate FCC rules.
"SpaceX's novel approach of applying for two mutually exclusive configurations is at odds with both the Commission's rules and public policy," Amazon wrote in its letter to the FCC. "By leaving nearly every major detail unsettled—such as altitude, inclination and even the total number of satellites—SpaceX's application fails every test [of] that section."