World's Richest Man Elon Musk Escalates Jeff Bezos Feud With 2nd Place Medal Tweet
Elon Musk has reignited his online feud with fellow multi-billionaire entrepreneur Jeff Bezos with a pithy response to his rival private space pioneer.
On Monday, the Amazon executive chairman used an article from 1999 that described his business model as "silly" and him as "another middleman" to illustrate the importance of self-belief in achieving success.
Accompanying article, Bezos tweeted: "Listen and be open, but don't let anybody tell you who you are. This was just one of the many stories telling us all the ways we were going to fail.
"Today, Amazon is one of the world's most successful companies and has revolutionized two entirely different industries."
But Musk, who overtook Bezos in the rich list last month, used the opportunity to taunt his fellow space rocket trailblazer, replying to the tweet with a second-place medal emoji.
The net worth of Musk, who Newsweek has contacted for a comment, recently rocketed to $223 billion, according to the Bloomberg Billionaires Index, after an agreement with investors valued his SpaceX over $100 billion mark.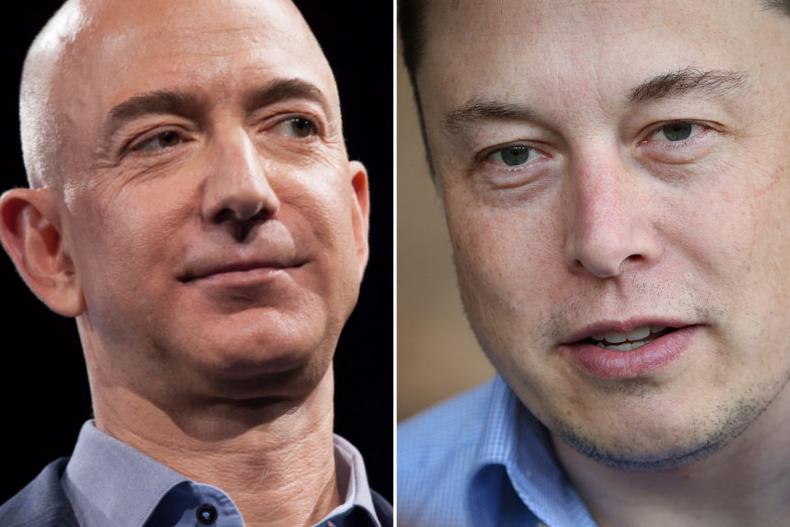 That outstrips Bezos' $193.1 billion, who remains the world's second-richest person.
Twitter users appeared to have enjoyed the rivalry's re-ignition, with Musk's reply generating 520,000 quote retweets and more than 50,000 likes, compared to Bezos' 557 and 37,000, respectively.
Twitter users are divided on how appropriate Musk's response was.
User GoldenReaper commented: "He is referring to how Bezos is #2 and he is #1. Not sure why he had to be toxic like that tho.
"The dude said something which in a way applies to how he succeeded too."
But Eric Jablinski suggested the quote was simply harmless humor, tweeting: "I don't mind the jousting; fun to follow."
The increase in the controversial South African billionaire's wealth has been largely driven by the stock market success of electric car manufacturer Tesla, of which he owns approximately 20 percent.
Last year alone, shares of Tesla rose approximately 720 percent.
Musk earlier told Forbes he would send a physical reminder of the tweet to the online retail giant founder.
Musk reportedly wrote in an email: "I'm sending a giant statue of the digit '2' to Jeffrey B., along with a silver medal."
The online war of words follows an altercation over the Federal Communications Commission's (FCC) deliberation over Musk's Starlink plan to send further satellites into orbit.
Amazon urged the FCC to turn back SpaceX's request, claiming the proposal left too many details unsettled.
In response, Musk tweeted: "Turns out Besos retired in order to pursue a full-time job filing lawsuits against SpaceX ..."