Elon Musk Jokes About His Tweets, His Son's Name and O.J. Simpson in 'SNL' Opening Monologue
Tesla and SpaceX CEO Elon Musk joked about his tweets, his son's name and OJ Simpson during his opening monologue on Saturday Night Live May 8.
Musk opened his monologue by noting that he's "making history tonight as the first person with Asperger's to host SNL. Or at least the first to admit it."
"It's an honor to be hosting Saturday Night Live. I mean that, sometimes after I say something I have to say, I mean that. Some people rarely know that I mean, that's because I don't always have a lot of intonation or variation in how I speak, which I'm told makes for great comedy," he said. "So I'll make a lot of eye contact with the cast tonight. But already I'm pretty good at running human and emulation mode."
Musk went on to joke about his sometimes strange tweets.
"I'd first like to share with you my vision for the future. I believe in a renewable energy future. I believe that humanity must become a multi-planetary spacefaring civilization," he said. "I think if I just posted that on Twitter, I'd be fine. But I also write things like '69 days after 4/20 again haha.' I don't know, I thought it was funny. That's why I wrote haha at the end."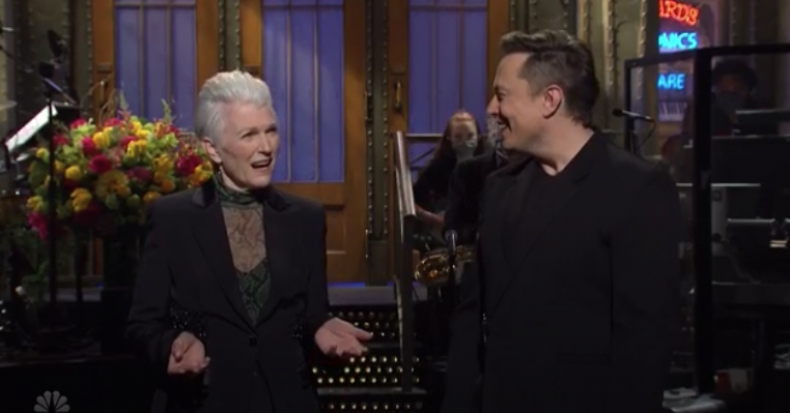 He added: "Look, I know I suppose say or post strange things but that's just how my brain works. To anyone I have offended, I just want to say I reinvented electric cars and I'm sending people to Mars on a rocket ship. Did you think I was also going to be a chill normal dude?"
After remarking on how he's considered the weed guy because he smoked weed on Joe Rogan's show once, he went on to crack a joke about O.J. Simpson.
"It happened once. It's like reducing O.J. Simpson to a murderer. It was one time. Fun fact: O.J. also hosted the show in '79. And again, in '96. Killed both times," he said.
Later, Musk mocked his son's name, X Æ A-12.
"SNL is also a great way to learn something new about the host. For example, this is my son's name [X Æ A-12 appears on screen]. It's pronounced: Cat running across the keyboard," he said.
The host then welcomed his mother Maye Musk onto the stage. Maye Musk joked that she hopes her Mother's Day present isn't dogecoin.
Musk hosted SNL with Miley Cyrus as the musical guest.
Musk shared SNL sketch ideas with his 53.4 million Twitter followers over the past week. Among tweeted ideas were "Baby Shark & Shark Tank merge to form Baby Shark Tank, "Irony Man—defeats villains using the power of irony" and "Woke James Bond."
Ahead of the show, Musk's girlfriend Grimes teased an appearance on the comedy skit show. "Tune into SNL tonight to watch me try acting!" the singer wrote on Instagram.
Read a transcript of Elon Musk's full SNL monologue here.