Twitter CEO Elon Musk's recent poop emoji post could be an attempt to woo back conservatives to Twitter, according to a multimedia expert.
Musk vowed to bolster transparency on Twitter after his takeover of the tech giant for $44 billion in October 2022. Following the acquisition, Musk justified the layoff of thousands of employees in an email to staff that said it was "necessary to ensure the company's success moving forward."
The Twitter communications team was among the departments greatly reduced, which in turn impacted the number of responses given to journalists who raise questions about the company. Conservatives had complained that they were being silenced or censored on Twitter before Musk's takeover, but liberals worry that less moderation will encourage hate speech on the platform.
Musk, 51, announced in a March 19 tweet that all emails sent to Twitter's press email would receive an automatic "poop" emoji in response. The tweet has been seen more than 26.3 million times and attracted an estimated 85,100 likes.
When asked about how people can hold Twitter to account with serious questions about content, the company's press email sent "💩" to Newsweek.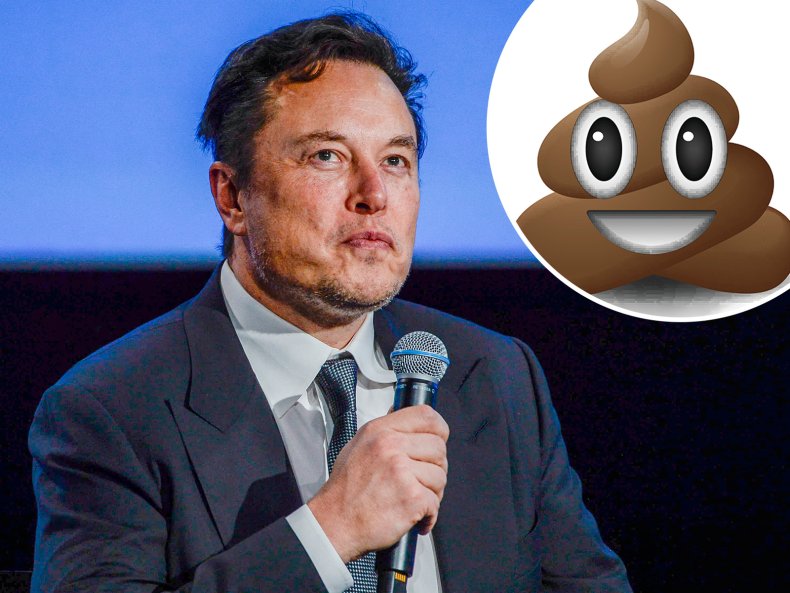 While it's arguably an example of Musk's trolling, Virginia Tech University multimedia journalism professor Mike Horning told Newsweek that it could also be an attempt to appeal to conservative social media users.
"The tweet may be partly strategic and partly the result of recent layoffs at Twitter," Horning said. "Conservatives have often expressed a general distrust of both social media and the press. This tweet may be an attempt to signal to conservatives that Twitter is going to be a more friendly place to their views and a way of wooing them back to the platform.
"The decision may also be the result of downsizing Twitter's communication team. That decision no doubt makes it more difficult to answer media inquiries."
Following Musk's takeover, previously banned accounts that were considered by many on the right to have been unfairly suspended because of their conservative views were reinstated.
While Musk has admitted to having voted for Democrats in previous elections and has claimed he is "neither conventionally right nor left," he recently spoke favorably about Republicans.
There have been numerous examples where Musk has positively engaged with conservative accounts and commentators on Twitter, including the troll account Catturd and the satire website The Babylon Bee.
Musk has also hit out at "woke" culture and mocked posts about the transgender community, both of which are identified as leftist causes by conservatives in the U.S. and abroad.
Ed Zitron, CEO of media relations company EZPR and the Where's Yor Ed At newsletter, told Newsweek that the "poop" emoji response was "par for the course" for the Twitter CEO.
In a critical analysis of Musk, Zitron said he believes the billionaire "does not think he is accountable to scrutiny from the press."
"Musk has never been particularly friendly to the press," he said. "He's helped harass reporters, in fact, and despite being a multibillionaire with incredible amounts of power and influence, he continually acts as if he's the most punished human to ever walk this earth. This is in part because for years, he got fairly uncritical press, and the other part is that he's an extremely sensitive baby."
BBC disinformation and social media correspondent Marianna Spring said in a March 21 tweet that she received misogynistic slurs after Musk tweeted about her report on abuse on social media.
But many Twitter users were positive about the "poop" emoji and engaged with his tweet in a positive way.
Conservatives have also previously heaped praise on Musk, following the allegations that Twitter censored their views in the past.
Many on the right in the U.S. and abroad have also been critical of legacy media outlets' coverage of numerous issues from the COVID-19 pandemic to Donald Trump's presidency, and have chosen to embrace other sources for their news.
Zitron told Newsweek he believed it was "bad" that Musk privately holds Twitter and said the billionaire has a "loose relationship with the truth.
"He [Musk] has promised twice that Twitter would open-source its algorithm and he also said that Twitter Blue would share revenue," he said. "These are just a few examples in years of Musk's overpromising."
Horning said it was important that social media companies be held to account given their size and influence over discourse.
"Social media companies now play a critical role in shaping public opinion about a wide variety of topics from health to politics," he said. "So it is important that they communicate to us how content is filtered and selected for our consumption. To shut down those lines of communication is always concerning."
While the "poop" emoji has been perceived positively and negatively on the right and left, respectively, Dan Ives, managing director at brokerage firm Wedbush Securities, said it would not impact the stock value of Musk's companies.
"It's Elon being Elon and the Street accepts this with the Twitter overhang now fading into the background with a breakeven business in tow," Ives told Newsweek. "There has been significant traction with Twitter's business the last few months with advertising stabilizing, and that is front and center for investors."