Elon Musk: New 'Loop' Tunnel to Cost $1 Per Ride, Will Rush Under L.A. at 150 Mph
Billionaire technologist Elon Musk outlined his vision for "Loop" during a presentation in Los Angeles on Thursday, saying the mass transit tunnel system currently being built underground will travel at 150 miles per hour—downtown L.A. to LAX in 8 minutes—and will cost as little as $1 to ride.
While the system is still in the early stages of construction, Musk maintained it will be the future of fast travel. During the event, hosted alongside Boring Company executive Steve Davis, the CEO lambasted L.A's 405 freeway as somewhere "between the seventh and eight layers of hell" and rubbished suggestions that flying cars will ever be feasible (take that, Uber). The only practical option, Musk said, is to burrow downward.
"In theory, you could have hundreds of levels of tunnel," he said. "The fundamental issue that we face is that so much of our life is 3D, you are in a tall building or a dense office environment, and then we go to this 2D plane of streets. The consequences are obvious. You are losing an entire dimension. Everyone wants to go to and from the buildings at the same time. Obviously, you're going to get stuck in traffic."
Musk, who also heads electric car maker Tesla and rocket company Space X, believes the answer is having small undergound taxi stations "woven throughout the fabric" of a city—what he calls "Loop"—and, on a larger scale, city-to-city tunnels that create ultra-speedy transport—known as "Hyperloop."
Last week, The Boring Company, which is spearheaded by Musk, revealed that work on its L.A. tunnel was nearing completion. The CEO shared a video of the transport in action and teased that it will soon offer free test rides to the public. He has stressed the system is intended for pedestrians and cyclists.
During this week's event in L. A's Leo Baeck Temple, where the executives sat beside company mascot "Gary the Snail", Musk unveiled a price point. "We can probably charge about a dollar, or something like that," he said. "I think the average price of a bus ticket is about two dollars. So less than a bus ticket."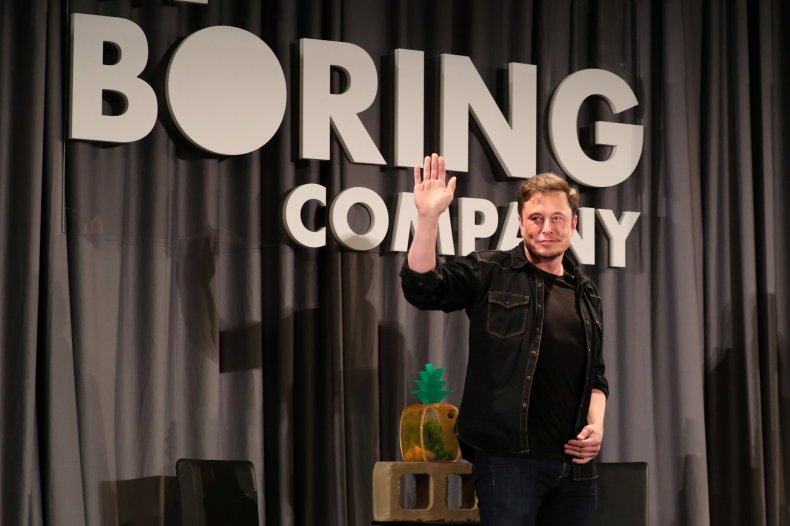 The pair denied seeking to disrupt transport systems in place, such as the Metro, and maintained they have filled in hundreds of pages worth of permit applications to date. "We are trying to maximize the usefulness of this system while having it not affect peoples lives as it gets created," Musk said.
The audience were especially receptive to a slide showing Loop's future potential. Dodger Stadium to LAX: 10 Minutes. The Getty to Union State: 12 minutes. LGB to The Forum: 11 minutes.
To loud cheers, Musk described the ongoing project as a "weird little Disney ride in the middle of L.A."