Elon Musk Tries to Persuade Grimes Not to Get Plastic Surgery on Twitter
Elon Musk did his best to dissuade Grimes from getting "elf ear" plastic surgery in a recent Twitter exchange.
The Tesla CEO and billionaire shares two children with the musician and dated her for fours years. She announced in March this year that they had broken up, but they remain best friends and she said Musk is the love of her life.
Grimes spoke openly this week on social media about her intentions to have "body mods" and undergo plastic surgery for things like "elf ears." Musk, who is often very outspoken on Twitter, the platform he almost purchased and is currently embroiled in a legal case with, replied to her to voice his disapproval.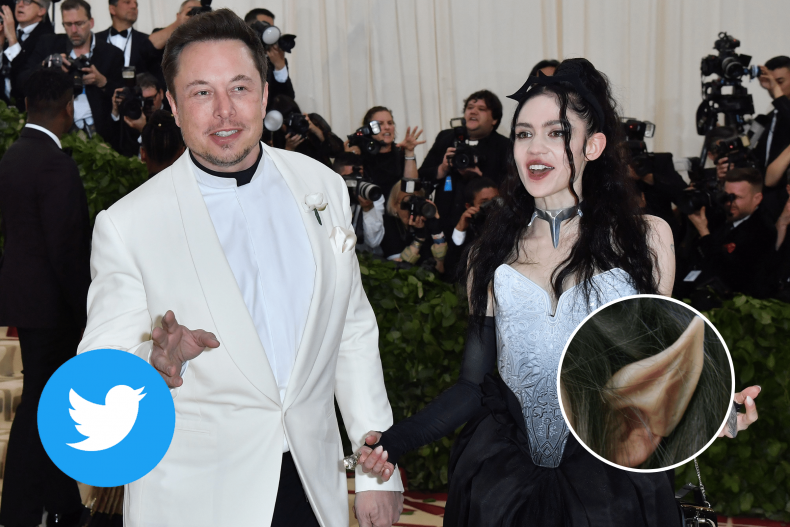 On Monday evening, Canadian singer songwriter Grimes revealed that two years ago she made an appointment with a plastic surgeon as she wanted to "change things up" by her mid thirties. She asked her followers' opinions on "face mods" and what they thought would look good on her.
"Has anyone done elf ear mods with a good outcome?" Grimes continued as she asked her followers' opinions. "I'm scared about ear cartilage having a hard time healing. Especially as a musician this surgery seems risky but I've wanted it my whole life. Curious about peoples experiences!"
Almost a day later, her sometimes partner Musk replied: "The downside of elf ear surgery probably outweighs the upside." His response got more than double the amount of likes that Grimes' original tweet got.
"Tbh this sounds like a job for crispr. Sad to be born just a few generations too early," Grimes wrote in response to Musk, including elf emojis. Crispr gene editing is a genetic engineering technique in which the genomes of living organisms may be modified.
Other than Musk, many other people replied with advice they thought Grimes would find useful in terms of "face mod" and "elf ear" surgery.
When someone told Grimes to get a face tattoo, she admitted she was seriously thinking about it.
In the early hours of Wednesday morning, Grimes shared a link to a website that offered a "safe eye color change" service. "Y'all r just pushing me into darker corners of the internet fyi," she tweeted alongside the link.
On May 4, 2020, Grimes gave birth to their first child who they controversially named X Æ A-12, apparently pronounced "Ex Ash A Twelve." In December 2021, the pair had a second child named Exa Dark Sideræl Musk, via a surrogate.
In the past year, both have openly discussed their relationship, mentioning how they are only loosely involved with each other. In March 2022, Grimes announced on Twitter: "Me and E have broken up *again* since the writing of this article haha, but he's my best friend and the love of my life."
Further expanding on her reasoning for wanting to make modifications to her body, Grimes wrote: "I just really love all the permanent mods I have, especially the extreme ones like my giant tattoos. I felt immediately more at home in my body feeling less boring."
Elsewhere on Twitter at the same time as his exchange with his ex-partner, Musk caught the attention of football fans when he suggested he was going to buy Manchester United Football Club. Hundreds of thousands of people liked, commented and retweeted his joke.