Elon Musk 'Should Be Shot,' Says Mother of British Diver the Billionaire Called 'Pedo'
The mother of the British diver who helped rescue 12 Thai schoolboys and their coach who were trapped in a cave has hit out against the billionaire Elon Musk for calling him a "pedo guy."
Vernon Unsworth had refused an offer by the Tesla CEO to use a mini submarine to help free the boys trapped in the Tham Luang caverns in Chiang Rai, describing it as a PR stunt. Musk countered by making a slur on Twitter.
Vera Unsworth, 88, told the Mail Online, "I think he should be shot for what he said. He wants his mouth taped up. I don't know if Vernon will seek legal recourse; if he has any sense he will.
"If I had my way I'd put him against a wall and shoot him, it's disgusting coming from a millionaire as well. He probably thinks money doesn't hurt him and he can get away with anything."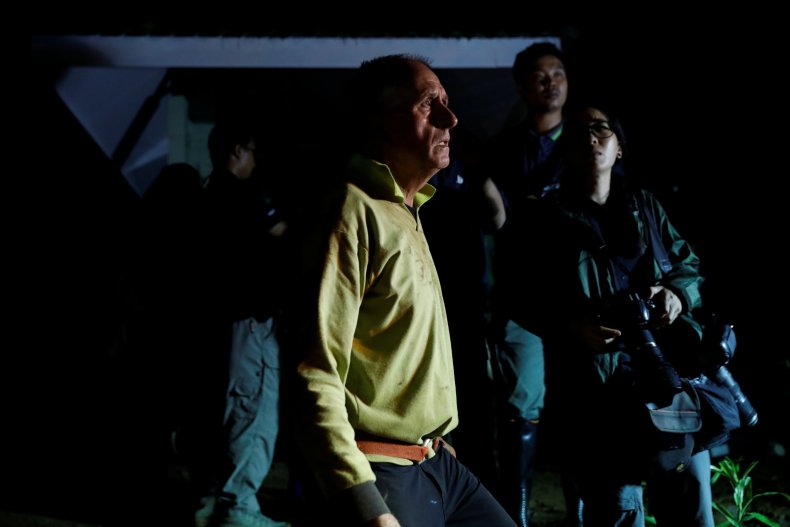 Vernon Unsworth has arrived back in the U.K. and will be visiting his mother at her home in Braintree, Essex, in the coming days.
Musk has since apologized and said his words "were spoken in anger after Mr. Unsworth said several untruths and suggested I engage in a sexual act with the mini-sub, which had been built as an act of kindness and according to specifications from the dive team leader."
Musk was referring to Unsworth's jibe that he should "stick the submarine where it hurts."
Musk also tweeted: "Nonetheless, his actions against me do not justify my actions against him, and for that I apologize to Mr. Unsworth and to the companies I represent as leader. The fault is mine and mine alone."
The Tesla CEO had been urged to apologize by Gene Munster, a top tech analyst and the managing partner at Loup Ventures, so as to "regain investor confidence."
Shares of Tesla fell more than 3.5 percent on Monday, knocking almost $2 billion off the company's market value.
"Your behavior is fueling an unhelpful perception of your leadership, thin-skinned and short-tempered," Munster wrote in a letter posted "on behalf of investors who believe in you and your mission," CNN reported.
Unsworth, 63, who has lived in Chiang Rai for seven years, is taking advice over whether to pursue legal action.
Unsworth helped rescue the Wild Boar soccer team by guiding them through a network of narrow underwater passages and chambers. The boys, who were between the ages of 11 and 16, and their 25-year-old coach have all since been released from the hospital.