Elon Musk Slammed for Comparing Trudeau to Hitler Amid Canada Protests
Elon Musk is facing backlash after posting a meme Thursday on Twitter that compares Canadian Prime Minister Justin Trudeau to German dictator Adolph Hitler.
Tesla's CEO posted the meme as reply to a tweet from CoinDesk. The cryptocurrency news website's tweet contained a story about Trudeau using emergency orders to halt crypto funds being given to the Freedom Convoy trucker protesters who are blocking border crossings along Canada's border with the U.S.
Social media users immediately responded to Musk's tweet, with many claiming the world's richest man had gone too far. Some even called Musk racist for sharing a photo of Hitler with the text "Stop comparing me to Justin Trudeau…I had a budget."
Jonathan Greenblatt, the CEO of the Anti-Defamation League (ADL), also condemned Musk in a statement to Newsweek.
"As we've said many times before, false comparisons of public leaders to Hitler are hurtful and offensive and only serve to trivialize the history of World War II and the Holocaust," Greenblatt wrote. "Elon Musk's tweet comparing Prime Minster Trudeau to Hitler has no place in civil discourse. We urge him to pull it down immediately, and apologize."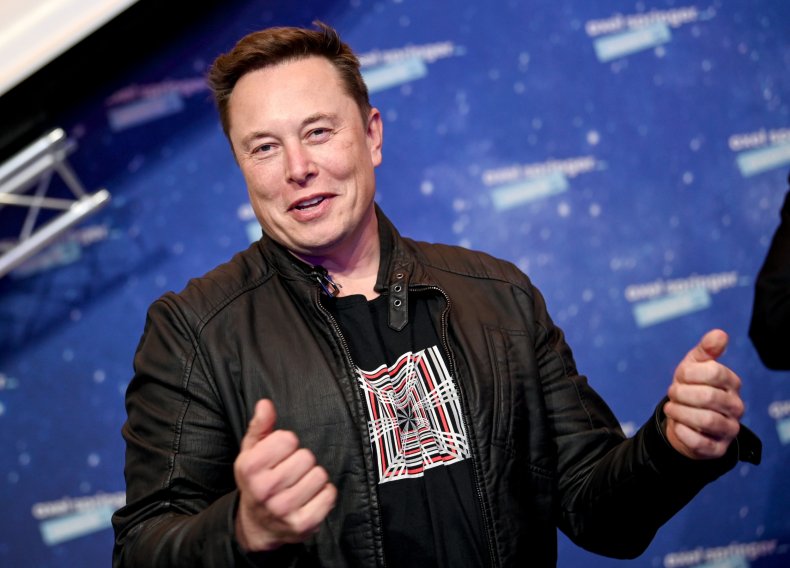 Musk has previously spoke out in support of the trucker protests. However, he also criticized people who mention Hitler and Nazis in political discourse as recently as January 30 on Twitter.
The tweet posted early on Thursday from Musk containing the meme in question can be seen below.
Below is Musk's January message that suggested involving Hitler in political discussion is childish.
The reaction to Musk's tweet was swift on social media, with users condemning the message.
"Elon Musk is posting Adolf Hitler memes. Havin [sic] a normal Nazi day, this man who runs a company that partners with NASA. This is unacceptable. This is anti-Jewish hate," posted one Twitter user.
TheWarOnTesla, a Twitter account that frequently posts anti-Tesla stories, wrote: "What PR team would want to work for a part-time CEO of a major publicly-traded company where while said company is being sued for racism, the part-time CEO posts Hitler memes? Musk has no good judgment. Where's the board? Where are his advisors?"
Another person wrote: "Say NO to Tesla/Elon Musk...who tweeted a meme showing Adolph Hitler being angry with people comparing him to Justin Trudeau. The subtext of this is racist and appalling."
Other Twitter users referenced a recent lawsuit filed by California's Department of Fair Employment and Housing against Tesla. The suit claims a Tesla plant in Fremont, California, subjected Black employees to racism and harassment. (Tesla replied to the lawsuit with a blog post that called the lawsuit "unfair and counterproductive.")
Musk's mother is Canadian, and he lived in the country during his teen years, even attending Queen's University in Kingston, Ontario, before transferring to the University of Pennsylvania to obtain a bachelor's degrees in economics and physics.
American Jewish Committee, a leading global Jewish advocacy organization, also issued a statement on Thursday morning.
"Once again, Elon Musk has exercised extremely poor judgment by invoking Hitler to make a point on social media. He must stop this unacceptable behavior," the statement said. "Musk may believe posting a meme comparing Justin Trudeau to a genocidal dictator who exterminated millions is an appropriate way to criticize policies he disagrees with. It is not. It never is. Musk must apologize and find other ways to voice his displeasure."
The Auschwitz Memorial also criticized Musk by commenting on his tweet.
"Using the image of Adolf Hitler & therefore exploiting the tragedy of all people who suffered, were humiliated, tortured & murdered by the totalitarian regime of Nazi Germany created by him is sad & disturbing," the museum wrote. "It disrespects the memory of all victims & hurts many people."
Musk deleted his tweet containing the meme later on Thursday.
Newsweek contacted Musk for comment but did not hear back in time for publication.
Update 02/17/2022 11:05 a.m. ET: This story has been updated to include a statement from the Anti-Defamation League's CEO and more comments from Twitter users.
Update 02/17/2022 11:40 a.m. ET: This story has been updated to include a statement from the American Jewish Committee.
Update 02/17/2022 4:25 p.m. ET: This story has been updated to include a tweet from the Auschwitz Memorial.