Elon Musk Slams Population Concerns Raised by Princes Harry and William
Elon Musk has said "the environment is going to be fine" even if the human population "doubled," in comments that set him on a potential collision course with climate campaigners like Prince Harry and Prince William.
The Tesla CEO dismissed suggestions that "having fewer kids is better for the environment" as "total nonsense" during an appearance at the All-In Summit.
The remark sets Musk at odds with many who campaign to save the environment, including Harry and William, although he did not name them.
Elon Musk Says 'the Environment Is Going to Be Fine'
Musk offered no evidence to support his contentions as he said: "We're currently headed towards a population decline. And that's everywhere in the world."
He added: "Some people think that having fewer kids is better for the environment. It's total nonsense.
"The environment is going to be fine, the environment is going to be fine even if we doubled the size of the humans. I know a lot about environmental stuff, so we can't have civilization just dwindle into nothing."
He continued: "We don't necessarily need to grow dramatically, but at least let's not gradually dwindle away until civilization ends with all of us in adult diapers, in a whimper."
Prince Harry and Prince William Population Comments
By contrast, Harry said he and Meghan Markle would have only two children for environmental reasons while being interviewed by Dr. Jane Goodall in 2019.
Asked by the conservationist how many children he would have, Harry replied "two maximum."
He said: "What we need to remind everybody is: these are things that are happening now.
"We are already living in it. We are the frog in the water and it's already been brought to the boil. Which is terrifying."
In July 2021, U.K. charity Population Matters announced its intention to give Harry and Meghan an award for their commitment.
Quoted by The Independent, a spokesperson for the charity said: "In choosing and publicly declaring their intention to limit their family to two, the Duke and Duchess of Sussex are helping to ensure a better future for their children and providing a role model for other families.
"Having a smaller family reduces our impact on the Earth, and provides a better chance for all our children, their children and future generations to flourish on a healthy planet."
William also spoke out about the impact of the human population on African wildlife, in comments that were condemned as racist by some at the time he made them in November 2021.
The Duke of Cambridge said: "The increasing pressure on Africa's wildlife and wild spaces as a result of human population presents a huge challenge for conservationists, as it does the world over.
"But it is imperative that the natural world is protected not only for its contribution to our economies, jobs and livelihoods, but for the health, well-being and future of humanity. We owe it to our children and future generations to act now."
In a less serious intervention, Prince Philip, who was an early campaigner on the environment, also once said: "In the event that I am reincarnated, I would like to return as a deadly virus, to contribute something to solving overpopulation."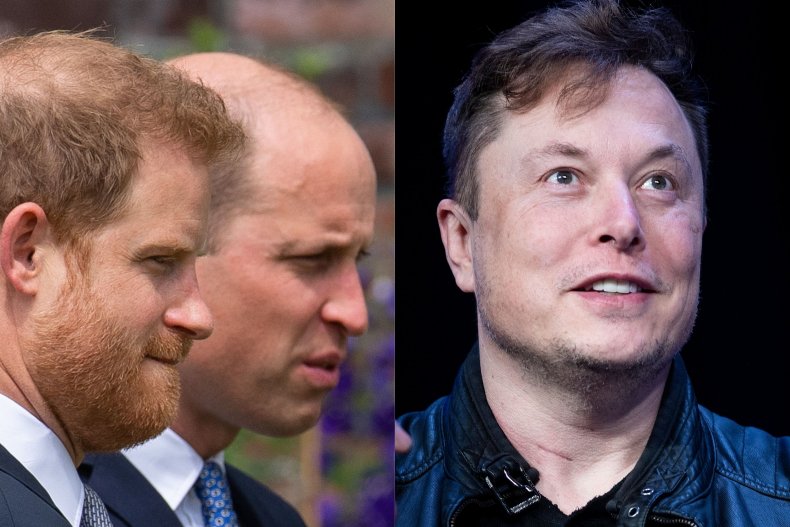 Wider Tensions Between Elon Musk and Princes William and Harry
Harry is unlikely to have warmed to Musk in recent weeks as the tycoon's stalled takeover of Twitter has coincided with the prince calling for more regulation of online spaces to prevent harm to children.
Musk, by contrast, told the Financial Times this month that he would scrap a ban on Donald Trump's Twitter account.
He said: "I would reverse the permanent ban but I don't own Twitter yet so this is not a thing that will definitely happen."
Meanwhile, William has himself taken a veiled swipe at Musk before over Space X in October 2021 during an interview with the BBC.
The Duke of Cambridge said: "We need some of the world's greatest brains and minds fixed on trying to repair this planet, not trying to find the next place to go and live.
"I think that ultimately is what sold it for me—that really is quite crucial to be focusing on this [planet] rather than giving up and heading out into space to try and think of solutions for the future."
For more royal news and commentary check out Newsweek's The Royal Report podcast: