Elon Musk's Son X AE A-XII Teases His Dad in Rare Video
Elon Musk has shown that above all else he's just a doting dad in a cute video shared to Twitter.
The billionaire and Tesla CEO was spotted out with son X AE A-XII, or X for short, in a clip posted on the social media platform. X is one of Musk's 10 children, and one of the two that he shares with artist Grimes.
A Twitter user shared videos and pictures of Musk with his two-year-old son, but Musk replied with positivity. The entrepreneur is often active on Twitter, the site he now owns, and tweeted about his family life in the midst of multiple comments he left relating to the state of Twitter, politics, Tesla and of course, memes.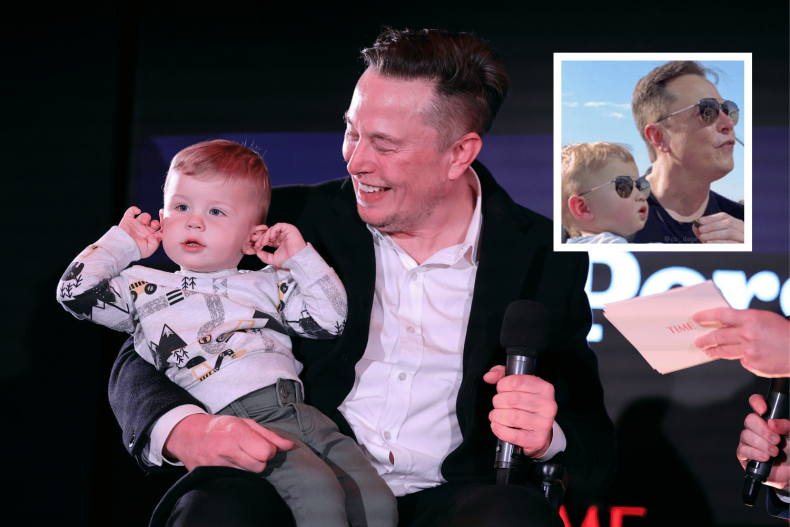 Musk often interacts with Doge Coin an other cryptocurrency accounts on Twitter, and his recent comments on a video of X came from the user called DogeDesigner.
"Lil X wants your sunglasses Elon," DogeDesigner wrote, sharing an 11-second video originally captured by The Daily Stardust. Arriving at the Super Bowl in Arizona on Sunday, Elon can be seen carrying X on his shoulders as the child tries to grab his dad's glasses from his face.
Musk simply replied with "true" to DogeDesigner's statement, including a smiley face emoticon. DogeDesigner once again shared another tweet including the father and son duo, this time a picture of them both wearing sunglasses. The meme account edited a Shiba Inu dog into the reflections of their sunglasses, to which Musk simply said, "nice."
Grimes and Musk's son X was born in May 2020. They initially tried to name their son X Æ A-12, but Californian regulations prevented it as it contained letters not in the modern English alphabet, so they instead settled on X AE A-XII. They second child together is nicknamed Y, with the full name Exa Dark Sideræl Musk.
In December, Musk tweeted that he was worried for the safety of X after a "crazy stalker" had followed a car he was traveling in. Musk also shared a video of the alleged perpetrator, showing his face and his license plate number.
Still acting CEO of Twitter, Musk bought the social media site in October, but he has announced he'll step down from running the site once he finds a suitable replacement.
Musk has been testing out changes to Twitter recently, making his account private to see if it gets more traction, and he's been asking his followers for their opinions on a number of things.
"Please stay tuned while we make adjustments to the uh.... 'algorithm,'" he tweeted in the early hours of Tuesday morning, implying more changes are on the way.