Elon Musk Shares Slow-motion Video of SpaceX Starship Exploding: 'SN10 Is in Valhalla Now'
SpaceX boss Elon Musk shared stunning slow-motion footage on Friday showing the explosion of his latest Starship rocket prototype, SN10, which met a fiery demise earlier this week following a successful test flight in Texas.
The billionaire chief executive posted the video—recorded and published by a YouTube account called Cosmic Perspective—to his 48.5 million followers alongside the caption "SN10 is in Valhalla now," referring to the warrior afterlife of Norse mythology.
In another post seemingly referencing the project, which ultimately aims to send humans to distant planets, Musk tweeted: "Cybervikings of Mars."
Despite the explosive finale, the S10 test flight was a success for SpaceX, as it was the first prototype to return to Earth after a high-altitude hop without blasting into flames on impact. SN10 landed in one piece, and appeared fine for about 10 minutes.
Musk praised the Starship team in a tweet on Thursday and in response to another clip of the test rocket's final seconds, he added: "RIP SN10, honorable discharge."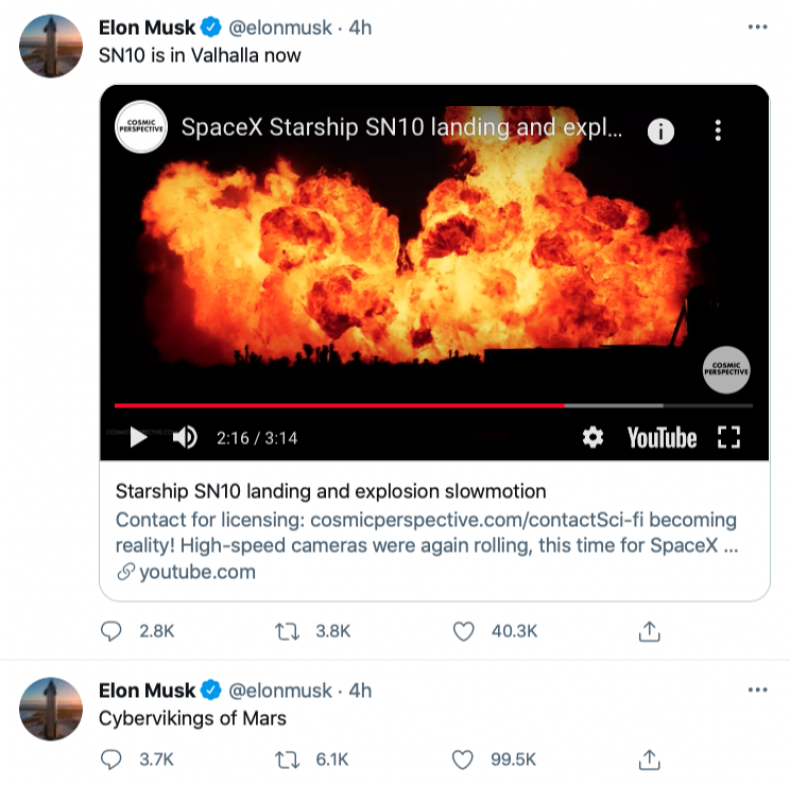 SpaceX has not detailed the exact cause of the rocket's explosion, although speculation among commentators suggested a propellant tank leak or landing leg issues.
On its website, SpaceX described the explosion as a "rapid unscheduled disassembly" but stressed the test was "all about improving our understanding."
On its YouTube page, Cosmic Perspective said it captured the footage using high speed cameras, which continued to record in the minutes after S10 landed.
A caption posted with the video stated: "Sci-fi becoming reality! High-speed cameras were again rolling, this time for SpaceX Starship SN10 and the historic first Starship landing! We positioned a camera focusing exclusively on the landing pad to capture all the action during the last few moments of descent. The rest was history."
In a video posted by Japanese entrepreneur Yusaku Maezawa on Tuesday ahead of the flight, Musk said: "I'm highly confident that we will have reached orbit many times with Starship before 2023, and it will be safe enough for human transport by 2023."
Musk wrote on Twitter in the wake of the test that "the true measure of success will be that Starship flights are commonplace." SpaceX pitches a fully-operational Starship as a reusable transportation system to carry "crew and cargo on long-duration interplanetary flights and help humanity return to the Moon, and travel to Mars and beyond."
It was a busy week for the rocket company. On Thursday, it launched 60 more internet beaming Starlink satellites from Kennedy Space Center in Florida.
That mission is sending satellites into Earth's orbit to provide broadband to underserved regions across Earth. More than 1,000 Starlink satellites have now been launched.