Elon Musk Takes Shots at Donald Trump and Joe Biden
Tesla CEO Elon Musk took shots at the current president and his predecessor, saying President Joe Biden won the 2020 election because people "wanted less drama" and that the billionaire prefers someone "less divisive" than former President Donald Trump.
After Musk reached an agreement to purchase Twitter in late April, the business mogul has been increasingly active on the social media platform. Musk took to Twitter again on Thursday to give his opinion on current politics.
Musk claimed that Biden beat Trump in the 2020 election because people were growing tired of the "drama."
"Biden's mistake is that he thinks he was elected to transform the country, but actually everyone just wanted less drama," Musk tweeted.
Musk did not expand on the drama he spoke of when referencing the former president. The four-year term was marked with sexual harassment allegations and ended with claims that he incited an insurrection, both of which Trump has flatly denied.
The Tesla CEO's tweet suggests that Biden thinks highly of his duty to transform the country, possibly referencing Biden's 2021 speech in which he said his $1 trillion infrastructure bill "will transform America." The tweet goes on to imply the president was elected not because the country believed he would make big changes but because America needed a hiatus from the Trump administration.
Musk also said that although he'd like someone "less divisive" than Trump in the 2024 presidential race, he would reinstate Trump's Twitter account because he'd like the platform to be a haven for free speech.
"Even though I think a less divisive candidate would be better in 2024, I still think Trump should be restored to Twitter," he said.
Earlier this week, Musk spoke at a live-streamed event with The Financial Times and called Twitter's decision to ban the former president "foolish in the extreme."
"Permanent bans should be extremely rare and really reserved for accounts that are bots, or scam, spam accounts...," Musk said. "I do think that it was not correct to ban Donald Trump. I think that was a mistake because it alienated a large part of the country, and it did not ultimately result in Donald Trump not having a voice."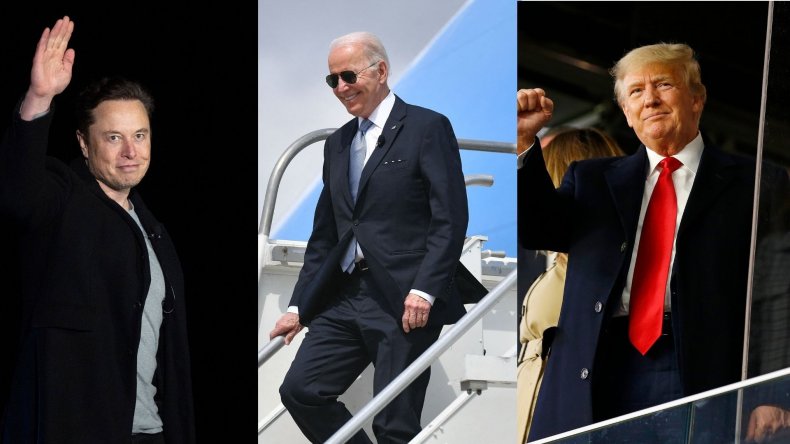 Musk later added that he officially doesn't own Twitter yet and that overturning Trump's Twitter ban is not something that will "definitely happen."
The day Musk's agreement with Twitter was reported, Trump made it clear he had no interest in using the social media platform after his ouster.
"I am not going on Twitter, I am going to stay on TRUTH," the former president told Fox News on April 25. "I hope Elon buys Twitter because he'll make improvements to it, and he is a good man, but I am going to be staying on TRUTH."
Newsweek reached out to Biden, Musk and Trump for comment.