Elon Musk's Tesla Surfboards Are for Sale on eBay for $5,000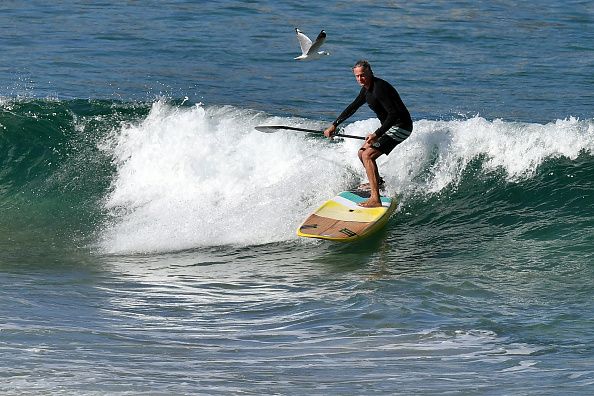 Fed up with waiting for Tesla cars to arrive? Now there's another option: the Tesla surfboard.
Tesla launched a limited-edition surfboard over the weekend. The boards come with the same high-quality matte and gloss finishes that are on the company's cars. But the product quickly sold out at $1,500 per board.
By Monday morning, there were as many as 10 Tesla surfboards for sale on eBay—with a drastic increase from the retail price. Some are listed for sale between $3,000 and $5,000.
Even the retail price of $1,500 before tax is on the higher side of the surfboard pricing scale. Surfers can buy a board from a company like Ripcurl for under $400.
The company collaborated with Lost Surfboards to create just 200 boards, TechCrunch reported on Saturday. The top is black and the bottom red, with both sides branded with the Tesla logo.
"The deck is reinforced with light-weight 'Black Dart' carbon fiber, inspired by the interiors in our cars, and featuring tonal logos in subtle contrast gloss," the product description reads.
Tesla may be best known for its electric cars, but the company also sells a growing range of lifestyle goods and apparel. The company's online store features a wide selection of Tesla-themed clothing for men and women. One of its best-selling products is a $600 battery-powered Tesla Model S for children, Entrepreneur magazine reported.
Those who managed to buy one of the boards will have to wait up to 10 weeks for delivery. Once in the hands of consumers, the board can fit comfortably both inside and outside Tesla cars.
In 2016, there were more than 400,000 Tesla Model 3 cars pre-ordered at $35,000 each. Since then, the company has spent the past two years struggling to fulfill that demand and losing cash fast.
Last week, Tesla requested refunds from some of its suppliers, stirring speculation about the company's future, according to The Wall Street Journal.
Meanwhile, Musk has been stirring up controversy on social media, where he recently accused a rescuer who helped save a group of boys from a cave in Thailand of being a pedophile.
Musk did not post anything on Twitter over the weekend about the new surfboards.