Elon Musk Tweets 'Dogefather' Meme for SNL Appearance, Dogecoin Jumps 20%
Elon Musk, the self-proclaimed "Dogefather," continued to show his mastery of the media with deft use of Dogecoin, a parody cryptocurrency.
Tesla's CEO plugged his appearance next week on Saturday Night Live by tweeting, "The Dogefather SNL May 8."
The media yelped, yowled and howled in response.
And Dogecoin's price jumped 20% to $0.32—almost as satisfying as a tasty bone, but still 28.89% below its record high of $0.45 reached earlier this month.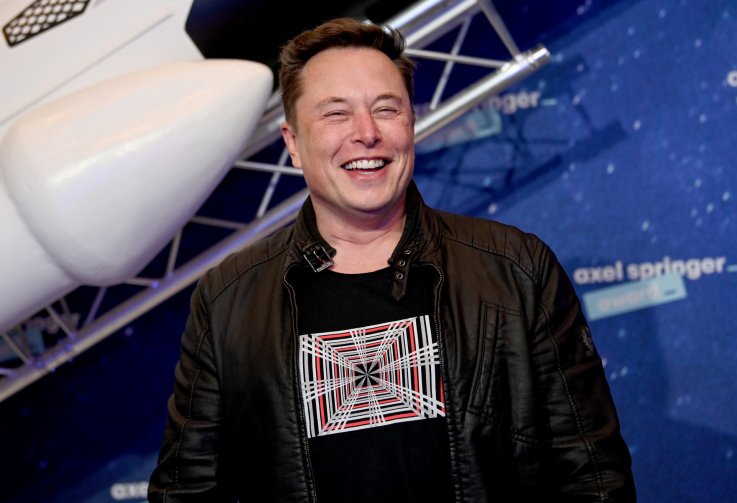 SpaceX owner and Tesla CEO Elon Musk poses on the red carpet of the Axel Springer Award 2020 on December 01, 2020 in Berlin, Germany. Musk has helped to increase the popularity of the cryptocurrency Dogecoin, which he has previously called "the people's crypto."
Britta Pedersen-Pool/Getty Images
For all but the joke coin's true believers, its hefty percentage increases in the past aren't statistically significant because it's off a small base.
How will Musk—and the press—react if Dogecoin exceeds $1?
Possible headline in The Flea-Free News: Will Dogecoin Beat SpaceX to Mars?
The number of Bitcoins is capped at 21 million, but there is no limit on the number of Dogecoins that can be produced—perhaps a wry comment on the U.S. Federal Reserve's policy of quantitative easing. There are now about 120.3 billion mutts running around.
Dogecoin was launched in 2013 as an Internet joke.
"An entire generation of investors is speculating on their own meme currency, which is essentially a parody of money," said Seeking Alpha, a crowd-sourced content service for financial markets. "Behind Dogecoin is a rebelliously nihilistic and perhaps dangerous idea that meme money is no more real than actual currency. It may be a joke, but it's a powerful one."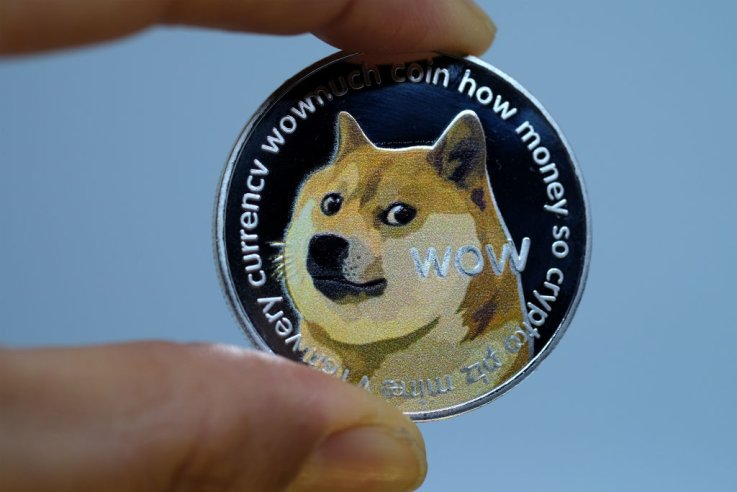 In this photo illustration a visual representation of Dogecoin is displayed on January 29, 2021 in Katwijk, Netherlands.
Yuriko Nakao/Getty Images
Yet some apparently take Dogecoin seriously, as evidenced by its $39.9 billion market cap and trading volume of $7.5 billion in the last 24 hours. That could be hazardous to small investors who don't appreciate Dogecoin's intended yuks.
Musk has said his tweets about Dogecoin are "just meant to be jokes," but the market reacted positively after he called Dogecoin his "fav cryptocurrency" and "the people's crypto." He even mused about the possibility of Dogecoin becoming the world's currency
Musk has invested about $1 billion in Bitcoin, and one analyst estimates that his return on the cryptocurrency exceeds his electric car company's profits in 2020.
Musk isn't the only rich guy having fun with Dogecoin.
Last month, Mark Cuban, owner of the National Basketball Association's Dallas Mavericks, announced the team would accept the cryptocurrency as payment for tickets and team merchandise.Forbes.com, Bloomberg, BusinessInsider, CoinDesk and the New York Post picked up the story, suggesting Cuban is wise in the ways of money and the media.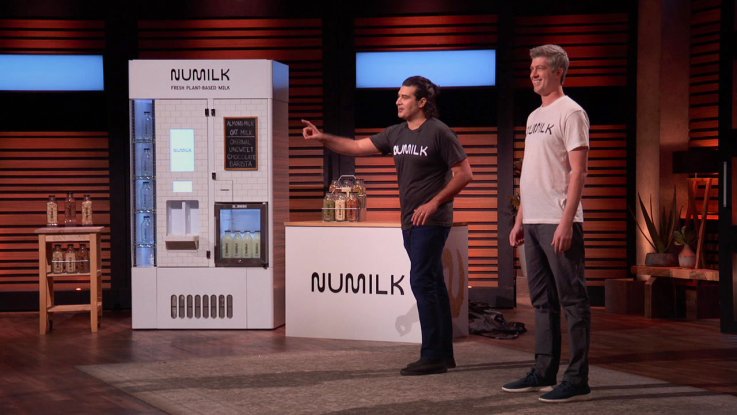 New York entrepreneurs Joe Savino and Ari Tolwin pitch Numilk on ABC's "Shark Tank." They successfully secured $2 million from Dallas Maverick's owner Mark Cuban.
WDTV/DGE
Cuban tweeted at the time, "Dogecoin is less than a dime. You can buy $1 worth or $10 worth (and) have fun watching it all day every day. Literally, and I say this with all seriousness, it's the best entertainment bang for your buck available."
Cuban said he bought some Dogecoin for his son and uses it to teach the kid about market forces.
"It's fun, it's exciting and it's educational," he noted.
Cuban makes his money in the real world.
He sold Broadcast.com to Yahoo in 1999 for $5.7 billion. The service has since been discontinued. In 2000, Cuban paid $285 million for a majority stake in the Mavericks. The team won the NBA championship in 2011 and Forbes now values the team at about $2.3 billion.
Smart.
Some small investors dabbling in Dogecoin may not be familiar with Wall Street's "Greater Fool" theory.
It's simple: Shrewd traders will happily pay $50 for an overvalued stock because they know it can be sold to the greater fool for about $65 a share as long as interest remains strong.
But Dogecoin's price is so erratic—it started as a joke, after all—that the "Greater Fool" theory may not apply. In short, is Dogecoin a bubble, mirage or delusion? If the crypto is a delusion, is it more or less immune to long-term market forces?
The answer may not matter if those who take it too seriously, hold on too long, and are bitten in the next downturn.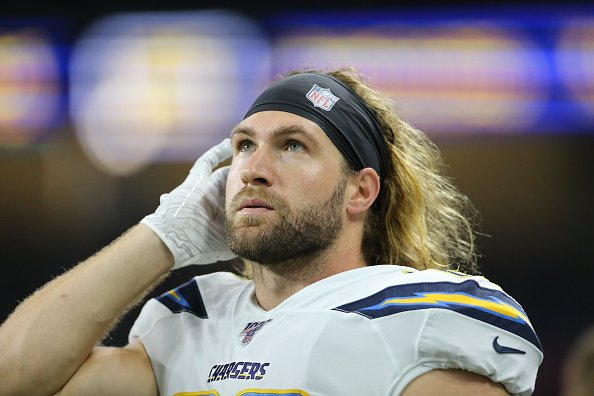 Sean Culkin, who previously played for the Los Angeles Chargers, will have his entire NFL salary converted into bitcoin in 2021.
Photo by Rey Del Rio/Getty Images
In mid-day trading Thursday Dogecoin, which features a smiling Shiba Inu, a hunting dog from Japan's mountainous regions, on its tokens, rose 3.02% to $0.31.
By contrast, Bitcoin backers believe it has evolved into a distinct asset class as evidenced by the buy-and-hold strategy of major investors and institutions.
In mid-day trading Thursday, Bitcoin changed hands at $53,640.35, down 15.96% from its all-time high of $63,829.14. Nevertheless, the cryptocurrency is up 83.27% for the year, CoinDesk reported.
Market Pulse
The Federal Reserve will keep its easy money policies in place despite a strengthening economy and rising inflation.
The nation's central bank has held interest rates near zero since March 2020 and appears likely to keep rates at current levels through at least 2023.
That's good news for consumers and homebuyers, but bad news for small savers.
"The COVID-19 pandemic is causing tremendous human and economic hardship across the United States and around the world," the policy-making Federal Open Market Committee said Wednesday in a statement.
"Amid progress on vaccinations and strong policy support, indicators of economic activity and employment have strengthened," the statement read. "The sectors most adversely affected by the pandemic remain weak but have shown improvement. Inflation has risen, largely reflecting transitory factors."
In March, consumer prices rose 2.6%, the largest year-over-year increase since August 2018.
The Fed also will continue to purchase at least $80 billion U.S. Treasury bonds and $40 billion in mortgage-backed securities a month as part of the effort to keep business and consumer borrowing costs low.
The Fed said it plans to keep interest rates low until the labor market fully recovers.
The unemployment rate fell to 6% in March, down from 14.7% in April 2020, but still above the 3.5% reported in February 2020 before the economy shut down as part of the effort to curb spread of COVID-19, the U.S. Bureau of Labor Statistics reported.
Earnings at S&P 500 companies are forecast to post their largest gains since 2008-2009 when the collapse of the subprime housing market pounded the economy but led to a strong rebound.
Stock futures rose before the market opened Thursday, lifted by the prospect of about $1.8 trillion in new Federal spending. But in mid-day trading, the Dow Jones Industrial Average, S&P 500 and Nasdaq were slightly down.
Yield on the 10-year Treasury bond ticked up to 1.66%. Yields rise as prices fall.
Is the Fed willing to risk an increase in inflation to maintain the broad economic recovery? Or, is the recent uptick in consumer prices "transitory" as the Fed believes?
The short answers: It appears that way, and we'll see.