Elon Musk Changes Twitter Name to 'Daddy DotCom' and Says He Deleted Account—and People Are Confused
Elon Musk has left Twitter users confused after he claimed to have deleted his social media account and changed his display name to "Daddy DotCom."
Technology billionaire Musk, 47, posted the name change during Father's Day. That was one day after he generated significant controversy on the website for posting artwork to his 27 million followers without crediting the artist—and not for the first time, as reported by Kotaku.
On Sunday, he sparked confusion by writing "just deleted my Twitter account." For anyone afraid to investigate, daddy.com is a real website claiming to provide advice and parenting tips for new fathers. Most links on the site are adverts that direct visitors to external websites.
After updating his display name to Daddy DotCom, commenters were quick to respond with their own memes and share opinions about Musk's so-called account deletion. "Investors will like that," one Twitter user posted, attracting close to 200 "likes" at the time of writing.
"How you be tweeting then Elon?" another user rightfully questioned. Cryptocurrency scammers were quick to jump on the latest post, trying to steal money from naive followers.
There has been no clarification on the context of the tweet, but Musk is no stranger to using his Twitter profile to share memes, troll other users and, as a result, fuel some media headlines.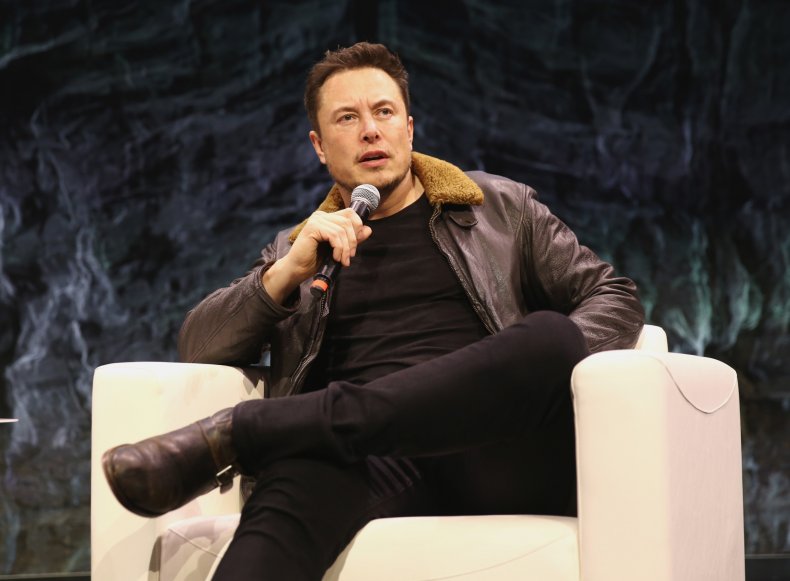 In April, Musk updated his profile image to show a picture of a sheep that was sourced from the Museum of English Rural Life, which responded by changing its picture to Musk's headshot.
In May, Musk responded to Jeff Bezos on Twitter after New York Times coverage of his plans to land on the moon. "Oh stop teasing, Jeff," Musk wrote, the latest snarky jab between the pair. In 2015, the billionaires clashed about their attempts to monetize space.
Musk spearheads SpaceX, which creates advanced rockets that can land on earth again after flight missions. Bezos helms Blue Origin, which aims to revolutionize human space travel.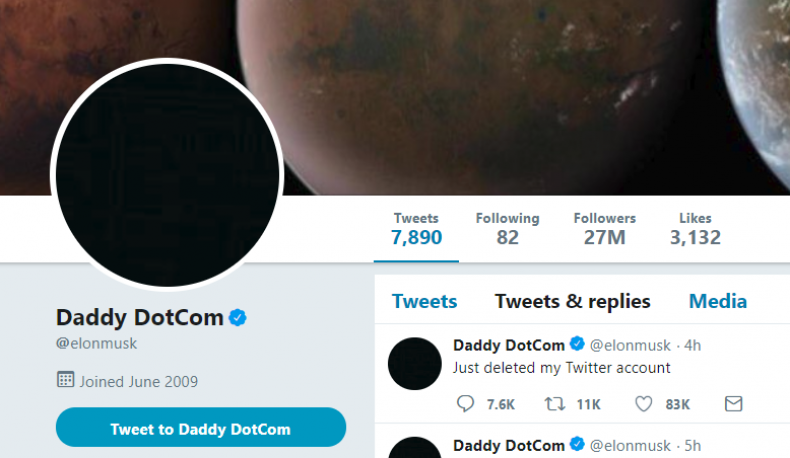 In October last year, Musk appeared to troll the Securities and Exchange Commission (SEC) just days after settling U.S. fraud charges, Politico reported at the time. He wrote: "The Shortseller Enrichment Commission is doing incredible work. And the name change is so on point!"
Tesla stocks took a hit last year after Musk said on his Twitter profile he was taking the company private at $420 a share, a move that sparked a criminal investigation. A month later, Musk confirmed that the electric car company would remain public.
"Although the majority of shareholders I spoke to said they would remain with Tesla if we went private, the sentiment, in a nutshell, was please don't do this," he wrote. Tesla did not immediately respond to request for comment about Musk's Twitter changes.