Elon Musk's Latest App Idea Compared to Fictional 'WUPHF' from 'The Office'
Elon Musk latest tweet has been compared to a plot line on sitcom The Office, after the Tesla CEO tweeted his plans to create an "everything app."
Musk's $44 billion offer to buy social media platform, Twitter, is back on this week after he backed away from original takeover plans.
The billionaire's lawyers have filed a notice to the court indicating Musk planned to go ahead with the purchase after all.
He also sent Twitter the same letter before jumping onto the platform to post a cryptic tweet sharing his motivations for buying it.
"Buying Twitter is an accelerant to creating X, the everything app," he wrote.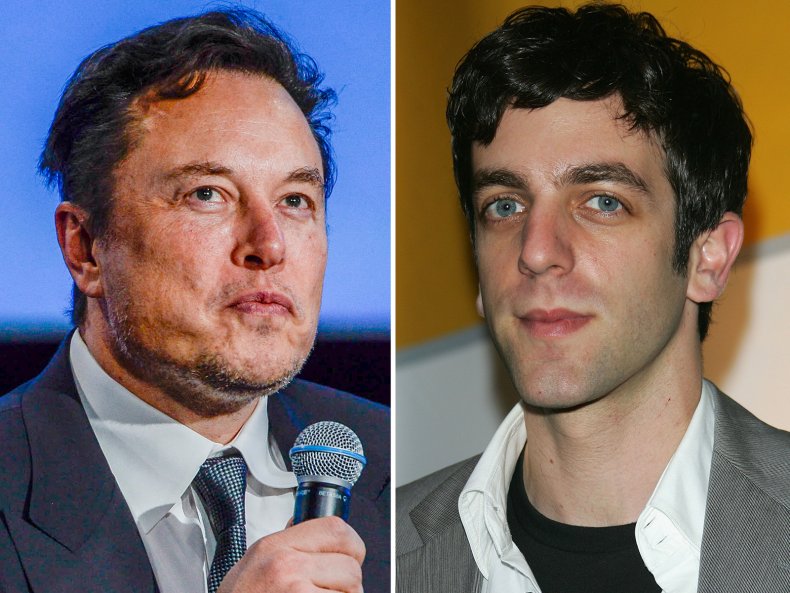 It is not known exactly what X will be in terms of an app, but some The Office fans got the feeling they had heard of something similar before.
One Twitter user compared it to 'Wuphf', a website created by the slimy and ambitious Ryan Howard (B.J. Novak) in the seventh season of the hit show.
"[sic] bro thinks he's so slick when he just invented wuphf by Ryan from the office," wrote Twitter user, @_aalalalala.
Novak's character stole the idea for Wuphf—pronounced "woof"—from his girlfriend Kelly Kapoor (Mindy Kaling) and tried to get investors for what he described was a revolutionary communications platform.
The website would theoretically supplant text messaging and phone calls, and would send messages to user's contacts across all platforms including, Facebook, chat platform, SMS and Twitter.
It was so advanced that when a person received a 'wuphf' [notification], that message would be printed on the closest printer.
Failing to get anyone in the office at the fictional Dunder Mifflin paper company to invest in the company, Ryan eventually sold before it had launched beyond the beta version.
The tweet was shared to Reddit, with The Office fans hilariously sharing their thoughts on how Ryan might react to Musk's idea.
"[sic] if ryan saw this he woulve probably sued elon musk for copying his idea then lost tragically in that lawsuit," wrote one Reddit user.
Another added: "Wuphf was possibly the best app ever to be created. Ryan was a visionary, way ahead of his time."
And a third wrote: "i honestly believe that it could be useful in 2022."
In April, Musk had agreed to buy Twitter, despite reluctance from the company at the time, but its investors changed their mind when he offered a $44 billion takeover.
He made big promises to shake up the platform, including installing less strict content restrictions and to crack down on spam accounts
But in July he tried to back out of the sale saying Twitter had misled about the number of fake and bot accounts.
Following that, the Twitter board announced plans to sue Musk over breach of contract, saying it felt "confident" of victory.
Musk then faced deposition in September but it was delayed to this week ahead of his trial in Delaware on October 17.
The billionaire's back flip on the purchase came with the precondition that he will not face trial. Twitter confirmed it had received Musk's filing to the U.S. Securities and Exchange Commission (SEC) and agreed to close the purchase at $54.20 per share.
"We received the letter from the Musk parties which they have filed with the SEC. The intention of the Company is to close the transaction at $54.20 per share," Twitter's statement read.
This resulted in a temporary suspension on the trading of Twitter stocks but before that their price had surged more than 12 percent on Wall Street.
Twitter shares closed out the day up 22.2 percent at $52.