Elon Musk has shared his thoughts on Bill Maher's announcement that his HBO show, Real Time With Bill Maher, will be returning to screens without writers amid the ongoing strike in Hollywood.
Maher made the announcement on Wednesday night. He told his more than 10 million followers on X, formerly Twitter, that, while he sympathizes with the issues that writers are facing, there are also other staffers on his team who are struggling mightily. "Maybe worth posting some material on this platform," Musk replied to Maher.
The Writers Guild of America (WGA) on May 1 said that it was due to go on strike after six weeks of talks broke down with Netflix, Amazon, Apple, Disney, Warner Brothers, NBC Universal, Sony and Paramount—all under the umbrella of the Alliance of Motion Picture and Television Producers (AMPTP). Picket lines assembled the following day.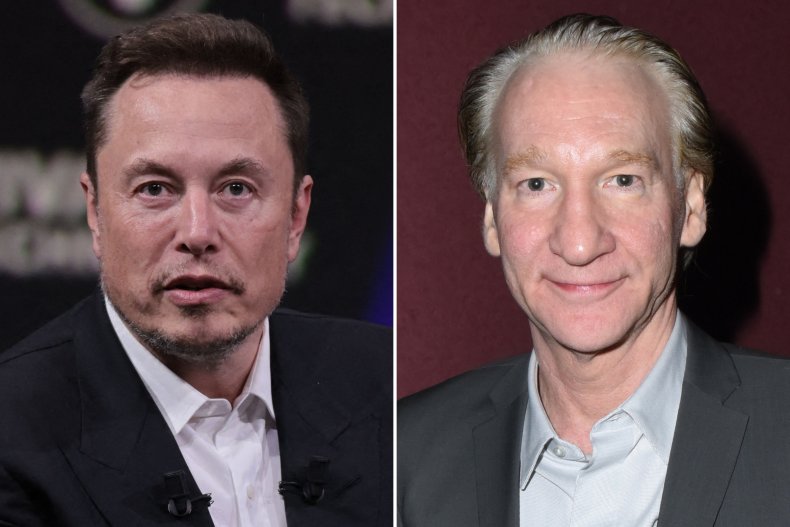 Writers and the AMPTP locked horns over contractual terms, including pay. The studios' refusal to rule out artificial intelligence one day replacing human staffers escalated the tension. There have also been issues with writers' compensation not matching up with the billions of streams that shows and films now often draw.
Several weeks after picket lines assembled, the Screen Actors Guild—American Federation of Television and Radio Artists (SAG-AFTRA) announced in July that its 160,000 members would go on strike. This has essentially shut down Hollywood, marking the first time in more than 60 years that both groups have staged a walkout.
As such, writers and actors are barred from promoting their projects. Most series that were filming or were due to film, including major nightly talk shows, have been off-air in that time, unless they were recorded before the work stoppage began.
As several shows remain off the air indefinitely as a result of the strike, comedian Maher announced on Wednesday that he would be bringing his show back.
"Real Time is coming back, unfortunately, sans writers or writing," Maher stated on X. "It has been five months, and it is time to bring people back to work. The writers have important issues that I sympathize with, and hope they are addressed to their satisfaction, but they are not the only people with issues, problems, and concerns. Despite some assistance from me, much of the staff is struggling mightily."
"We all were hopeful this would come to an end after Labor Day, but that day has come and gone, and there still seems to be nothing happening," Maher added. "I love my writers, I am one of them, but I'm not prepared to lose an entire year and see so many below-the-line people suffer so much.
"I will honor the spirit of the strike by not doing a monologue, desk piece, New Rules or editorial, the written pieces that I am so proud of on Real Time," Maher said. "And I'll say it upfront to the audience: the show I will be doing without my writers will not be as good as our normal show, full stop.
"But the heart of the show is an off-the-cuff panel discussion that aims to cut through the bullshit and predictable partisanship, and that will continue," he added. "The show will not disappoint."
Maher's message, which has been viewed more than 10 million times in the hours since it was posted, sparked backlash and discussion discussion on the platform. Musk, whose acquisition of X was finalized last October, joined the conversation.
"Maybe worth posting some material on this platform," the billionaire entrepreneur suggested in response to Maher's post. "The reach is enormous."
Maher has not yet publicly responded to Musk's suggestion.
Following Maher's announcement that he was bringing show back without writers, the WGA released a statement criticizing the comedian.
"Bill Maher's decision to go back on the air while his Guild is on strike is disappointing," read a statement shared with online news site Deadline. "If he goes forward with his plan, he needs to honor more than 'the spirit of the strike.'
"Bill Maher is obligated as a WGA member to follow the strike rules and not perform any writing services. It is difficult to imagine how Real Time With Bill Maher can go forward without a violation of WGA strike rules taking place. WGA will be picketing this show," the statement added.
Newsweek has contacted a representative of Maher via email for comment.