Elon Musk thinks Target should prepare itself for legal action after the brand faced a boycott for selling trans-positive swimwear.
Target infuriated some people after selling "tuck-friendly" swimwear—designed for trans women who are yet to have gender-affirming surgery. It has since pulled the product from stores after facing a backlash, but with the boycott already in effect Target has lost $4 billion in its market cap price in the last week of May.
Musk thinks the drop in values is likely to have repercussions for the brand, with Target shareholders likely to launch a "class-action lawsuit" over its loss of earnings.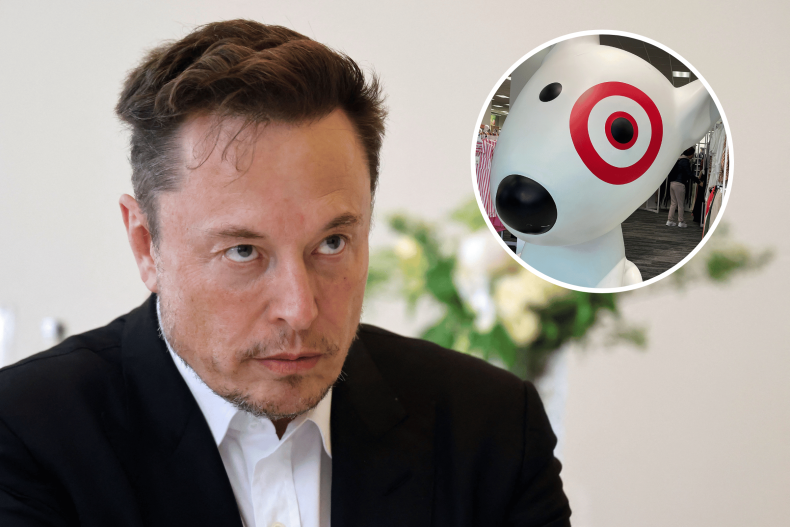 In anticipation of Pride month, Target launched an LGBTQ+ range of clothing, which caused some conservatives to give it "the Bud Light treatment" and start a boycott. Political commentators like Candace Owens and Steven Crowder supported the action after "tuck-friendly" swimsuits were brought to public attention.
"JP Morgan just downgraded Target's stock, after its longest losing streak in 23 years citing "too many concerns rising,'" conservative podcast host Charlie Kirk wrote on Twitter, adding "Happy Pride Month Target!!"
On Friday, Musk responded to Kirk's tweet, sharing his own prediction for Target's future.
"Won't be long before there are class-action lawsuits by shareholders against the company and board of directors for destruction of shareholder value," the owner of Twitter wrote.
Target's backlash echoed that of Anheuser-Busch InBev brand Bud Light, which are facing their own boycotts for collaborating with transgender influencer Dylan Mulvaney. At the end of May, it was reported that Target's stock dropped nearly five times more than Bud Light's at the same point in the boycott.
While Musk weighed in on the financial consequences for Target on Friday, since then the avid tweeter has commented on the core issue of trans ideology too.
He replied to two different tweets about "gender-affirming care," after a Texas governor signed a bill to ban gender-affirming care for minors in his state.
"'Gender-affirming care for minors' is pure evil," Musk wrote on Sunday, replying to and agreeing with Jordan Peterson's assessment.
After conservative Twitter account The Rabbit Hole slammed the notion of gender-affirming care, on Saturday Musk replied with: "It means castration."
Musk and several conservative political commentators spent the weekend sharing a feature-length movie created by Matt Walsh called "What is a Woman?" The movie shows right-wing broadcaster Walsh discussing trans issues with academics. It was released in 2022, but went viral again on Twitter over the weekend after Musk shared the video online, saying "every parent should watch this."
The following day, Twitter's chief of trust and safety division, Ella Irwin, left the company, followed by high-ranking Twitter employee A.J. Brown, whose job was to liaise with advertisers that Twitter was a safe place for their brands.