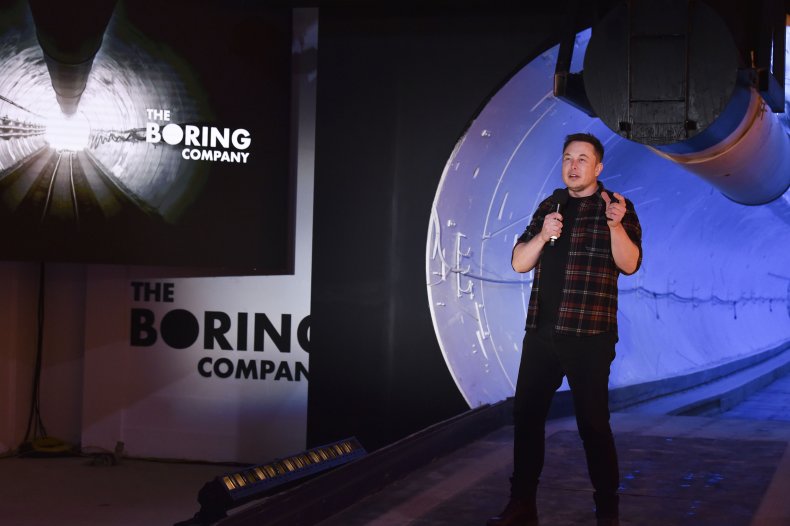 Safety concerns have been raised for Elon Musk's futuristic "loop" transportation tunnels after riders experienced a traffic jam while using the system during a Las Vegas convention.
The tunnels were built by billionaire Musk's The Boring Company and use Tesla vehicles to transport riders in a single lane underground. Although Musk began his tunnel-digging endeavor as a proposed solution to gridlock, viral video of the traffic jam forming during this week's 2022 CES consumer electronics trade show quickly prompted mockery by demonstrating that the system is far from immune to the issue.
"The Vegas Loop can't even deal with #CES2022 during a pandemic," tech blogger Sascha Pallenberg tweeted on Thursday. "Congratulations @CityOfLasVegas this must be the most advanced traffic jam in the world!"
In addition to mockery, the traffic jam inspired multiple safety concerns. When the video was first posted to Reddit on Wednesday, an avalanche of comments speculating on what would happen if riders became trapped in the tunnel during a disaster followed.
"The tube is a death trap," u/DowninanEarlierRound remarked on the Reddit post.
"I'm surprised it's even legal," added u/KittensInc. "No lighting, no ventilation, no fire detection or suppression, not enough space between the cars and the wall to walk out ... They are asking for trouble. If somehow a car catches fire, people will die."
The video was shared to Twitter the next day and had reached over 6.5 million views by Friday evening. It was captioned "2025: This how most will die, asphyxiating in a tesla tunnel traffic jam, which is supposed to be impossible."
The Las Vegas Convention Center loop, located 40 feet underground, was completed in April 2021, at a cost of $52.5 million. Drivers in the Tesla-only tunnel are limited to speeds of no more than 40 mph. A second, more extensive, Las Vegas tunnel is also being constructed.
"It's either traffic forever or tunnels," Musk tweeted last November. "Try our first operational tunnel in Vegas at the convention center! The city just approved a full tunnel network, connecting major hotels, convention center & airport."
The Boring Company has touted the safety features of the loops. The company's website says that the tunnels have "no internal touch hazards (e.g. a 600 volt third rail), enabling safe evacuation, minimizing potential fire sources, and eliminating any dangerous effects of (unlikely) water intrusion."
In addition, the loop's "redundant, bidirectional ventilation system will remove the smoke to allow passengers to safely evacuate" in the "unlikely case that a fire does occur," according to the company.
Another project that Musk's company is working on could eventually inspire even more safety concerns. The so-called "Hyperloop" is envisioned as a vacuum-sealed tunnel spanning long distances to quickly connect cities.
Passengers would travel in pods inside the tube at very high speeds that could make a journey between Los Angeles and San Francisco in just 35 minutes. Only a small tunnel intended to test the technology has been constructed so far.
Newsweek reached out to The Boring Company for comment.