Elon Musk's SpaceX Will Attempt Its 50th Falcon 9 Launch Tonight
Updated | Very early Tuesday morning Eastern time, Elon Musk's SpaceX is scheduled to launch its 50th Falcon 9 rocket. The company has hit that number in less than eight years.
The launch is scheduled for 12:33 a.m. Eastern time from Kennedy Space Center in Florida, and the company has about two hours to get the rocket up before the evening's launch window closes.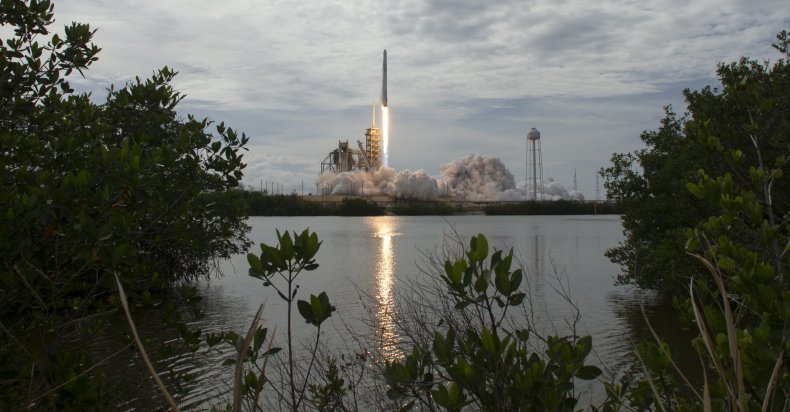 Unusually for SpaceX, the company is not trying to recapture and reuse this Falcon 9 rocket. That's because the payload the company has to launch, a Spanish communications satellite, is fairly heavy, and has to be delivered fairly high above Earth.
That weight means that simply getting the satellite into orbit will use up most of the fuel on the rocket. Steering and landing a rocket on a barge in order to reuse it requires additional fuel, hence the decision to skip it this time around.
Read more: Elon Musk's SpaceX Attempt to Catch the Falcon Rocket Cone With a Net in the Ocean Has Failed
Once the satellite is in orbit, it will spend about 15 years circling the Earth and beaming television and broadband signals down to users in Europe, North Africa and Latin America. It had previously been expected to launch in February, but that date was postponed because too many launches were stacking up at the Florida space center and in order for the company to run some extra tests.
The midnight launch will be one of almost two dozen Falcon 9 launches scheduled to occur this year. Their next scheduled launch for NASA is due to occur on or after April 2, when the company will launch a Dragon cargo spacecraft full of supplies to the International Space Station.
This story has been updated to include more details about the planned launch.