Elton John Biopic 'Rocketman' Latest Film Passengers Claim Delta Removed Gay References From
Delta Airlines have reportedly censored gay references out of the Elton John biopic Rocketman, and it's only the latest of many instances where critics allege airlines have made questionable anti-gay edits to in-flight entertainment.
Reports of changes to the 2019 film emerged after Entertainment Weekly digital director Shana Krochmal tweeted Wednesday about noticing the changes while on a Delta flight. Several other passengers have weighed in online to add that they have also noticed the edits.
"On @Delta today discovered that #Rocketman is stripped of almost every gay reference or scene that @eltonofficial fought to keep in the film's mainstream release, including a simple chaste kiss," tweeted Krochmal.
Airlines typically edit in-flight entertainment for content, but specifically editing out gay references that aren't otherwise explicit or objectionable appears to suggest that the airlines believe being gay is somehow wrong, indecent or an otherwise unsuitable concept for a wide range of people to be exposed to.
Rocketman is a musical biopic about the life of musician Elton John, and a central part of the film deals with the singer's sexuality and his coming to terms with being gay. In the airline-edited version of the film, comments suggest that while gay references were largely removed, scenes of violence and swear words were apparently left in.
Policies and editing processes are not the same for all airlines, and Krochmal claims to be nearly certain she had seen an unedited version on an Air Canada flight. Another Twitter user added that they had seen the unedited film the previous week on a United Airlines flight.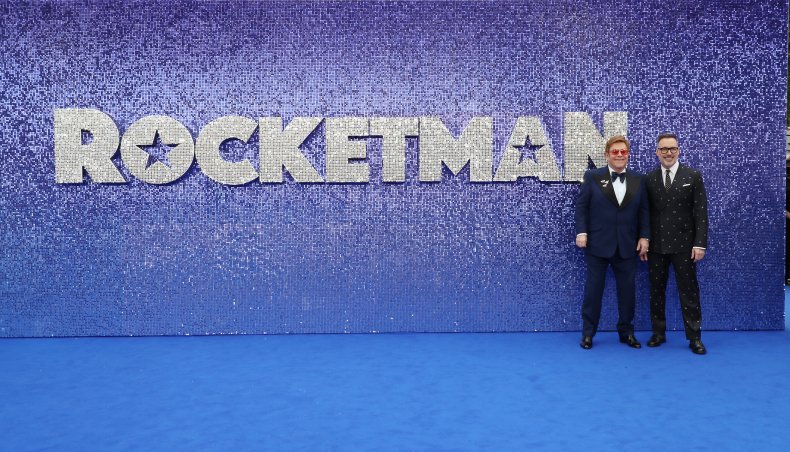 Delta Airlines say it is not their policy to edit out LGBT content or references from in flight entertainment.
"Delta's content parameters do not in any way ask for the removal of homosexual content from the film," a Delta spokesperson told PinkNews. "We value diversity and inclusion as core to our culture and our mission and will review our processes to ensure edited video content doesn't conflict with these values."
Since films and TV shows are typically no longer shown on large overhead screens on commercial airliners, airlines continuing to edit in-flight entertainment for content seems of questionable value. Many airlines require passengers to use their own devices to watch airline-provided entertainment, and if there is any concern about people seeing those screens, that same concern does not seem be applied when passengers watch their own unedited content on the same devices.
Director Olivia Wilde also took to Twitter to comment on edits that had been made to her film, 2019's Booksmart. Wilde says that Delta censored a lesbian kiss but left in heterosexual content, removed LGBT references and excised words like "lesbian," "genitals" and "vagina."
"What message is this sending to viewers and especially to women? That their bodies are obscene? That their sexuality is shameful?" tweeted Wilde on Wednesday.
Wilde noted that many airlines use an independent company to edit the films, and called for them to stop using the service due to the questionable nature and value of the editing.
"I urge every airline, especially those who pride themselves on inclusivity, to stop working with this third party company, and trust the parental advisory warning to allow viewers to opt out if they choose," Wilde added.
Instances of films being shown on airlines with apparently anti-gay edits have garnered attention in the past. In 2016, Delta came under fire when viewers noticed some apparently innocuous lesbian content had been removed from the critically acclaimed film Carol, the entire plot of which is centered on a lesbian relationship.
On international airlines, there have been reports of other types of baffling edits to entertainment. A passenger on a 2018 Oman Airlines flight claimed that the word "Jew" was removed from an episode of Will and Grace.