Why Elton John's Ex-wife Renate Blauel Is Seeking Injunction Against Him
Sir Elton John's ex-wife Renate Blauel has launched legal proceedings against the singer in the British high court.
Blauel, who has famously shunned publicity for decades since she and the "Rocket Man"singer divorced in 1988, is seeking an injunction in paperwork filed last week and seen by The Guardian.
The German-born sound engineer met John while he was recording his album "Too Low for Zero" in 1983 and they were married the following year while touring Australia. Their relationship ended in divorce in 1988.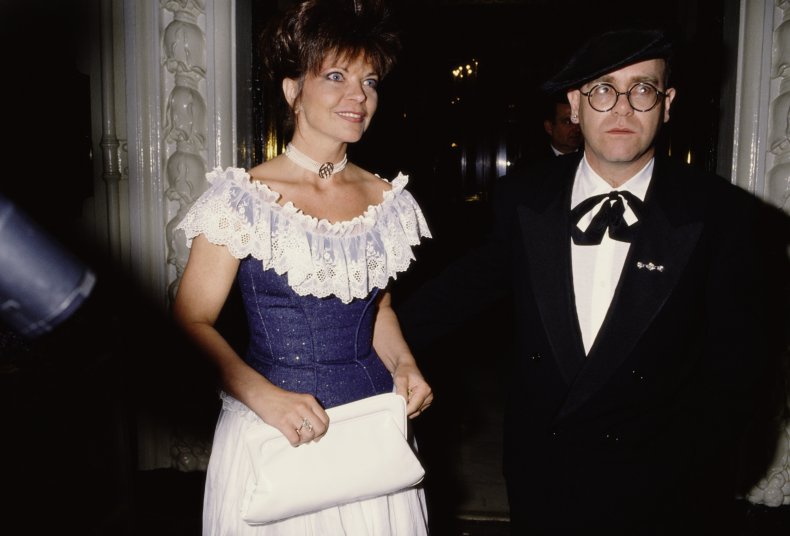 John went on to marry his current partner David Furnish, with whom he shares two children, Zachary, 9, and Elijah, 7.
Newsweek has reached out to John's representatives for comment. John has been named as the defendant in the case.
Injunctions in U.K. law are related to privacy concerns or to prevent certain things from being published in the press, but the reason for the legal action in question has not been made public.
They are usually sought to protect the rights of the plaintiff in circumstances where their reputation could be damaged due to a scandal being made public for example, making injunctions common in cases around privacy and libel.
A lawyer for Blauel told the publication, she hoped the issue could be resolved "amicably."
Blauel, who is a sound engineer, was recently depicted in last year's biopic Rocketman, in which she was played by actress Celinde Schoenmaker.
John's autobiography, published last year, sees the veteran performer recount his painful separation from Blauel amid his struggle with coming to terms with his sexuality.
He writes: "I'd broken the heart of someone I loved and who loved me unconditionally, someone I couldn't fault in any way. Despite all the pain, there was no acrimony involved at all.
"For years afterwards, whenever something happened to me, the press would turn up on her doorstep, looking for her to dish the dirt, and she never, ever has: she told them to leave her alone."
The 73-year-old said he only saw his ex-partner once since they divorced.
"When I had children, I invited her to [John's home] Woodside because I wanted her to meet them; I wanted to see her, I wanted her to be part of our lives, and us part of hers, in some way," he wrote. "But she didn't want to, and I didn't push the issue. I have to respect how she feels."
John also opened up about the marriage in a 2008 interview with The Australian.
"And I loved Renate," he said. "She's a great girl. I really, really loved her. But, you know ... it is one of the things I regret most in my life, hurting her."