Elton John Assembles Nicki Minaj, Miley Cyrus and More For the 'Ultimate Zoom' Call
Elton John showed off his impressive array of celebrity pals by putting together the Ultimate Zoom call on his YouTube channel.
The singer used musicians who collaborated with him on his recent album The Lockdown Sessions, including the likes of Dua Lipa, Miley Cyrus, Stevie Wonder, Stevie Nicks, Nicki Minaj and many many more.
The album is available to listen to now, and the (only slightly awkward) promotional video is up on Elton's social media channels now too. Together with Ed Sheeran, Elton also has a new Christmas single out now simply titled "Merry Christmas."
Who stars in the Ultimate Zoom?
There are so many musicians featured on Elton's Ultimate Zoom, even in grid view, it's easy to miss some.
The video starts with Elton surveying who's in his Zoom call, before the famous faces start flooding in, some with their cameras off. Lil Nas X, Eddie Vedder, Stevie Wonder and Nicki Minaj are the first guests to arrive. There's no time for pleasantries as they start to come thick and fast. Some of the younger musicians, such as Charlie Puth and Miley Cyrus call him "Uncle Elton."
Typical Zoom call gags are made with Colin Padalecki from the band Surfaces attempting to speak while muted while Rina Sawayama struggles to get her camera in focus. Olly Alexander (Years and Years) replaces himself with an animated cat to much hilarity as well.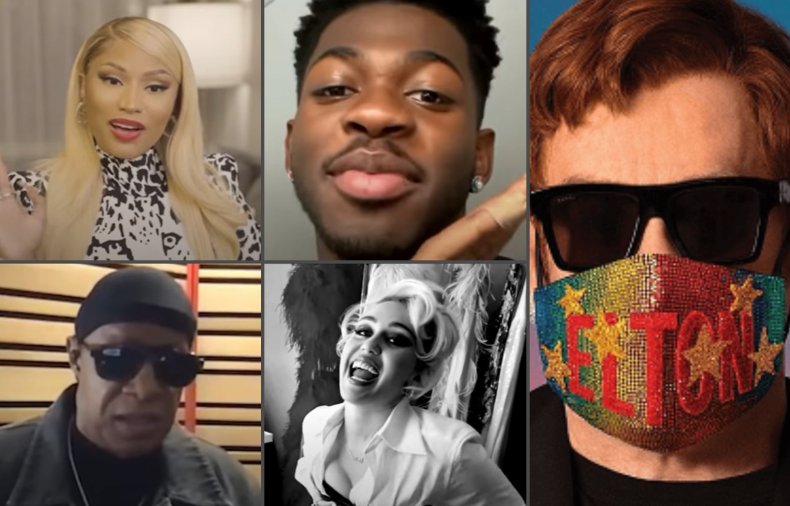 As always these calls are an insight into the homes of celebrities, and Brandi Carlile seems to have taken her portion of the call while backstage at Saturday Night Live, based on the promotional pictures of former musical guests featured on the wall next to her. Stevie Nicks sits in front of a shelf filled with mystical items including fairies and trolls.
A good friend of Elton's, Ed Sheeran, was conspicuously missing from the call but runs into frame in Elton's house right at the end. They share a light joke and wish the viewers a Merry Christmas.
Take a look at the video on Elton's social media channels and see which musicians you can spot. Here's the full list of 20 collaborators he got on board for the video, in the order that they appear:
Lil Nas X
Eddie Vedder
Nicki Minaj
Stevie Wonder
Miley Cyrus
Rina Sawayama
Dua Lipa
SG Lewis
Forrest Frank (Surfaces)
Olly Alexander
Colin Padalecki (Surfaces)
Stevie Nicks
Andrew Watt
Brandi Carlile
Damon Albarn
Jimmie Allen
PNAU
Charlie Puth
Young Thug (camera off)
Ed Sheeran (in person)
All of the listed musicians either sang with Elton or produced a song on his 32nd studio album The Lockdown Sessions. The album has a new Christmas edition that features Elton and Sheeran's new single "Merry Christmas."
The Lockdown Sessions is available to buy, stream and download now.