'Elvis' Release Date, Cast, Trailer, Plot: What We Know About Baz Luhrmann's New Movie
Elvis has entered the building—Warner Bros. has released the trailer for its upcoming biopic about the King of Rock and Roll, directed by The Great Gatsby and Moulin Rouge director Baz Luhrmann.
Once Upon a Time in Hollywood actor Austin Butler leads the cast as Elvis Presley, with Tom Hanks playing his manager, Colonel Tom Parker (under a lot of prosthetics and a heavy Dutch accent). The plot, meanwhile, takes us from the beginnings of Elvis as a performer to his later Vegas years.
The movie is one of many that had its release date endlessly moved around as a result of the pandemic, but it's finally coming out in 2022.
Read on for everything you need to know about when Elvis is out, who stars in the movie, and what the trailer reveals about Luhrmann's take on the American legend.
When Is Elvis Coming Out?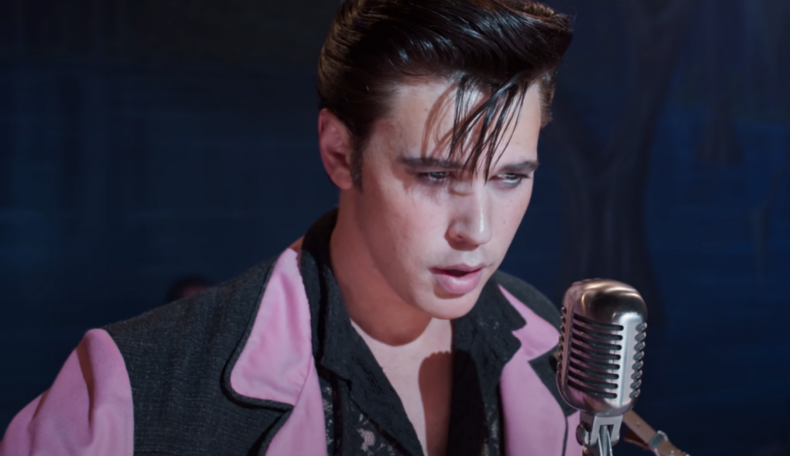 After first being given an awards season-ready release date of October 2021, the movie was pushed back three times until summer 2022.
Specifically, June 24, 2022, is the new release date, making Elvis Luhrmann's first summer release since his first movie, Strictly Ballroom, came out in 1992.
The film is set to come out only in cinemas. However, the it's expected to stream on HBO Max eventually.
Who Is in the Cast of Elvis?
After numerous reports of actors like Ansel Elgort, Harry Styles and Miles Teller auditioning for the part of the King, the role eventually went to Austin Butler.
Though perhaps the least well-known name among those reportedly in contention, Butler has been working in TV and film since 2005, when the actor was 14. After an early career as a minor Nickelodeon star in shows like Zoey 101 and Ned's Declassified School Survival Guide, Butler's adult roles have included parts in The Shannara Chronicles, The Dead Don't Die and Once Upon a Time in Hollywood.
Though Elvis is low on big star names, it does have Tom Hanks as Elvis Presley's controversial manager Colonel Tom Parker – it was during work in Australia on the film that Hanks caught coronavirus.
Starring as Presley's parents are Australian actors Helen Thomson and Richard Roxburgh, who replaced original stars Maggie Gyllenhaal and Rufus Sewell after scheduling conflicts. The Society's Olivia DeJonge, meanwhile, stars as Presley's wife Priscilla.
The film will also feature recent Oscar nominee Kodi Smit-McPhee as country singer Jimmie Rodgers.
What Happens in Elvis?
In September 2020, Warner Bros. released a plot synopsis for the movie in a press release that read: "The story delves into the complex dynamic between Presley and Parker spanning over 20 years, from Presley's rise to fame to his unprecedented stardom, against the backdrop of the evolving cultural landscape and loss of innocence in America. Central to that journey is one of the most significant and influential people in Elvis's life, Priscilla Presley."
Thanks to the trailer, we know that unlike other recent musical biopics (Bohemian Rhapsody), Butler is doing his own singing in the film. We hear snatches of "Heartbreak Hotel," plus Elvis' take on "Unchained Melody."
Per The Hollywood Reporter, the film will look at the legendary performer's life in three sections. According to the trailer, these seem to be his childhood, the early life as a performer and his relationship with Priscilla.