Venomous, Invasive Lionfish Swarm Around WW2 Shipwreck in Unsettling Footage
Venomous, invasive lionfish have been spotted swarming around a World War Two shipwreck off North Carolina.
The findings came during an expedition undertaken by the National Oceanic and Atmospheric Administration (NOAA) and the Global Foundation for Ocean Exploration.
Researchers used a remotely controlled camera to dive around the E.M. Clark– a World War Two vessel that sank in 1942.
The ship was headed for New York loaded with 118,000 barrels of heating oil, which were supposed to assist with the war effort, the Global Foundation for Ocean Exploration said in a Facebook post.
However, when the E.M. Clark was 22 miles southwest of the Diamond Shoals Light house in North Carolina, the Germans fired two underwater missiles toward it, and it sank in minutes. Out of the 41 crew members, only one died.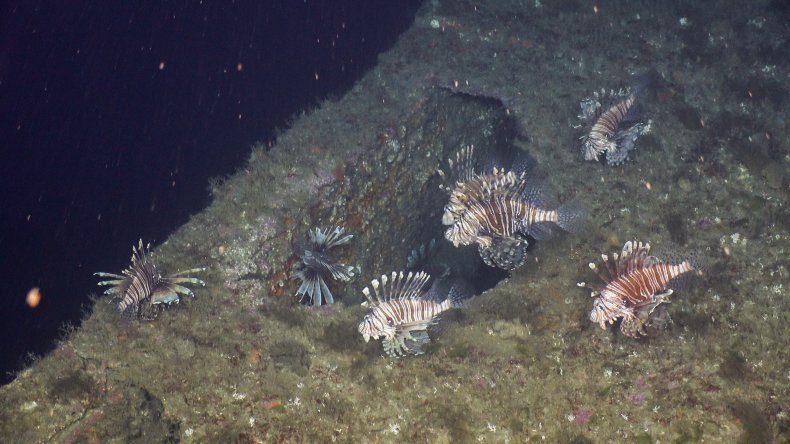 The E.M. Clark now lies 260 feet below the surface of the ocean and is "completely intact," according to the NOAA. The hull of the ship is still in "excellent condition," with just a few signs of wear from the strong currents. On the day expedition teams explored the shipwreck, the "conditions [were] most favorable," the NOAA said in a post.
Researchers have observed an abundance of wildlife around the wreck before, including sand tiger sharks and an "unsettling number" of lionfish. However when revisiting the wreck on May 24, researchers estimated there were "hundreds of lionfish" on the wreck.
A spokesperson for the Global Foundation for Ocean Exploration told Newsweek that "ecologists are not exactly sure why."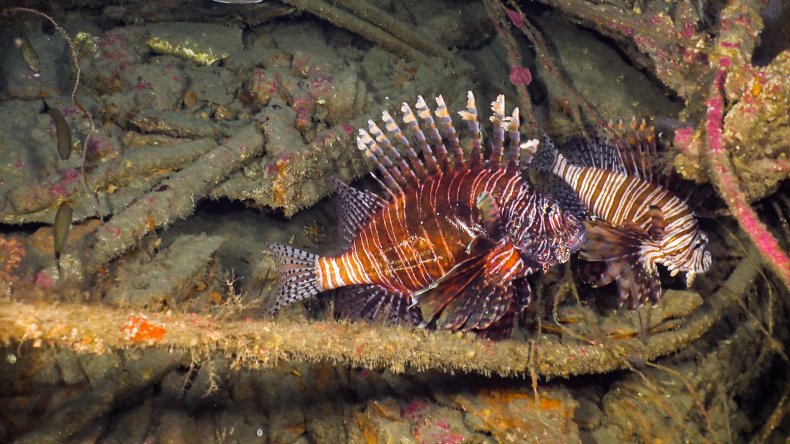 Shipwrecks can often create thriving ecosystems, as marine organisms attach themselves to their surface. This in turn attracts other species, such as lionfish, which come to feed.
Lionfish are an invasive species to this patch of ocean. They are native to tropical waters and coral reefs in the South Pacific and Indian Ocean. However, since 2000, they have plagued the waters off Florida and North Carolina.
The invasion threatens the natural ecosystem and other native wildlife in the North Carolina waters. Lionfish are highly dangerous predators, with venom of similar potency to a cobra.
As they have no known predators, they eat foods that native wildlife prey on and are taking over the coral reef ecosystem. This also poses a threat to commercial fishing in the state.
Chris Taylor, a research ecologist for the NOAA National Centers for Coastal Ocean Science told Newsweek that in a way, the shipwreck mimics their natural habitat with its "complex structure."
"In fact, a variety of native species and especially the tropical reef fishes and sharks that we would find on natural coral and rocky reefs appear to be in higher densities on these shipwrecks. The complex structure standing over 60 feet from the sandy seabed has crevices, holes and tangled wreckage that form habitats for the fish," Taylor said.
"The shipwrecks provide refuge from predation and the ocean currents, but also support food in the form of plankton as well as large schools of small fish that are food for larger predators like schooling jacks or sand tiger sharks. Lionfish have been some of the more abundant predators we have observed...most notably on the wreck of the E.M. Clark."
According to NOAA fisheries, researchers believe that a single lionfish "can reduce recruitment of native reef fish by 79 percent."
Dr. Avery Paxton, a marine biologist for the National Centers for Coastal Ocean Science, told Newsweek that shipwrecks can act as designated sites where researchers can keep an eye on wildlife.
"The hundreds of shipwrecks off the coast of North Carolina form an experimental network that can be used to track changes in fish communities over time. In essence, these shipwrecks can act as 'sentinel sites' to help us understand our changing ocean environment," Paxton said. "Repeated monitoring of the types and numbers of fish occupying shipwrecks can help us learn more about how fish, including lionfish, depend on these shipwrecks over time."