'Emaciated' Puppy Found Covered in Feces and Urine Put Down As Investigation Launched
A puppy found covered in feces and urine in the U.K. has been put down as authorities investigate what happened to the animal.
The Scottish Society for the Prevention of Cruelty to Animals (SSPCA) said the dog, a female brindle and white Staffordshire bull terrier, was found on Sunday at the Udston and Glenlee community woodlands near Hamilton, Scotland.
A member of the public handed the animal into the local vet Vets4Pets Hamilton who attempted to care for it.
SSPCA inspector Dawn Murrie said in a statement posted to the organization's website: "The dog was in a very poor state, emaciated and covered in feces and urine.
"The vets made every effort to stabilize her but unfortunately, her condition was so poor that she had to be put to sleep on welfare grounds."
Pet owners have a duty of care to their animals under U.K. law. The 2006 Animal Welfare Act says that owners must provide a suitable environment for their animals to live in and offer them a suitable diet, in addition to taking care of other needs such as protecting them from harm.
People who violate the law can be banned from owning animals in the future, risking prosecution with an unlimited fine and potential jail time of up to six months.
People found guilty of animal cruelty offences, such as causing unnecessary suffering to animals, can face up to five years in jail in the U.K.
The SSPCA have since launched an investigation into how the dog came to be in such a condition and are appealing to members of the public to contact them with any information that could be useful to investigators.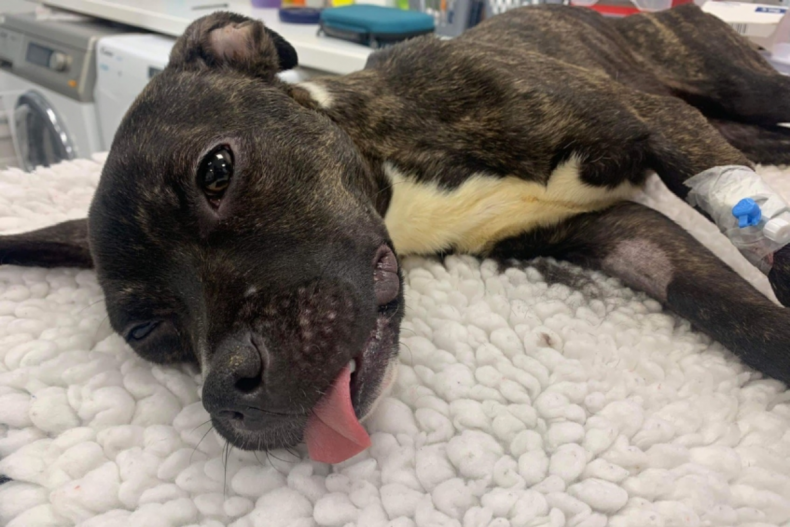 Murrie said that vets who attempted to care for the dog in Hamilton estimated she was aged between eight and 12 months old, adding that the dog had not been microchipped. Dogs are considered puppies at this age.
The animal welfare inspector said: "While we appreciate the owner of this dog may have intended for her to be found, this is not the correct procedure to follow if you can no longer take care of an animal or afford veterinary treatment."
Around 12.5 million dogs are owned in the U.K., according to data published by the Pet Food Manufacturers Association (PFMA) in 2021, with 33 per cent of households owning a pet dog.
PFMA data showed that 2.1m (19 per cent) of U.K. adults aged 24 to 33 years old had got a new pet since the start of the COVID pandemic.