Emaciated 'Warrior' Dog Rescued on Thanksgiving Stuns With Miracle Recovery
A severely emaciated dog was rescued on Thanksgiving day after being spotted by a member of the public in St. Louis, Missouri.
Described as "skin and bones," the dog was picked up by the team from Stray Rescue of St. Louis, who work 365 days a year.
Stray Rescue of St. Louis was founded in 1998 and has over 60 staff members, thousands of volunteers, and more than 400 foster families who open their homes to dogs in need.
In what the team described as a "miracle," the dog was picked up and taken to safety at the rescue center, where he was named Wishbone.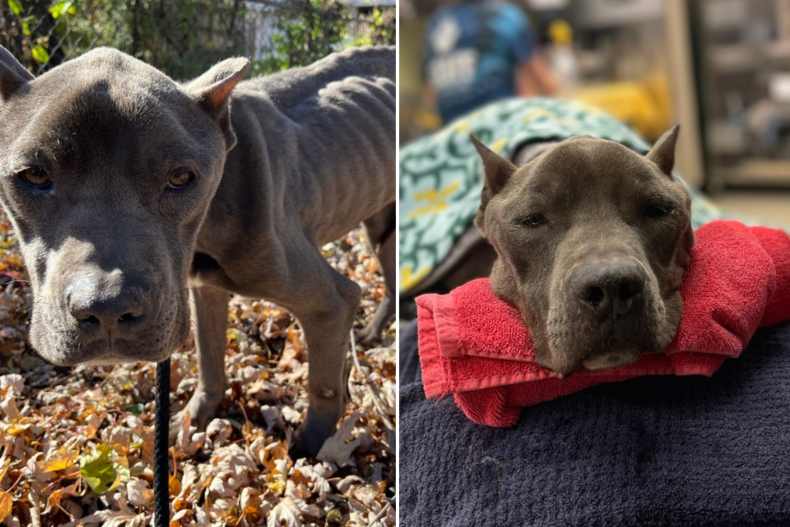 Sadly, when he arrived at the shelter, his health declined quickly. Weak, unable to lift his head, and refusing to eat, the team rushed him to the vet, who discovered a large blockage in his abdomen.
Upon further inspection, surgeons found that the dog had a towel stuck in his intestines. "We honestly didn't think he would make it through surgery," Stray Rescue of St. Louis' Natalie Thomson told Newsweek. "He looked like he was already dying when they took him in. We all said 'goodbye' just in case."
But after a long and complicated surgery, Wishbone was still breathing and made it through the night.
After his emergency surgery and a night in the critical care unit, Wishbone returned to the Stray Rescue of St. Louis facility, where the team was stunned by how better looked.
On Facebook, Stray Rescue of St. Louis wrote: "It looks like we have a miracle warrior boy on our hands. We can't believe how much better he looks already."
Below an update about his condition, hundreds of Facebook users sent their good wishes to Wishbone.
"Happy tears for Wishbone!" wrote one commenter, "Thank you for saving this precious fur baby."
Another wrote: "Praying for a speedy recovery."
Still incredibly thin and weak, Wishbone has plenty of recovering to do.
"He does have a long recovery ahead," said Thomson. "To avoid refeeding syndrome—a fatal condition when one eats too much too fast—his body had shut down quite a bit, so even though he has his appetite back, we have to give him very small meals several times throughout the day until he gets to a healthy weight."
"We're just hoping he makes it," said Thomson. "He still has a long way to go and so much can still go wrong medically. He's come so far already so we really hope he can continue to be strong. He needs everyone's prayers and strength."