Email Shows Chicago Mayor Knew of Naked Social Worker Arrest Longer Than Claimed
A recently resurfaced email from November 2019 has contradicted Chicago Mayor Lori Lightfoot's claim that she had only recently heard of the February 2019 arrest of 50-year-old Black social worker Anjanette Young.
Video of Young's arrest has gone viral for showing her handcuffed, naked and pleading for clothes as an all-male group of police officers searched her home for a felon who lived next door. Young was innocent of any crimes and was repeatedly told to relax as police raided her home while she stood there naked and sobbing.
"Today, I became aware of an incident involving Ms. Anjanette Young from February 2019, before I became Mayor, and I saw a video today for the first time. I had no knowledge of either until today," Lightfoot claimed in a December 19 statement. "I had a very emotional reaction to what was depicted on the video as I imagine that many people did."
However, a November 11, 2019 email exchange shows Lightfoot asking to arrange an information call about the incident after her top aide, Susan Lee, called it a "pretty bad wrongful raid." The email contained a detailed description of the raid which had occurred three months before Lightfoot official became mayor.
Later in the email exchange, Lightfoot asks about reforms on the city's search warrants policies and for an update on requiring training for officers who had applied for search warrants twice or more within the past 18 months, The Chicago Tribune reported.
Lightfoot has since said that she didn't recall the email.
"While it's clear that I focused my response to this information on the policy change we unquestionably needed, I should have paused to ask more questions about Ms. Young's well-being and the video itself. I am sorry that I didn't do that then, and I'm committed to doing all that I can now to righting the wrongs Ms. Young experienced," Lightfoot said in a statement released Wednesday.
"Now is the time for meaningful change," Lightfoot's statement continued, "and I won't rest until we can be sure that what happened to Ms. Young never happens again."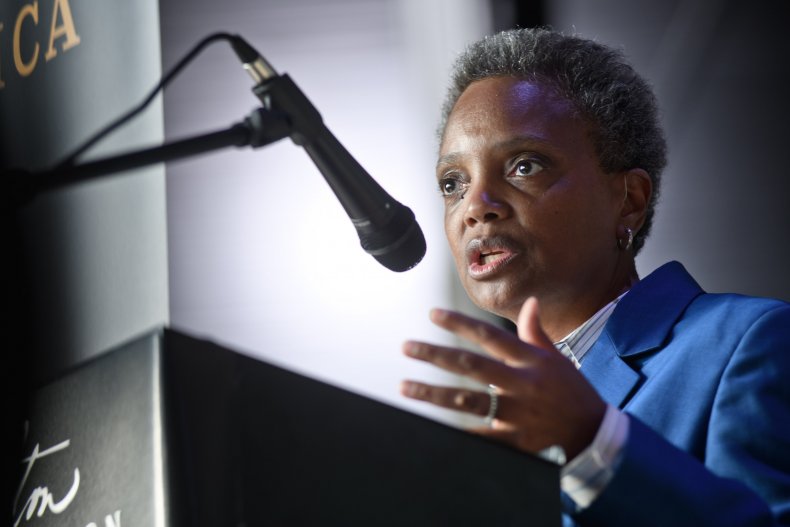 When CBS Chicago planned to air video footage of Young's arrest, Chicago city attorneys filed an injunction in federal court to stop the network's broadcast, claiming it would impede an internal investigation into the botched raid. Lightfoot has said she was unaware of the attorney's actions to bar the video's broadcast.
CBS broadcast the footage on December 17.
While searching for a suspected 23-year-old felon believed to have guns and ammo on the premises, a dozen police officers busted open Young's front door with a battering ram and crowbar. They then entered her home with guns drawn, flashlights shining in her face as officers shouted at the naked woman to put her hands up.
Police then handcuffed Young while searching her apartment. While officers eventually wrapped a short coat and blanket around her shoulders, her breasts and genitals remained fully exposed while they searched for the non-present individual.
As she began crying and stating that she had lived alone for the last four years, asking what was happening, the chief overseeing the raid repeatedly told her, "Relax," and, "You don't have to shout." She told officers that they had the wrong house 43 times. Officers told her that they didn't.
The officers were wrong. The police informant had given them the wrong address. The suspect was wearing a police tracking monitor and staying under house arrest in the apartment next door to Young's.
"I'm just standing there, terrified, humiliated, not even understanding why in that moment that this is happening to me," Young told CBS. "It was one of those moments where I just felt like I could have died that night. If I had made one wrong move, I feel like they would have shot me."
An officer looking over the warrant paperwork in a police vehicle was caught on body camera stating that the raid "wasn't initially approved or some crap" and adding, "I have no idea... I guess that person messed up." Police officials have declined to explain what the comment means, CBS Chicago stated.
While the sergeant apologized before leaving, the raid damaged her front door, leaving it unlockable after they left.
Because it took nearly two years for the video to be released, civil rights activists have criticized the city's inconsistently applying its policies on releasing police bodycam footage, stating that the city will release such footage during investigations when it fits police narratives and withholding it otherwise.
Newsweek has contacted Lightfoot's office for comment.