'Embarrassing': Sign Publicly Lists Units That Owe Rent in Divisive Video
A video first shared on Facebook has made its way to TikTok where it has gone viral for showing a sign that lists units that allegedly owe rent.
Patron Urbaez shared the video on May 17 on Facebook where it was viewed more than 82,000 times, but quickly amassed more than 2 million views when it was shared on the TikTok account @therichexperince on Sunday.
In the video, a large sign can be seen that reads "Rent is Due," which is next to another sign that is covered in numbers, some of which were circled, while others had a line dashed through them.
According to Avail, an organization that is part of realtor.com, if a landlord has a tenant who is late paying rent, a few steps can be taken to address the matter.
After confirming that the rent has not yet been paid, the landlord is encouraged to send a notice that includes the fees that are owed. Additionally, a landlord can send a pay or quit notice, which is an official document that conveys that the tenant is in danger of being evicted. If the tenant still does not pay their rent, the landlord may decide to proceed with the eviction process.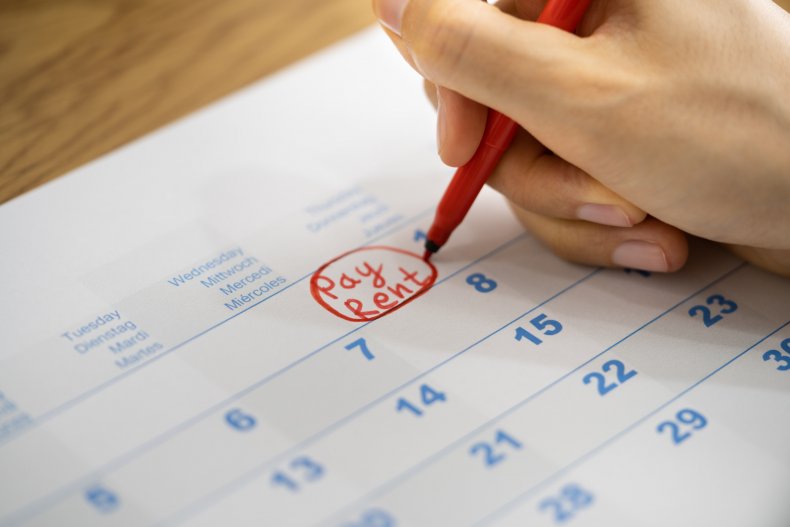 "Embarrassing," said the man who took the video. "Not only do they have the rent due sign stickers out, but they tell you which unit ain't paid they s**t!"
Urbaez wrote to Newsweek that he does not live in the complex, but saw the signs when he was visiting a friend, who he said initially did not know about the signs.
"I have mixed emotions about it," he said. "On the residents' perspective, I can understand the uproar or frustration, however, I do believe that a complex can be forced to this point by units who do not pay."
Urbaez added that he wondered what happened to have caused the signs to be displayed in the first place.
"There may be a deeper perspective here," he said. "However, resulting to such a sign is morally wrong."
One person reached out to Urbaez, he said, and told him that although they paid their rent that month, their unit was allegedly listed as one that did not pay.
The video sparked a conversation among viewers, particularly on TikTok.
"That's embarrassing," a TikTok viewer opined. "Especially if u going thru rough times."
Another viewer agreed with the sentiment by writing, "Y'all acting like people don't want to pay it. Y'all do understand people do struggle...right?"
"[It's] too many people that didn't pay...[it's] concerning...if it wasn't as many then [it's] on the people but that many means the struggle is real," commented another TikTok user.
"They should organize and not pay," one viewer wrote.
While the signs angered some viewers, others did not see a problem with them.
"They're called DUE DATES for a reason," a TikTok user wrote. "Pay your bills people."
A commenter, who wrote that they are a landlord, also supported the installation of the signs.
"I should be OK with you not having my money, but if someone knows you don't have my money now it's a problem?" they wondered.
"This is what holding people accountable looks like," another commenter wrote.
Other videos discussing rental properties and landlords have recently gone viral.
A woman posted a video on TikTok showing her frustration upon finding food that was painted over in her kitchen cabinets. Meanwhile, another woman's video went viral after she shared that her rent increased by $855 a month. In addition, one woman was backed on Reddit when she said shared how much she planned to charge her sister to rent the spare bedroom in her house.
Update 5/23/22, 5:32 p.m. ET: This story has been updated with comment from Urbaez.