Embarrassing Voice Mails of the Rich and Famous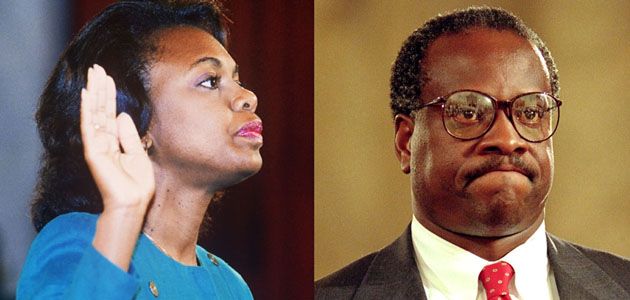 In the age of the Internet, it's hard to have a private moment or even a semipublic meltdown without it circulating around the planet faster than you can say "TMZ." Which is why it's so shocking that some people still refuse to take basic precautions against media embarrassment. To wit: if you're going to do or say something illegal, embarrassing, or just plain scary, don't do it on an answering machine. This list of worst offenders isn't just filled with legendarily vitriolic actors like Mel Gibson, whose rant at his girlfiend was captured on tape; it also includes, most recently, the wife of Supreme Court Justice Clarence Thomas. Ginni Thomas left a bizarre message for Anita Hill about the accusations of sexual harassment Hill made against her husband nearly 20 years ago. Time and time again, famous people humiliate themselves by leaving crazy voice-mail messages, which inevitably make their way into the media. Drunk dialing or stalking people just doesn't work for famous people—it's a sure way to land an awkward segment on Access Hollywood. It's also a bad move for politicians, especially when their message goes way off message. Here are some examples of public figures who should have known better than to (allegedly) talk crazy on tape. (Warning: some of the audio that follows is for adults only, and definitely not safe for work.)
It's just mind-boggling. What could possibly have possessed Ginni Thomas, wife of Clarence "I'm a member of the highest court in the land" Thomas and an avid Tea Party supporter, to call Anita Hill, who, as you might remember, testified at Clarence Thomas's confirmation hearings in 1991, alleging that he had sexually harassed her at the Education Department and later at the Equal Employment Opportunity Commission? Thomas denied the allegations and was confirmed as a Supreme Court justice. It's a mystery as to why Ginni Thomas made that call after nearly 20 years. And when Hill didn't pick up, why did she leave a message, asking for an explanation and an apology for Hill's long-ago accusations against her husband? Some sharp political minds think that this out-of-the-blue confrontation might be a diversion from Thomas's political activity. Or maybe she's just lost it.
A former Jets employee sold these raunchy tapes of a guy propositioning a woman to the sports blog Deadspin, claiming that they came from former Jets quarterback Brett Favre. Though there's been no official confirmation that Favre, in fact, is the caller, the NFL has set up an investigation to determine whether the athlete acted inappropriately. The message is creepily aggressive and shockingly without game—it's just the usual alleged harassment of a cute woman by a married athlete, until you factor in the penis pics Favre allegedly sent her, which just makes it over-the-top awful. Confidential to all future sexters: women never, ever find a picture of a disembodied sex organ hot. We all know you have them, and most grown women even know what they look like ... there's no need to send us proof.
30 Rock star Alec Baldwin was reportedly devastated when a tape of him cursing out his daughter hit the Internet in 2007. In addition to calling her a "rude, thoughtless little pig," Baldwin told daughter Ireland he would fly out just so he could "straighten [her] ass out." According to an interview with Playboy, "Baldwin was initially so distraught by the damage the tape did to his relationship with his daughter that he entertained thoughts of killing himself, offered to leave his TV show, and briefly dropped his agent (because the agency also repped his ex-wife and the mother of Ireland, actress Kim Basinger)." He's since repaired his relationship with Ireland and written A Promise to Ourselves, in which he makes a case for reforming child-custody laws across the country so they are more friendly to fathers who want to be involved in their children's lives.
O'Brien made what would forever become the most persuasive argument for hiding your phone when you're in your cups. Drunk and high on cocaine, O'Brien left a string of sexually explicit voice-mail messages for a woman he'd been partying with and who was, in fact, in the same room while the calls were made. O'Brien promptly took a leave from his gig hosting The Insider and entered rehab for alcohol abuse. He did get his job back, but then promptly lost it again when he sent out a rude e-mail. Oops.
Abdul allegedly left a voice mail for American Idol singer Corey Clark, begging him not to talk to the media about their supposed affair. Abdul denies the allegations. But she did admit to a rant that was leaked to the press in which she reportedly wailed, "I'm being tested. All I've ever wanted in my life is to be treated fairly and be treated with kindness. And I've never in my entire career been treated this way. The people who are supposed to take care of these things do not. I have to clean up after them everywhere they go. And I'm tired of it." It turns out that during a conference call, someone recorded her—on voice mail.
Last year, when he sensed that his wife was onto his cheating ways, Tiger Woods famously called one of his mistresses and begged her to "take [her] name off" her phone (presumably, her outgoing message). Perhaps the most surprising thing about this leaked voice mail is the first sentence. "Hey, it's Tiger." What? Do you really need to identify yourself? Don't you think your paramour knows the voice of the man who is only the world's best golfer and richest athlete ever? And another thing, Mr. Woods: once your wife had your phone, it was already too late. Your comeuppance was already overdue; leaving another message is just one more strike against you.
Sheen's voice mail is the most conclusive proof that your messages never go away. His voice mail apparently sat in a drawer somewhere for three years before his ex-wife, Denise Richards, leaked it to the press after their divorce in 2006. And still, the sound of Sheen upchucking the most vile insults is horrific. We get that breakups can be tough, and that exes can drive people crazy. But having all of America hear you call your ex the C word and the N word (why not throw that one in too?) is the fastest way to lose public sympathy.
Gibson appears to have been unraveling for years, but a decisive moment came in 2010 when his ex-girlfriend Oksana Grigorieva released 30 recorded phone calls between her and the Australian actor, including eight voice mails. Gibson sounded so angry, so crazed, and so violent—among other things, he threatened to kill Grigorieva and bury her in the yard—that he became something of a pariah. His film The Beaver has been shelved indefinitely. But the producers of The Hangover, who apparently love to rehabilitate the careers of men who commit violence against women, have signed him for a part in the film's sequel.